Did Jennifer Lopez Name Her Twins After These Cartoon Characters?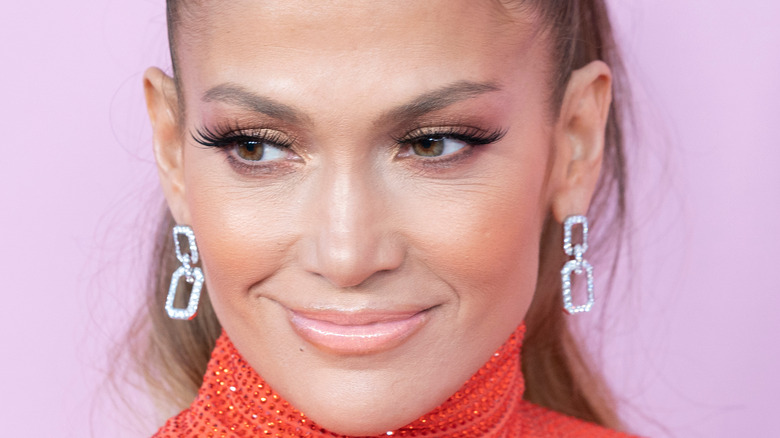 lev radin/Shutterstock
When Jennifer Lopez gave birth to fraternal twins in February 2008, fans of the "Waiting for Tonight" singer couldn't wait to learn what she would name them. Would their monikers be traditional, or would they be of the highly unusual variety that so many A-listers seem drawn to?
In 2019, Lopez's twins, Emme Maribel Muñiz and Maximilian "Max" David Muñiz, interviewed their mom for a video that she shared on her YouTube channel. Emme asked her how she felt when she learned that she was pregnant with twins, and Lopez recalled feeling a "flutter" in her stomach that made her suspect that she was expecting. An ultrasound confirmed it. "The doctor says, 'You see that? That little grain of rice? That's the baby,'" Lopez said. (timestamp: 6:45) After she expressed her excitement, she was in for a shock. "'And then he says, "You see this other little grain of rice over here? That's the other baby,"' she continued. "'And I was like, 'What!' And I start laughing hysterically."
At the time the twins were born, their father, Grammy-winning musician Marc Anthony, had four children from previous relationships. They all had names that were fairly common: Arianna, Alex, Cristian, and Ryan. According to PopSugar, Cristian's name inspiration came from Mexican singer Cristian Castro. There was also speculation that Max and Emme were named after fan favorite cartoon characters...
Were Max and Emme really named after kids who cavorted with mythical beasts?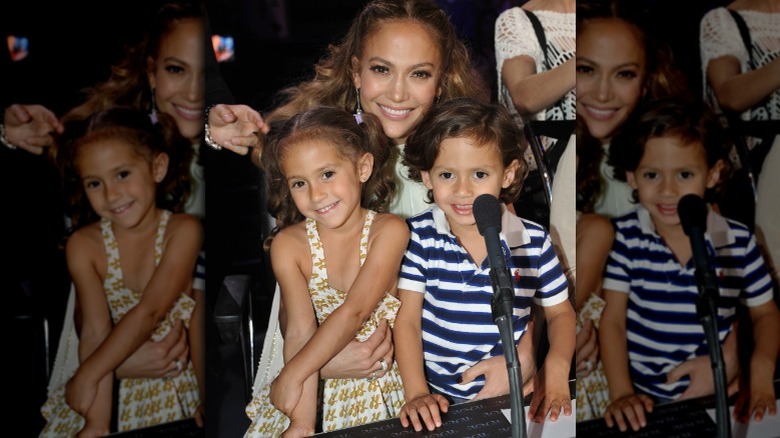 American Idol 2012/Getty Images
In March 2008, TMZ suggested that Emme Muñiz and Max Muñiz were possibly named after two characters from the PBS cartoon "Dragon Tales." If this were true, then they lucked out, considering that many of the other characters had names like Grumbly Bee and Mrs. Twinkleberry Tree. On the show, siblings Emmy and Max were transported to a magical world inhabited by talking dragons. But while the fact that hundreds of parents named their daughters Khaleesi in 2018 proves that some of us are fascinated by the bond between fictional characters and firebreathers, Jennifer Lopez has never revealed the inspiration for her twins' first names (via Oprah Daily).
We're not sold on the idea that Lopez is a big fan of animated dragons. At the 2014 Hollywood Film Awards, she rather hilariously flubbed the title of the DreamWorks film "How to Train Your Dragon 2" when presenting the Hollywood Animation award, accidentally calling it "How to Drain Your Dragon." "You don't want to drain your dragon," she joked after catching her error (via People). And sometimes it's purely coincidental when celebrity offspring share their names with animated characters. Take Drew Barrymore's daughter Olive, who is not named after the animated dog that Barrymore voiced in the holiday special "Olive, the Other Reindeer." The actor read that babies are the size of an olive at one point during pregnancy, and this is where she got her baby name inspiration from.
Emme and Max inherited their parents' talent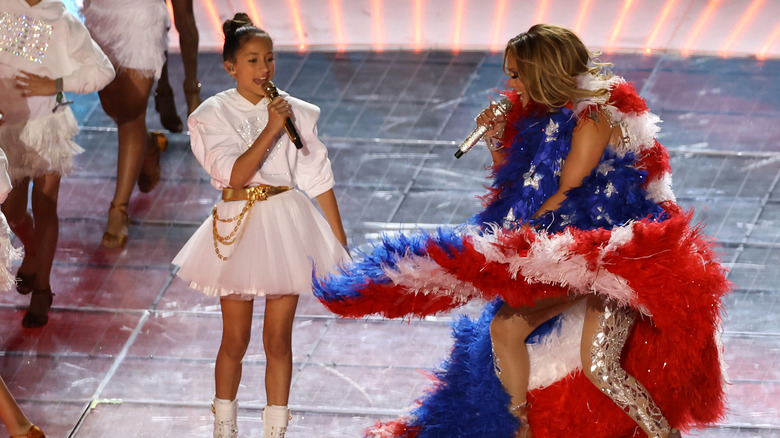 Elsa/Getty Images
What we do know about Emme Maribel Muñiz and Max David Muñiz's monikers is that their middle names pay tribute to family members. According to People, Maribel is the name of Marc Anthony's late sister, and David is an homage to Jennifer Lopez's father. According to Nameberry, Emme's palindromic name can mean "universal," while Max means "greatest." They seem like the perfect monikers for superstars in the making to us.
Lopez might still refer to her children as her "coconuts," but now they're full-grown palm trees with loads of potential. Emme has already showed off her vocal chops on a massive stage — she stunned the crowd at the 2020 Super Bowl with her solo performance of the Bruce Springsteen classic "Born in the U.S.A." during her mother's halftime show. (Who needs to compete on "American Idol" to make it big when your mom is one of its former judges?) As for Max, he belted out the Shania Twain song "You're Still the One" during a school recital in 2019. But while Lopez's children might possess plenty of talent, she's not pressuring them to follow in her footsteps. During a 2020 interview with Extra, she explained why performing with Emme is so meaningful to her. "It's about us doing things together that bond us," she said. "I don't put her in everything. If she wants to, she can; if not, that's fine, too."