Why Debra Winger Didn't Like Working With Richard Gere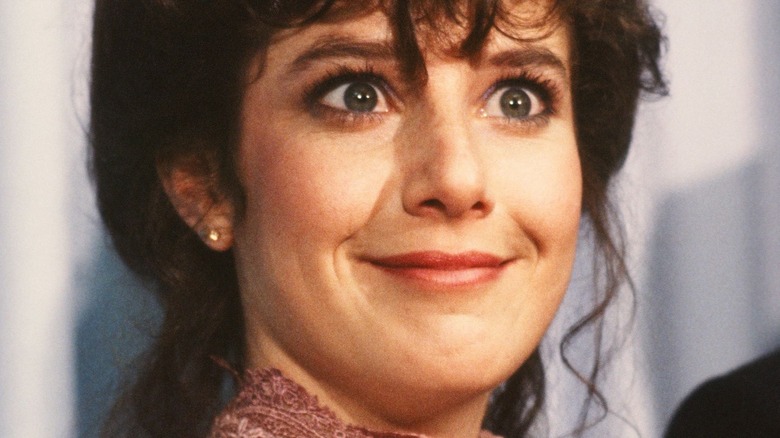 George Rose/Getty Images
We may receive a commission on purchases made from links.
Debra Winger starred in some of the biggest movies of the 1980s. After riding high with John Travolta in the hit 1980 film "Urban Cowboy," Winger scored back to back Best Actress Oscar nods for her roles in "An Officer and a Gentleman" and "Terms of Endearment" in 1982 and 1983, respectively.
Winger sizzled with her leading men onscreen — Travolta once said his co-star had "the best chemistry" with him, per The Orlando Sentinel — but there was one leading man with whom she was more like oil and water.
While Winger and her co-star Richard Gere made movie magic onscreen as factory worker Paula Pokrifki and Naval Officer Candidate Zack Mayo in "An Officer and a Gentleman," off-camera, their relationship was nonexistent. The duo's co-star, Louis Gossett Jr., who played Sgt. Emil Foley in the film, revealed in his 2010 book, "An Actor and a Gentleman," that Winger and Gere did not get along while shooting the movie and would distance themselves from each other whenever the cameras stopped rolling. Gere also admitted there was "tension" between him and his leading lady, per IMDb, while Winger once called Gere "a brick wall co-star," via Harper's Bazaar.
Debra Winger admitted she hated working with Richard Gere
Debra Winger has been vocal about her on-set clash with Gere. In a 2009 interview with the Daily Mail, she explained that insecurity about her own acting skills was one of the reasons she sometimes lashed out on her co-stars on set. Winger admitted she "took it out on everybody," but added a disclaimer about the film she made with Gere. "It's no secret that I didn't love 'An Officer and A Gentleman' then, and I certainly don't love it now, so at least no one could accuse me of being inconsistent," she said.
As for her infamous comment that working with Gere was like working with a "brick wall," in 2021, Winger told The Telegraph, "I probably could have come up with something nicer."
She also noted that the actor has never let her live the diss down. "[When] I run into him he says, 'Are you still saying those things about me?'" Winger revealed.
Richard Gere wasn't the only co-star Debra Winger took issue with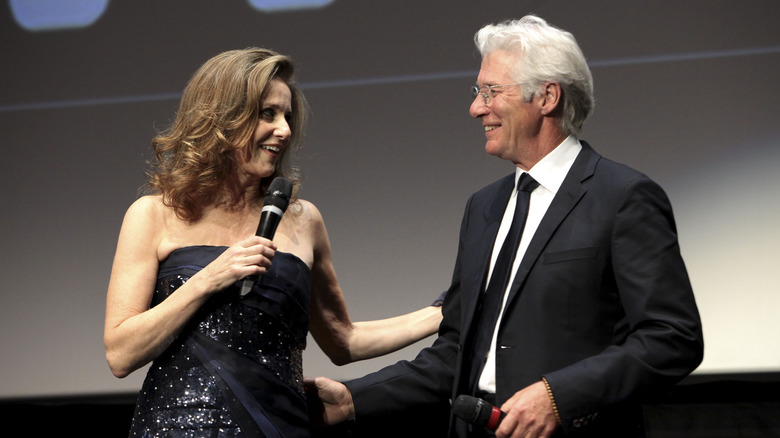 Elisabetta Villa/Getty Images
Richard Gere wasn't the only person on "An Officer and a Gentleman" set with whom Debra Winger butted heads. She once called the film's director, Taylor Hackford, "an animal," per The Guardian. Winger also quit her role in what would become yet another hit film — the 1992 baseball-themed movie, "A League of Their Own" — over the hiring of pop singer Madonna, and she once slammed her co-star John Malkovich as being just a "catwalk model" when they made the 1990 film "The Sheltering Sky," The Guardian noted. 
Winger also told The Telegraph that her "Terms of Endearment" co-star Shirley MacLaine isn't known "to tell the truth about anything," although she claimed the two are still "loving friends."
As for Winger and Gere, they have also seemed to come full circle. Thirty years after they clashed on the set of "An Officer and a Gentleman," the actor thanked his co-star when she presented him with an award at the Rome Film Festival in 2011, per IMDb.