The Celeb That Made Demi Lovato Uncomfortable At The Met Gala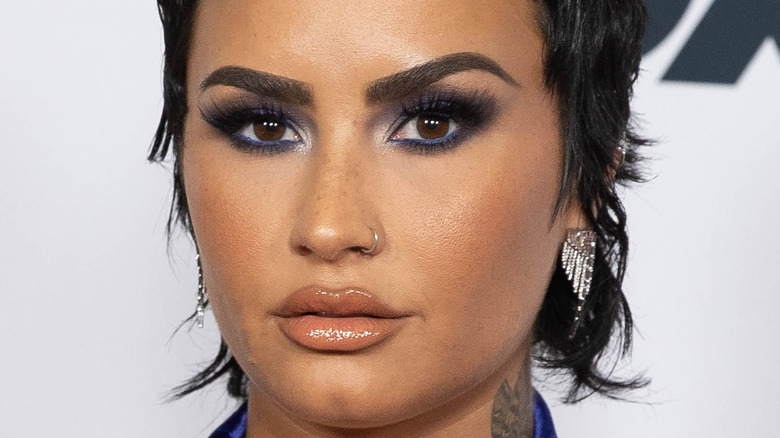 Emma Mcintyre/Getty Images
The Met Gala is always a discussion point via social media and in the media as many high-profile attend the charity event wearing out-of-this-world garments. However, in 2016, people seemed to be focused more on the drama surrounding Demi Lovato rather than their attire.
Per E!, Demi Lovato and rapper Nicki Minaj both served as Moschino designer Jeremy Scott's guests at the Met Gala in 2016 and wore his designs to the event. Lovato stunned in an off-the-shoulder silver sequined dress with black and gold detailing. They styled their dark shoulder-length locks down and accessorized with a glittery clutch. Minaj wowed in a low-cut black dress with matching long sheer gloves. The "Pound The Alarm" hitmaker rocked long black curly hair with hints of blond.
Despite the duo turning up in style, it appeared the two weren't enjoying each other's company — and the public quickly found out about a potential feud behind the scenes. Keep reading to find out more.
Demi Lovato insisted it will be their last Met Gala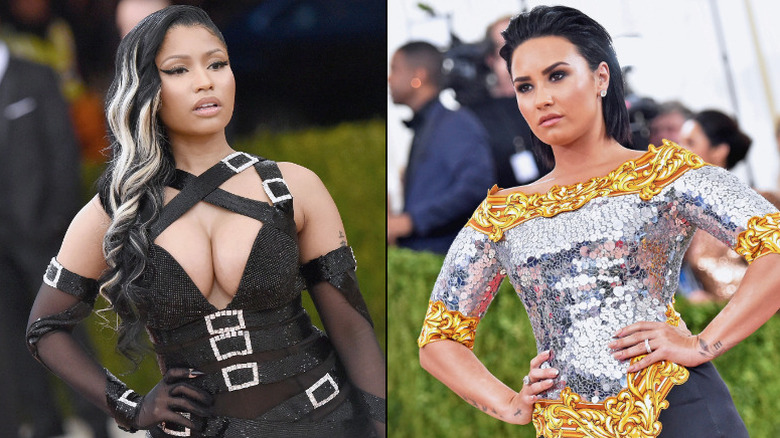 Mike Coppola, Mike Coppola/Getty Images
When Nicki Minaj shared a photo of herself with both designer Jeremy Scott and Lovato on Instagram, she only tagged Scott, which appeared shady. The red carpet photo definitely looked frosty: While Scott stood in between the two, Minaj was captured gazing over at Lovato with a strong stare. Fans started to question whether there was tension between the duo on the night, and it seems they could have been right. 
E! noted that Lovato commented on the upload with a laughing, peace sign, and thumbs up emoji. However, it didn't stop there. Lovato took to their own account and posted the group pic of Minaj giving the side-eye to them and threw shade in their caption, writing, "This picture pretty much summed up my first and probably last met #cool #sof**kingawkward #notforme #sweatpants #forensicfiles #whatsgood."
"p.s. some of y'all need to learn how to take a joke.. I'm obviously laughing at the fact that 1. I look incredibly awkward and 2. That the shade being thrown in this picture actually gives me life," they continued. With that being said, Lovato also captioned a selfie on Snapchat with "When you aren't mentioned in a post but didn't do s**t to the other person." Lovato's Instagram post was later deleted.
Demi Lovato's Met Gala experience made them want to relapse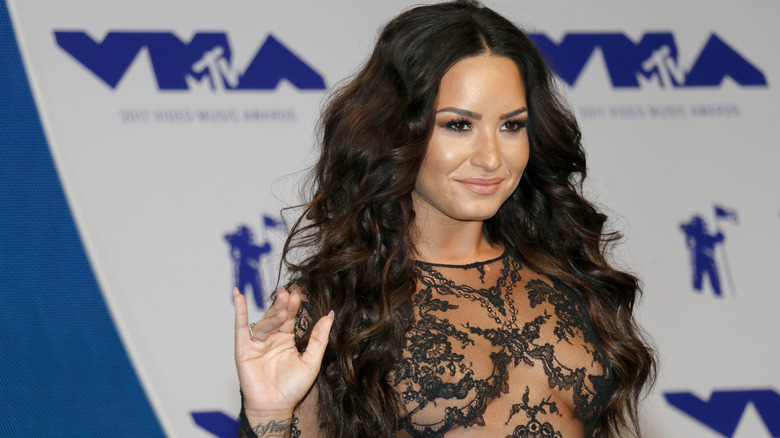 Tinseltown/Shutterstock
Demi Lovato has been very open about their struggles with alcohol and drug addiction over the years and explained to Billboard in 2018 that they reached a breaking point at the 2016 Met Gala. "I had a terrible experience," the "Cool for the Summer" hitmaker stated, adding, "This one celebrity was a complete b**ch and was miserable to be around. It was very cliquey. I remember being so uncomfortable that I wanted to drink."
Lovato ended up contacting their manager and went to a 10 p.m. Alcoholics Anonymous meeting that same night. "I changed my clothes, but I still had my diamonds on — millions of dollars of diamonds on in an AA meeting. And I related more to the homeless people in that meeting who struggled with the same struggles that I deal with than the people at the Met Gala — fake and sucking the fashion industry's d**k," they continued.
While Lovato never name-checked Nicki Minaj, many assumed they were referring to the rapper as the two reportedly had tension on the night. As of this writing, Minaj hasn't addressed the alleged feud and Lovato has never attended a Met Gala event since.
If you or anyone you know is struggling with addiction issues, help is available. Visit the Substance Abuse and Mental Health Services Administration website or contact SAMHSA's National Helpline at 1-800-662-HELP (4357).