Nicki Minaj's Announcement Has Fans In A Frenzy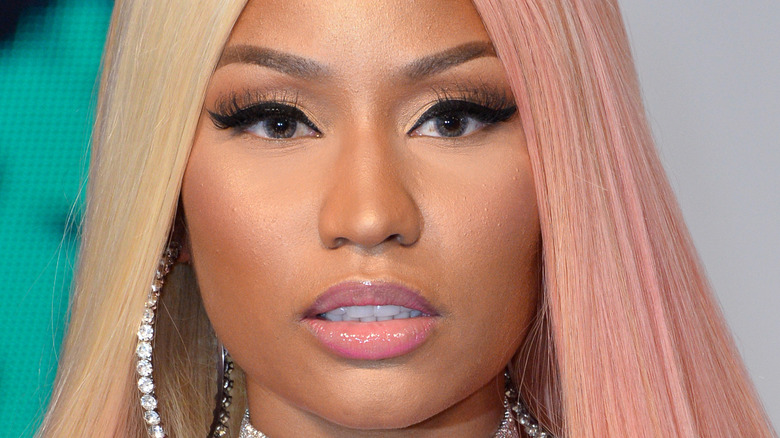 Shutterstock
Nicki Minaj is on cloud nine following the success of her re-released "Beam Me Up Scotty" mixtape. According to a slideshow shared by the rapper on May 26 on Instagram, "Beam Me Up Scotty" is the "highest charting re-released mixtape from a rapper in hip-hop history." It also landed the No. 2 slot on the Billboard 200 chart in its debut week, according to Billboard. Furthermore, one of the mixtape's new songs, "Seeing Green" featuring Drake and Lil Wayne, debuted at No. 1 on the week's Digital Song Sales chart, as reported by Chart Data.
"Beam me Up Scotty" was a surprise drop on May 14 after Minaj hinted that she was releasing a project of some sort a few days prior. The rapper flaunted the success of her mixtape on Instagram, further explaining that despite having absolutely zero promotion for the project, it has been received very well. "SO THIS MAKES IT MEAN MORE TO ME cuz it rlly just boils down to having the best FANS ON EARTH that rode with me 12 YEARS LATER," she enthusiastically stated in the caption of her post.
However, it's the first line the "Tusa" rapper said in her message of gratitude that caused fans to do a double take: She revealed fans would be getting a new album from her "real soon." Keep scrolling to learn what her dedicated Barbz had to say.
Nicki Minaj fans are getting music sooner than they think
Shutterstock
Nicki Minaj made sure her fans know how appreciative she is of their support with "Beam Me Up Scotty" and gave them a small treat. "I love you guys so much. Thank you," she said in her May 26 post. "Can't wait to share my album with you real soon," she casually stated. Wait, what?! Considering fans were just treated to new music, a whole new album would be huge. Her dedicated Barbz have been pining for new music from the "Anaconda" singer for quite some time. Her last release before the updated "Beam Me Up Scotty" mixtape was her 2018 album "Queen." She then took a small break to get married and have her first child.
While fans were excited for the re-released mixtape to debut, they were still eager to hear about what's next for the rapper. Unsurprisingly, then, this announcement has fans in a frenzy. "THE BARBZ WERE READY!" a fellow musician wrote. "NM5 (her upcoming fifth album) IS COMING OMGG" a thrilled fan commented. Another fan said, "Awww we love you much more Queen Authentic can't wait to see what you're gonna release next."
Dozens of other Barbz weighed in to simply congratulate the Grammy-nominated artist for her continued success. Only time will tell what's next for Minaj in terms of her album — but at least fans know they won't have to wait long!