The Tragic Death Of French Film Star Jean-Paul Belmondo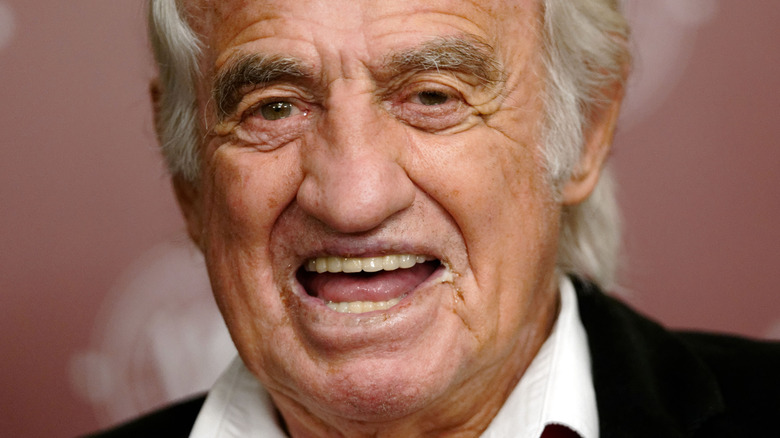 Sylvain Lefevre/Getty Images
Legendary French screen and stage actor Jean-Paul Belmondo has died at age 88 in Paris. Belmondo, who previously received a two-minute standing ovation for his lifetime achievement honor at the César awards (France's equivalent of the Oscars), passed "peacefully" at his home on Monday. His lawyer Michael Godest confirmed his death to French news agency Agence France-Presse (AFP) and said: "He had been very tired for some time. He died peacefully." Perhaps best known for his breakout role in the internationally renowned New Wave classic "Breathless," Belmondo starred in more than 80 films across a multitude of genres, including thrillers and comedies. Despite his showbiz success, Belmondo originally showed interest in professional sport, per The Guardian.
Belmondo was born in 1933 and came from an artistic French family. He was the son of a renowned "pied-noir" sculptor, Paul Belmondo, and painter, Sarah Rainaud-Richard. Belmondo grew up in the affluent Parisian suburb of Neuilly-sur-Seine and attended a string of elite private schools, but did poorly, eventually leaving school at age 16 to become a boxer, per The Sydney Morning Herald. However, Belmondo's boxing career was cut short due to tuberculosis, which led Belmondo to turn his attention to performing. 
After three attempts, Belmondo finally gained a place at Paris' National Academy of Dramatic Arts in 1952, but not to an overly warm reception. He eventually quit "in a huff" following continuous criticism, according to Reuters.
Jean-Paul Belmondo's acting teachers said he wasn't attractive enough to succeed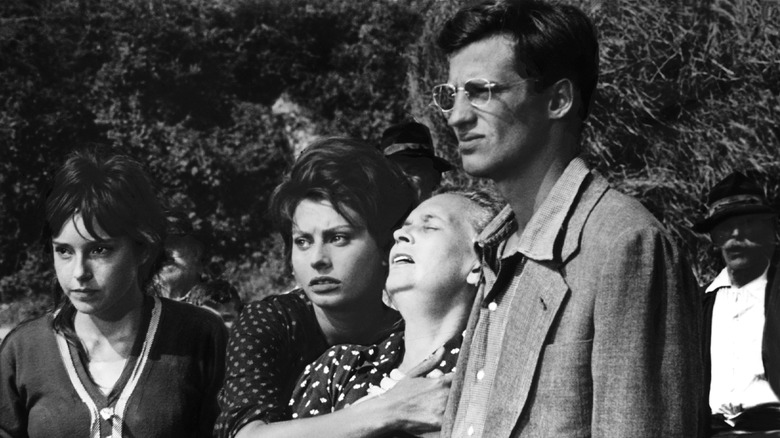 United Archives/Getty Images
Jean-Paul Belmondo may not have had the "chiselled features" of rival actor Alain Delon, but his charisma and cinematic risks won over directors, fans, and critics (per The Guardian). During his early days, however, acting teachers did not see him as leading man material due to his "crooked boxer's nose and rakish grin." Some even reportedly "burst into laughter" if they saw a woman in Belmondo's arms (per The Sydney Morning Herald). "Mr. Belmondo will never succeed with his hooligan's face," one teacher said. In spite of his snubs, Belmondo eventually proved them all wrong as he became one of France's biggest box office draws.
After struggling for some time in theater, iconic French-Swisse director Jean-Luc Godard cast Belmondo in a 12-minute short. Then in 1959, Godard handpicked him for "Breathless," which shot the former boxer to international stardom. While Belmondo resisted the pull from Hollywood directors, he was open to starring in both art house and commercial films. He acted opposite some of Europe's biggest stars, including Catherine Denevue and Sophia Loren, and famously insisted on doing most of his own stunt work, per NPR. He regularly appeared on screen until he suffered a stroke in 2001. Film critic Dan Callahan said Belmondo was successful, as he had "the air of a guy who was quickly sick of any demands but also willing to show his best self if you really needed it." French President Emmanuel Macron also honored him on Twitter, calling him "a national treasure."