Inside Valerie Bertinelli's Relationship With Eddie Van Halen After Their Split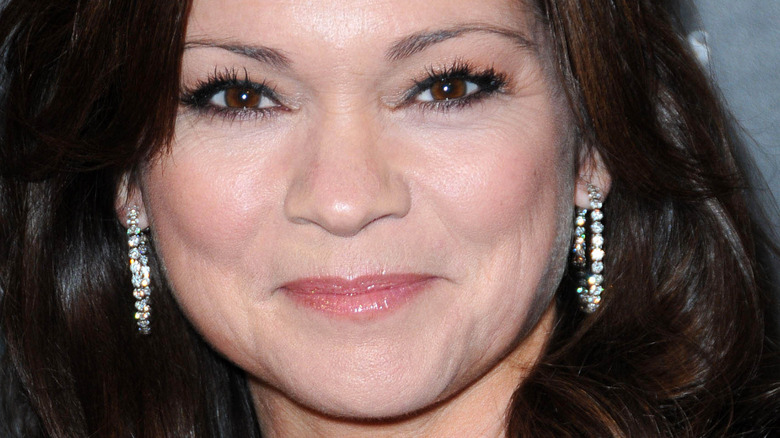 s_bukley/Shutterstock
At one point in time, the power couple of Eddie Van Halen and Valerie Bertinelli was a force to be reckoned with. Even in absentia, the late rocker left an indelible mark on the lives he's touched — with ex-wife Bertinelli even opining on his "gorgeous spirit" in the wake of his death on Instagram. Eddie, who died of a stroke in 2020, tied the knot with Bertinelli in 1981, per Page Six. Over the former couple's 26-year relationship, the two welcomed one son, Wolfgang, in 1991. Wolfgang would later go on to follow in his late father's musical footsteps playing bass in Van Halen for 14 years and forming his own project, Mammoth WVH, in the midst of it all.
Though Eddie and Bertinelli had a fruitful relationship for nearly three decades, the pair separated in 2001, and the divorce was ultimately finalized in 2007. While the divorce was considered to be "amicable," per People, it was noted that "years of strain, including [Eddie's] battle with alcoholism and a bout with mouth cancer" played a part in their split. The two would later go on to get married to other partners, while still remaining on terms with one another.
The former couple happily moved on with their lives, with Bertinelli still being happily married today. With that being said, let's take a look into Valerie Bertinelli's relationship with Eddie Van Halen following their split.
Valerie Bertinelli's love for Eddie Van Halen never went away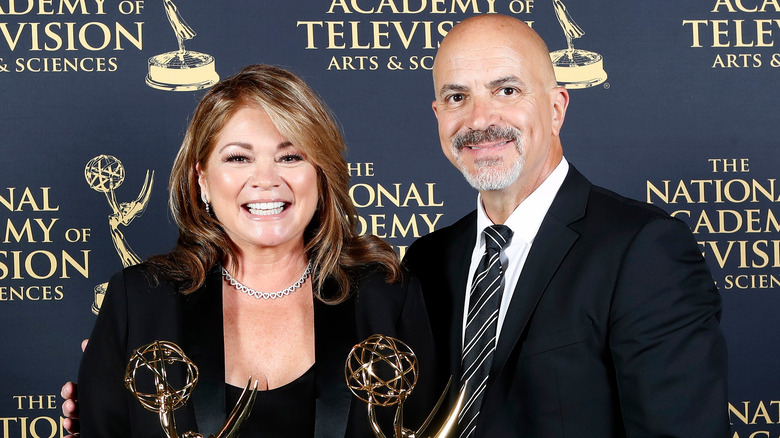 Joe Seer/Shutterstock
On New Year's Day 2011, Valerie Bertinelli walked the aisle with Tom Vitale (pictured above), who The Sun describes as "an American-born financial planner, TV producer, internet personality, and entrepreneur." On top of that, the outlet notes that he has worked as a producer and co-producer on several films. And on top of that, The Sun also pointed out that Vitale is the CEO of e-commerce company Veebow, a company the multihyphenate started in 2011 — the same year he tied the knot with Bertinelli.
According to The Hollywood Reporter, Bertinelli and Vitale were engaged in March 2010 and "had been dating for seven years" — implying that they were possibly a couple when Bertinelli was divorcing Eddie Van Halen. However, Bertinelli and her late ex-husband still remained good friends following their split, with Eddie and son Wolfgang even attending Bertinelli and Vitale's wedding, according to the outlet, indicating that Bertinelli and Eddie remained on good terms following their divorce. And when the guitarist tragically died in 2020, Bertinelli revealed that "just because we loved each other didn't lessen the love that he had for Janie [Liszewski, whom Eddie married later] or me for Tom, so it's a different kind of love," per TODAY.
Despite remaining good friends after the split, many issues plagued Bertinelli and Eddie's marriage before their separation. Let's take a look at what led to Bertinelli ultimately filing for divorce in 2005.
Infidelity affected Eddie Van Halen and Valerie Bertinelli's marriage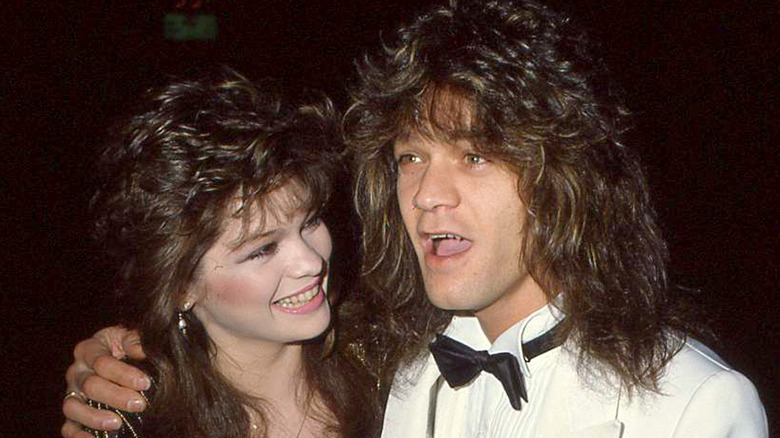 Kevin Winter/Getty Images
Eddie Van Halen and Valerie Bertinelli were once atop the food chain when it came to successful celebrity marriages. The stunning good looks of the two along with their respective talents in their fields — Van Halen being a virtuoso guitarist and Bertinelli an actor and television personality — made for a perfect relationship tailored for the cameras. And while the couple maintained a successful marriage for all to see, there was one underlying issue that ultimately led to their split.
In a 2008 interview with Oprah, Bertinelli revealed that she found out about Van Halen's infidelity through a phone call from his mistress' husband. Upon receiving the call from the incensed man, Bertinelli was shocked. "When I got off, I was crying but I was like, 'I can't believe I just had that conversation,'" she recalled. She also revealed that years prior, she had heard him on the phone with someone she believed was a woman. "He was talking about how he just wanted out of the marriage," she said.
Bertinelli, however, was not innocent herself, admitting that she also cheated during the marriage. "I was infatuated with the drummer of this band [who] was friends of my brother," she revealed during the interview. "I just wanted somebody to touch me and love me. And I wasn't getting it at home," she added. She pointed out that "that's not an excuse." All things considered, it's nice they were able to maintain a respect for one another, even post divorce.