The Love Triangle Lara Flynn Boyle Was In With David Spade And Jack Nicholson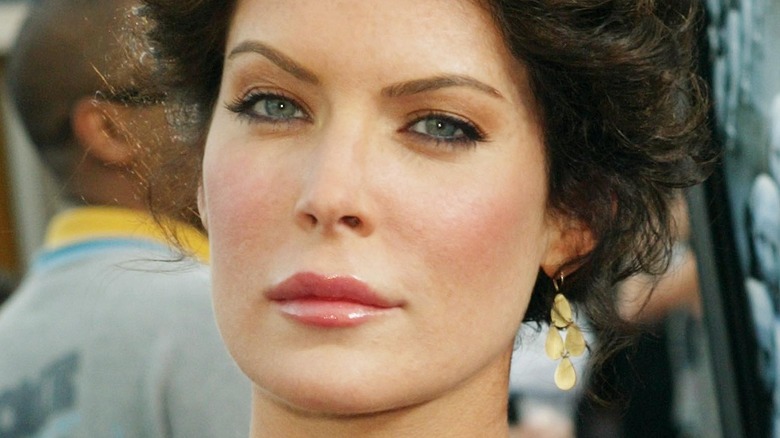 Kevin Winter/Getty Images
Hollywood has no shortage of love triangles and no shortage of public interest in them. It was no different when Lara Flynn Boyle became embroiled in a messy three-sided romance involving David Spade and Jack Nicholson in the late 1990s. Boyle was a household name by then, having starred in David Lynch's cult-favorite series "Twin Peaks" and in popular films like "Wayne's World" and "Red Rock West." At the time of the affair, she was the star of the acclaimed ABC show "The Practice," which earned her an Emmy nomination. Throughout her career, Boyle had to learn how to deal with tabloid stories surrounding her personal life, especially after her highly publicized love triangle came to light. 
In a rare interview with The Hollywood Reporter in June 2021, Boyle said she stays away from social media and the internet in general, still opting for an "old phone" instead of a smart one "that can look up where you are or where you're going." But Boyle doesn't complain about the paparazzi. It simply comes with the territory, she said. "They're like mosquitoes ... But I chose this profession. I would be a total jerk if I complained about it. If I'm going to take the paycheck, I'm also going to take the bad publicity. It's going to happen," she admitted.
While Boyle and Nicholson don't publicly talk about it, Spade has been open about the love triangle that has forever bound them. Keep reading to learn what we know about the ordeal.
The love triangle came to light because of a car accident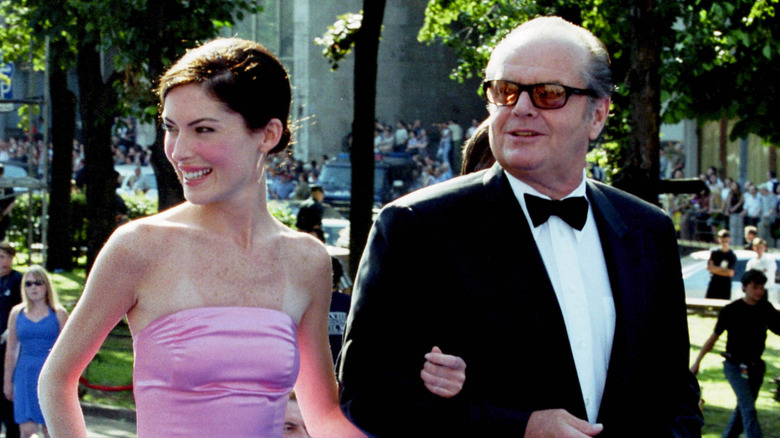 Getty Images/Getty Images
Lara Flynn Boyle began dating David Spade after ending her two-year marriage to John Patrick Dee III in 1998, per The Sun. The two were together when Boyle was involved in a car crash with, yes, Jack Nicholson in June 1999, as Yahoo! noted. Boyle reportedly exited Nicholson's Mercedes-Benz through the sunroof screaming, "I have a boyfriend! I can't be here!", the report detailed. Spade found out about it when the National Enquirer reached out to him for comment. "She and I didn't talk too much after that," Spade told the now-defunct Details magazine in 2015 (via GQ).
The romance between Boyle and Nicholson didn't exactly come out of the blue. Prior to the accident, Nicholson had hit on Boyle with Spade standing right next to her, he told the magazine. According to Spade, the three of them were "smoking a doob somewhere" when the legendary actor straight-up asked her out. "She got mad because I didn't stick up for her. I said, I've been in this town long enough to know when I'm outranked. You're either gonna go out with him or you're not," Spade said.
Nicholson and Boyle were in a high-profile relationship until April 2001, when she broke up with him, Hello! magazine reported at the time. "Jack was more into the relationship than she was and after a year together she wants to date other people," a friend of Boyle's told the publication.
Lara Flynn Boyle was also in a headline-grabbing relationship with Kyle MacLachlan
Bob Berg/Getty Images
Lara Flynn Boyle dated Kyle MacLachlan while they were sharing the screen on "Twin Peaks," a relationship that reportedly altered the outcome of the show. At least that's the version shared by Sherilyn Fenn, who played the trouble-seeking Audrey Horne. In a 2014 interview with the AV Club, Fenn contended that Horne was originally supposed to engage in a romantic relationship with FBI agent Dale Cooper, played by MacLachlan. "Lara was dating Kyle, and she was mad that my character was getting more attention," Fenn said. 
Soon after, MacLachlan began to argue that Horne was too young to date Agent Cooper and it wouldn't "look good," Fenn claimed. "Literally, because of that, they brought in Heather Graham — who's younger than I am — for him and Billy Zane for me. I was not happy about it. It was stupid," she told the publication.
Fenn wasn't the first one to suggest jealousy had been involved in the decision not to pair up two of the characters. Without naming names, "Twin Peaks" co-creator Mark Frost said the situation was "a curveball" that saw them having to pull a rabbit out of the hat, speaking on 89.1 WFDU's "That Modern Rock Show" in May 2011. "Somebody in the cast was involved with somebody else and that somebody else was not overly thrilled with the idea of the somebody else having love scenes with a third somebody else," Frost told the host.