The Tragic Death Of My Big Fat Greek Wedding Star Michael Constantine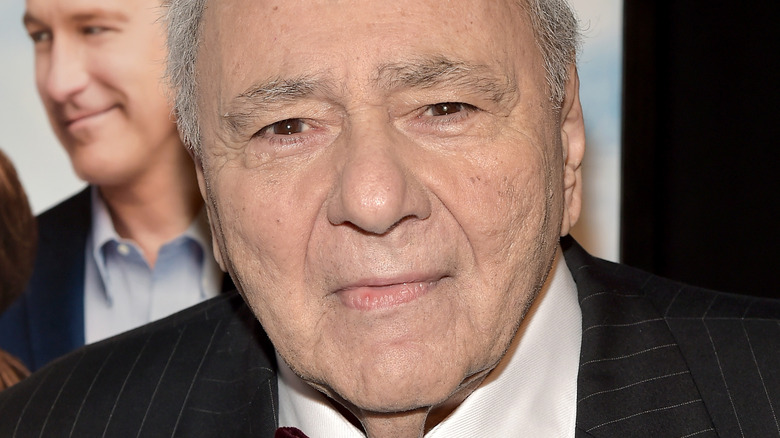 Theo Wargo/Getty Images
Michael Constantine, the actor who memorably touted Windex in "My Big Fat Greek Wedding" has died at age 94. Constantine's family confirmed to Variety he died on August 31 in his Reading, Pennsylvania home after being ill for several years. While Constantine is best known for playing the Portokolas patriarch in Nia Vardalos' Greek American rom-com, the longtime actor has over 182 credits to his name. The son of Greek immigrants and born Gus Efstration, Constantine seemingly fell into showbiz after a friend convinced him to spontaneously go with her to New York and study acting, per The Hollywood Reporter. Constantine agreed and studied with Howard Da Silva, who was famous for Broadway's "Oklahoma!" After a few successive theater runs and bit parts on the small screen, Constantine gained notoriety as principal Seymour Kaufman in James L. Brooks' "ahead of its time" comedy show "Room 222."
In its five-year run, Variety reports the early '70s show "tackled serious contemporary issues," which featured an "integrated cast." Constantine was a stand-out in the series, earning two Emmy nominations, in 1970 and 1971, winning the first time. He was also nominated for a Golden Globe. Constantine also shared the big screen with a number of notable actors including Patrick Dempsey, Demi Moore, Faye Dunaway, and Alec Baldwin. Despite a few acting accolades under his belt, it wasn't until Constantine was cast in the unexpected cultural hit that his star power smashed plates.
Michael Constantine originally turned down 'My Big Fat Greek Wedding'
Michael Constantine may have played a plethora of ethnicities (Jewish, Russian, Italian), but the one he held closest to his heart was his own. Constantine admitted to Hellenic News of America in 2017 that he was initially "anxious" to star in "My Big Fat Greek Wedding." "I was very leery. I didn't know Nia [Vardalos] then, and I was anxious about someone writing some Greek thing." Not only did Constantine audition three times, but he turned down the offer at first. "Was it going to be baloney or is it going to be something by somebody who really knows Greeks? So I read the script and I said, yes, this person obviously knows Greeks."
"My Big Fat Greek Wedding" is the highest-grossing romantic comedy of all time, according to Variety. It amassed $242 million from it's meagre $5 million production costs. Constantine reprised Gus Portokolas for the short-lived 2003 CBS sitcom "My Big Fat Greek Life" and also for the film's sequel "My Big Fat Greek Wedding 2" in 2016. Former co-star Vardalos honored Constantine on Twitter, thanking him for being "the dad to our cast-family" and a "friend." "Acting with him came with a rush of love and fun. I will treasure this man who brought Gus to life. He gave us so much laughter and deserves a rest now." Wherever Constantine is now, we hope he's got plenty of Windex at hand ... possible given he said people sent him "thousands" to sign.