Tori Spelling Gets Candid On Khloe Kardashian Comparisons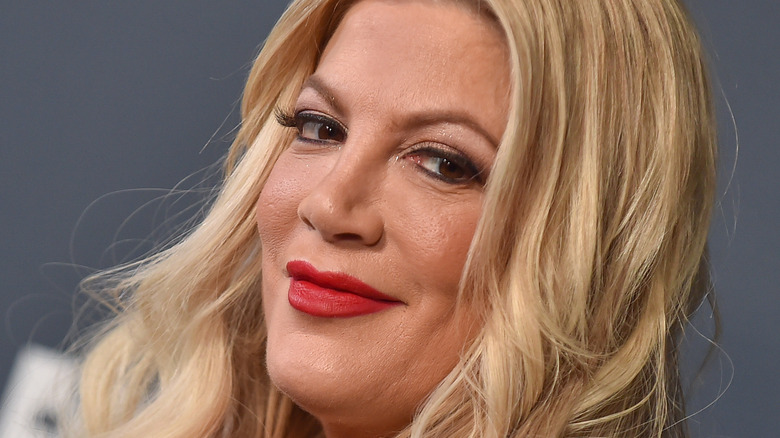 DFree/Shutterstock
Tori Spelling doesn't seem to care that fans are calling her Khloé Kardashian's twin. The former "Beverly Hills 90210" star finally responded to recent social media buzz about her new look, which bears a striking resemblance to the youngest Kardashian sister. On September 3, Spelling was spotted in Los Angeles with Nicole "Snooki" Polizzi and hairstylist Laura Rugetti as the trio celebrated the finale of MTV's talk show, "Messiness," per US Weekly.
The reality star not only wore a figure-hugging denim jumpsuit — reminiscent of one Khloé previously wore — but debuted similar cascading mermaid blonde waves and contoured make-up. But aside from taking cues from Khloé's wardrobe, fans thought Spelling may have gone the extra mile with cosmetic surgery to physically look like her. One person tweeted: "How nice of Khloé Kardashian to let Tori Spelling borrow one of her heads." Another commented on an Instagram photo she uploaded: "Damn I thought that was Khloe Kardashian before I saw your name at the top!" While Spelling's Khloé-inspired style could be touted as a once-off, she also showed off knee-high boots and her hair half up half down — two signature looks of the Good American founder's. 
Well, Spelling has finally broken her silence on the issue. Here's what she said. 
Tori Spelling is "honored" by the comparisons
At face value, Tori Spelling unintentionally twinned with Khloé Kardashian. Spelling cleared the air on September 6 as reporters bombarded her with questions about her new look at the Malibu Chili Cook-off. "I'm honored," Spelling can be seen saying in a TMZ video. "Of course, she's gorgeous!" When asked if she was trying to emulate Khloé, Spelling, who is 11 years older than the reality star, laughed and said, "No, but I'm honored to get that compliment." The mother-of-five also admitted she hadn't heard from Khloé amid her latest look. While Spelling has long been known for changing things up, it wouldn't be a total surprise if she subconsciously took some beauty and style tips from Khloé.
Spelling and the reality star have been friends for years, even supporting one another professionally. The former actor appeared on Khloé's Good American ads on social media and even her talk show "Kocktails with Khloé" in 2016, per Daily Mail. Khloé, herself, has yet to comment on the comparisons ... understandable given recent Tristan Thompson drama and Kylie Jenner's pregnancy announcement — but we're sure she'd love it. As they say, imitation is the sincerest form of flattery.