The Truth About Alex Cooper's Relationship With Noah Syndergaard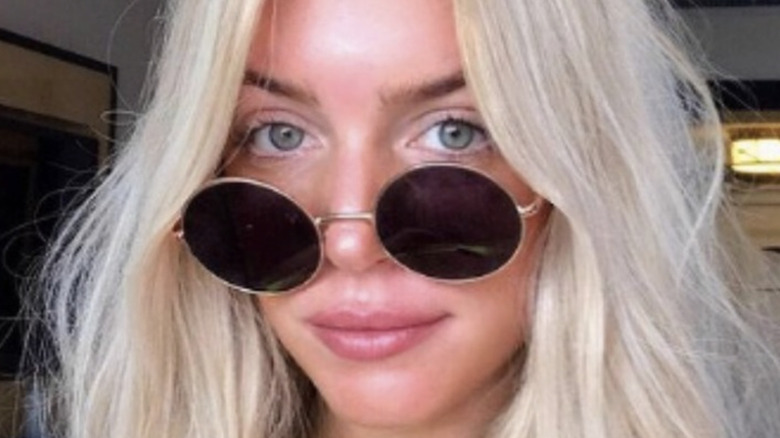 Alex Cooper/Instagram
Alex Cooper is a podcast host, best known for her start on the former Barstool Sports show "Call Her Daddy." Although she used to run it with her ex-friend, Sofia Franklyn, the two parted ways in 2020, making Cooper the sole owner of the podcast and its intellectual property. Now, the show is owned exclusively by Spotify, with Cooper accepting an estimated $60 million deal in 2021, according to Forbes.
During her time hosting the show, Cooper dives into the full details of her relationships with different guys. Although they are given code names to honor their identities, it doesn't prevent speculation. Cooper publicly dated New York Mets pitcher Noah Syndergaard, who is widely believed by Reddit fans to be the infamous "Slim Shady" guy on her show. The pair split in December of 2017, per Page Six, but the messiness didn't stop there. 
Here's the truth about Alex Cooper's relationship with Noah Syndergaard.
Alex Cooper and Noah Syndergaard went public at a sports game
Before podcast host Alex Cooper had made a name for herself with "Call Her Daddy," she first hit the headlines for a public appearance with her now ex-boyfriend, Mets player Noah Syndergaard. The two attended a New York Knicks game during the spring of 2017, per the New York Post. At the time, Cooper was still in her final year attending college at Boston University.
However, by winter of that year, Syndergaard had announced that he and Cooper had officially split. The baseball player took to Twitter to do it. "Baseball is my significant other," he wrote, alongside an image of a social media relationship status changing to single. Cooper, however, has been more upfront about their breakup. Appearing on an April 2021 episode of "BFFs with Dave Portnoy and Josh Richards," she seemed to be hinting at her relationship with Syndergaard, though she didn't name him directly.
"Oh my God, I've dated a guy that was an athlete, that was a stoner that pretended to be a nice guy and he wanted to f**k his mom, and it was the worst. It was always about his mom. He was a pitcher... I'm not saying it's him. I've dated a couple of pitchers," she said, via Barstool Sports.
Alex Cooper's relationship with Noah Syndergaard affected her career
Although "Call Her Daddy" host Alex Cooper has now made it big with a multi-million dollar Spotify deal, she had tried her hand at different career mediums before. Her first start involved being a soccer player at Boston University, after playing the sport for several years. However, controversy struck when Cooper was reposted on Instagram as a Barstool Sports "smokeshow" before she hosted a podcast with them. 
And while Cooper was dating New York Mets pitcher Noah Syndergaard in 2017, the public coverage of their relationship may have helped her get her foot in the door.
In a July 2021 interview with Bustle, tied to her Spotify deal, Cooper touched on her and Syndergaard's relationship having some media benefits. Cooper explained she took a job at a magazine called Gotham that Syndergaard had appeared in. "I basically got that job because of him, and I have no shame saying that," she said.