The Truth About Natasha Lyonne And Fred Armisen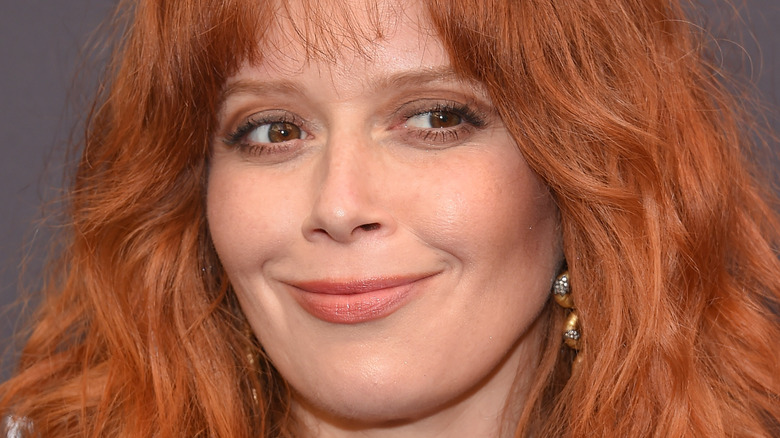 DFree/Shutterstock
Natasha Lyonne and Fred Armisen are two titans of comedy. Lyonne brought a light-hearted feeling to prison life in "Orange is the New Black," which is no small feat, and she kept viewers on the edges of their seats as they waited to see how her cursed "Russian Doll" character would hilariously meet her end — over and over again. As for Armisen, he brought an array of different characters to life on "Saturday Night Live" and the sketch comedy series he co-created, "Portlandia." Lyonne began popping up on the latter in 2015.
Armisen and Lyonne somehow seem both mismatched and like the perfect match, and they became one of Hollywood's funniest "it" couples in 2014. According to People, they were first spotted together at an Emmys afterparty hosted by Netflix. An eyewitness reported that they "shared kisses and were very cozy together." The following year, they attended the Emmys as a couple and Armisen rocked a frightful accessory: a Freddy Krueger glove (pictured below). Lyonne got to play Fashion Police on "Late Night with Seth Meyers" and opted for the good cop role by calling her date's look "solid."
While Lyonne and Armisen are both fans of comedy and hair-raising red carpet looks, Armisen explained how they're different during a 2019 episode of "Conan." He said, "She's very loud and she likes a lot of noise in the house, and I'm very quiet, and that's our arguing point." So how is this odd couple doing today?
Photos of Natasha Lyonne may prove that she and Fred Armisen are finished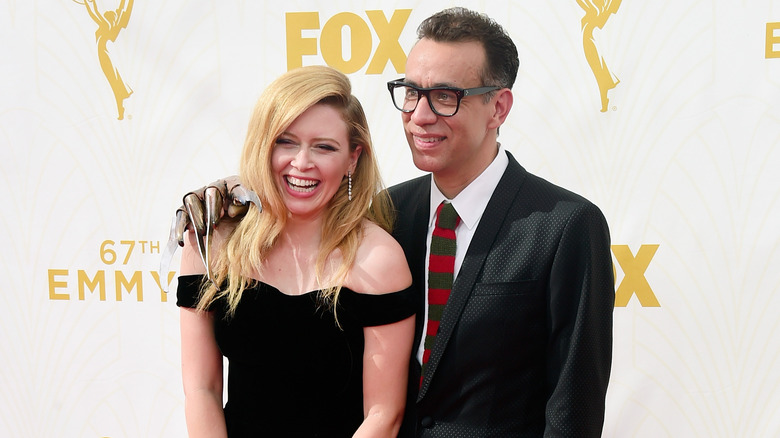 Frazer Harrison/Getty Images
On September 9, the Daily Mail shared photos of Natasha Lyonne holding hands with a tall, bearded man who was not Fred Armisen. The pair was enjoying some pleasant Labor Day weather at the Malibu Chili Cook-Off. So far, the identity of Lyonne's companion remains a mystery, but maybe now she can be as loud as she wants to at home?
Lyonne and the unidentified guy were attending an outdoor event, which is probably something Armisen wouldn't be too thrilled about doing. On "Conan," he revealed that he didn't want to vacation in Hawaii with Lyonne because he is "so uncomfortable with the sun." Unsurprisingly, the last time Lyonne and Armisen were seen together was at an indoor event: the 2020 Golden Globes.
Perhaps, they are together, but seeing other people, as Lyonne and Armisen have both said that they don't have an issue with monogamy. On Marc Maron's "WTF" podcast, Armisen confessed that he's been unfaithful to some of his romantic partners. "I'm neither ashamed nor proud of it. It's just something that happens in my life," he said. As for Lyonne, she told Bust that she thinks the patriarchy is to blame for the concept of being with one person. "I think monogamy was created by men because of jealousy and their need for ownership, but now it's viewed as the weak neediness of women, and that pretty much sucks for us," she stated.
Is Fred Armisen most affectionate on television?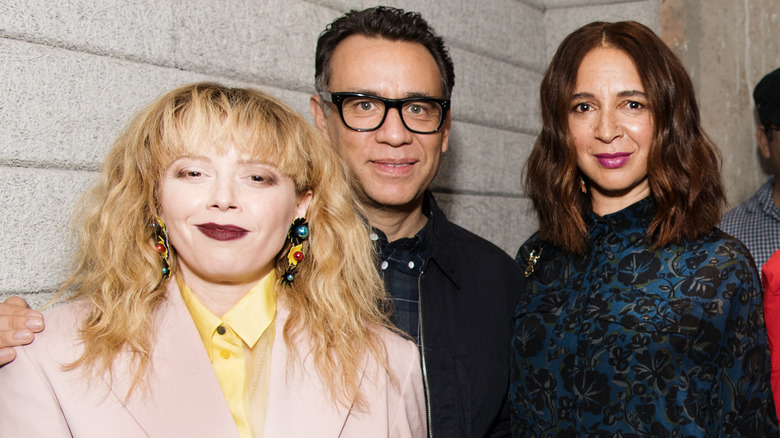 Emma Mcintyre/Getty Images
Maybe it's for the best that the Amazon comedy "Forever" was cancelled after just one season, because it possibly would have put "Saturday Night Live" alum Maya Rudolph in an awkward spot if it got renewed. She and Natasha Lyonne are friends, and Rudolph actually introduced her to Fred Armisen. Lyonne later convinced her pal to play her boyfriend's wife on "Forever." 
"It was actually Natasha's idea. She said Fred and I should play a couple," Rudolph said during The Hollywood Reporter's Comedy Actress Roundtable, per The Hollywood Reporter. The "Bridesmaids" star seemed to enjoy portraying one half of the ghostly married pair and described herself as "a fan" of Armisen. "He makes me laugh, and he's no bullsh*t," she said.
While Armisen might be a fun coworker and friend, he told Marc Maron that he struggles with "intimacy" when it comes to romantic relationships. Even more, his former real-life second wife didn't have such flattering things to say about him after being married to him for just eight months. In 2012, "The Handmaid's Tale" star Elisabeth Moss got very candid while speaking to Page Six about her ex. "One of the greatest things I heard someone say about him is, 'He's so great at doing impersonations. But the greatest impersonation he does is that of a normal person,'" she said. "To me, that sums it up." That's quite a burn.