The Truth About Amy Klobuchar's Breast Cancer Diagnosis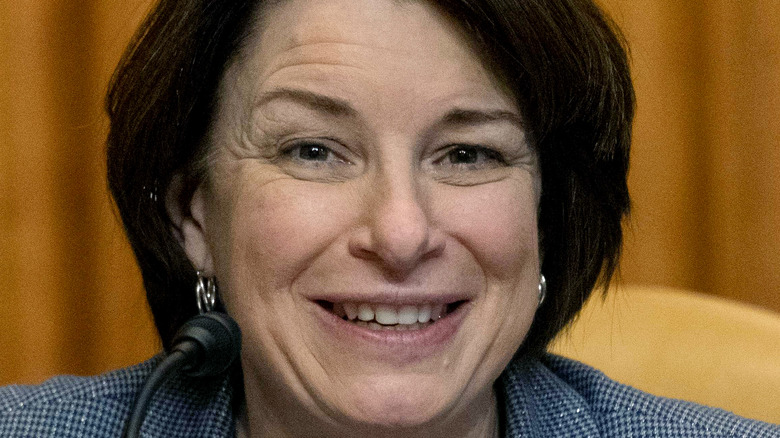 Pool/Getty Images
Amy Klobuchar represents the state of Minnesota as a Senator in the US Senate. In an interview with The Politic, the former US presidential candidate discussed why she decided to run for office. " ... I saw firsthand that you can make a difference in government when my daughter was born and she was really sick," Klobuchar recalled. "I went to the legislature ... and I advocated for a 48-hour hospital stay for new moms and their babies, and we won ... and it made me really feel like anything is possible." With this sensation of being able to change society for the better, Klobuchar was off and running, focusing on the issues of education, employment, and infrastructure, among others, according to the Senate website.
As Minnesota's first elected female Senator, Klobuchar knows firsthand the challenges that female politicians face. She believes that making a difference for women in society means reaching out to men. She explained, "the point is that you really have to be able to reach not just across the aisle ... you really have to be willing to go out there and talk to people that have different backgrounds than yourself."
In September, Klobuchar shared some news about her health, revealing that she had been dealing with breast cancer for the better part of the year. Keep reading to find out more about her diagnosis and journey to recovery.
Amy Klobuchar kept her diagnosis private for months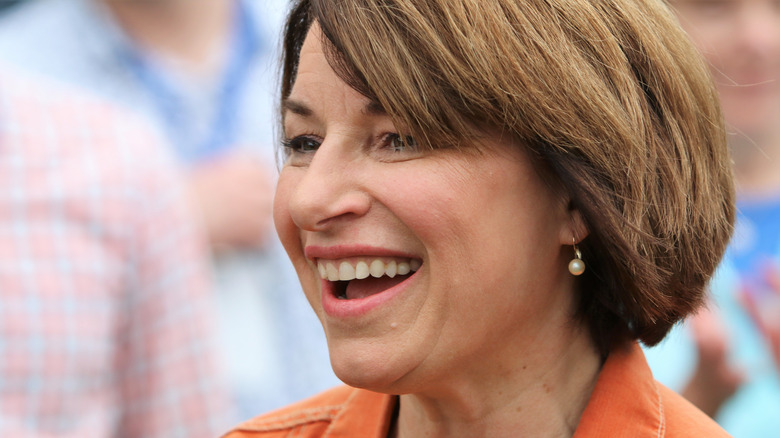 Rich Koele/Shutterstock
Amy Klobuchar released a statement about her current health situation to her followers on the blogging website Medium on September 9, in which she shared the news that she had been diagnosed with breast cancer in February of the same year. "[D]octors at Mayo Clinic found small white spots called calcifications during a routine mammogram," the Minnesota Senator penned. "After this was discovered, I had a biopsy at Piper Breast Center in Minneapolis, and then learned that I had Stage 1A breast cancer." The mother-of-one went on to explain that she had a lumpectomy to remove the cancer before undergoing a round of radiation to further target it. In August, she discovered that the treatment had worked well and has since felt incredibly grateful for the medical attention she received and the support of her friends and family. 
The statement clearly made an impact, and in the comments section, Klobuchar's followers expressed their relief that she was able to overcome her cancer and wished her well in her continued recovery. Others shared similar experiences and appreciated the Senator's honesty and willingness to connect with her fanbase. "You are a champion," one Medium user commented, adding, "I am sincerely honored to follow you. I am a two time breast cancer survivor with both being different types and protocols. However, I caught both early due to early detection ... thank you for your service. Keep up your important work."
Amy Klobuchar urges Americans to not delay routine medical check-ups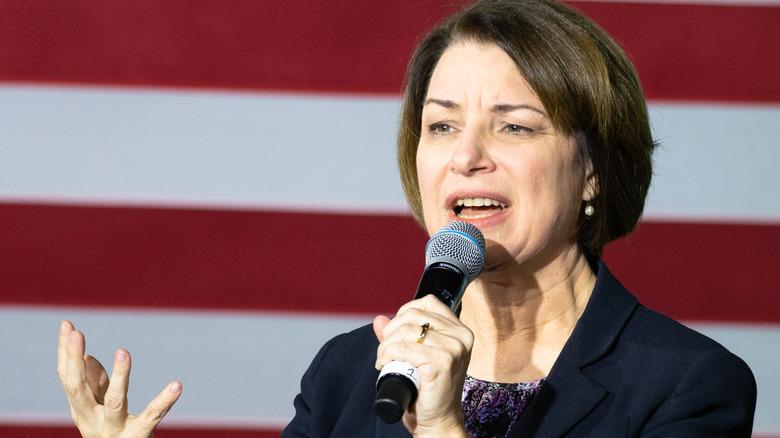 Bryan J. Scrafford/Shutterstock
In her blog post on Medium, Amy Klobuchar revealed that one of the reasons she waited to book an appointment with her doctor when she noticed an abnormality with her breast was because of the global COVID-19 pandemic. "I also want to call attention to the fact that many people have been delaying physicals and routine examinations because of the pandemic," Klobuchar wrote. "I know that because I delayed mine." She added a statistic that one in three adults have reported delaying routine medical examinations due to the pandemic and cautioned her followers against waiting. "Studies have found that thousands of people who missed their mammogram due to the pandemic may be living with undetected breast cancer," she stated. "Over and over, doctors are seeing patients who are being treated for more serious conditions that could have been caught earlier."
Klobuchar went on to say that she understands why Americans have put off routine health screenings, emphasizing that having to stay home and juggle family life with work life has not been easy for anyone. However, she hopes that her experience will encourage others to not wait until they've developed a severe condition or potentially reached the point of no return. "I am so fortunate to have caught the cancer at an early enough stage and to not need chemotherapy or other extensive treatments, which unfortunately is not the case for so many others," she penned.