Amy Klobuchar Reveals The 'Chilling' Detail You Didn't See At The Inauguration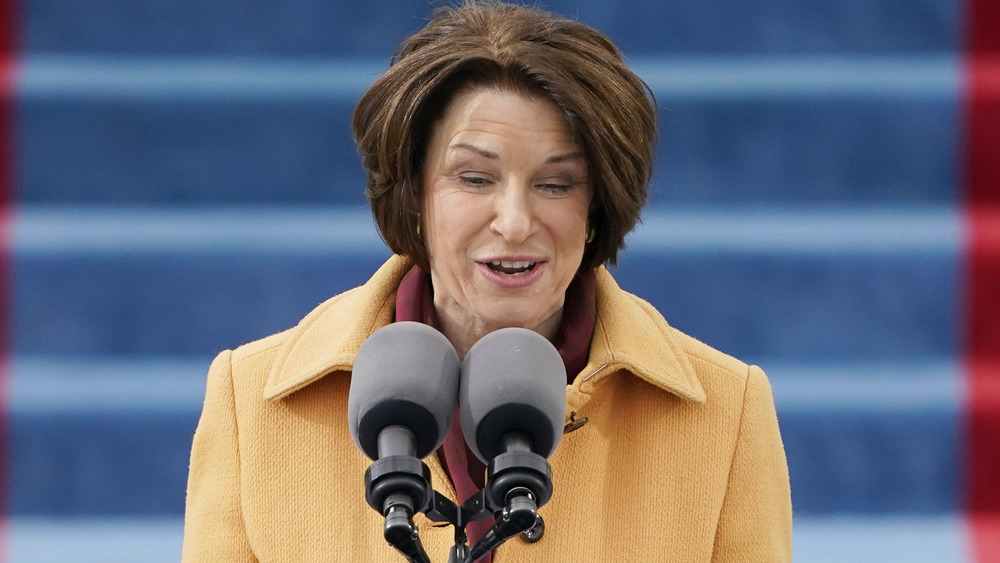 Pool/Getty Images
Before President Joe Biden and Vice President Kamala Harris were sworn into office on Jan. 20, 2021, Minnesota Sen. Amy Klobuchar spoke about democracy and the Jan. 6, 2021 attacks on the Capitol. "It awakened us to our responsibility as Americans. This is the day when our democracy picks itself up, brushes off the dust, and does what America always does: goes forward as a nation under God, indivisible with liberty for all," Sen. Klobuchar said at the event (via PBS).
Klobuchar, who ran against Biden in the Democratic primaries, is already generating attention as a potential Senate Majority Leader in 2022. (As of this writing, New York Sen. Chuck Schumer is the Senate Majority Leader.) The Minnesota senator, who was on the inauguration's planning committee, also received praise in January 2021 for criticizing Texas Sen. Ted Cruz's response to the attacks at the Capitol, per NBC News.
Klobuchar's full speech from Biden's inauguration is worth a read (or watch). In it, the senator also mentioned how historic Harris' VP appointment is. All that being said, before the inauguration proceedings took place, Klobuchar reminded Americans that democracy can't be taken for granted during an interview with NPR's Mary Louise Kelly.
Security at the Capitol on Inauguration Day was intense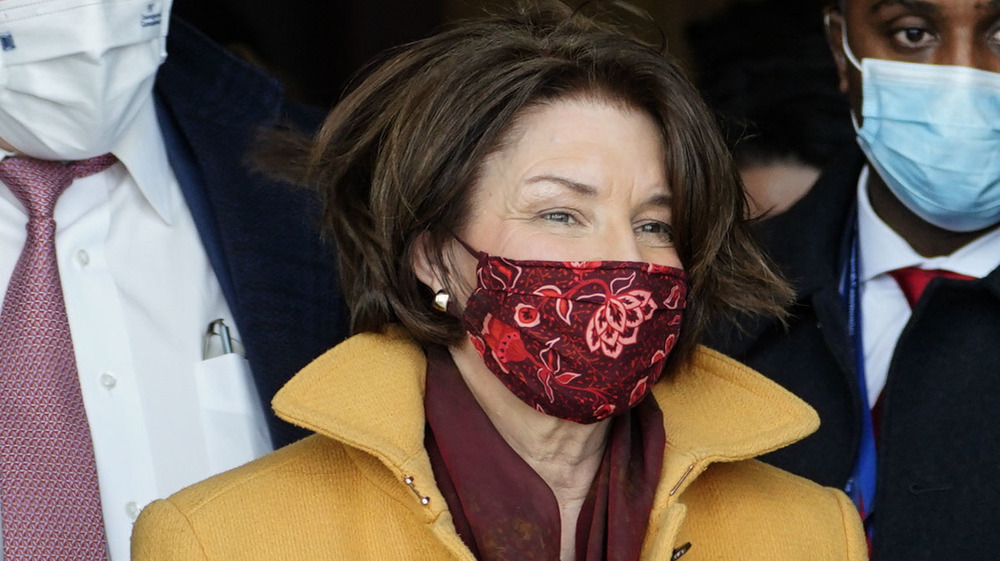 Pool/Getty Images
After countless Americans wondered how people seemingly walked right into the Capitol building on Jan. 6, 2021, security was beefed up ahead of President Joe Biden and Vice President Kamala Harris' inauguration. The apparent attempted coup, which happened just two weeks before the inauguration, led to security being a primary concern ahead of the swearing-in. In fact, 12 people were removed from serving as election security, with links to concerns about "questionable behavior," according to CNN.
While the inauguration itself seemingly went off without a hitch, the storming of the Capitol was still very much still on people's minds. And if you looked closely, you might have seen a physical reminder of the violence, too. "You will see on the platform — I was there yesterday — there's still spray painting at the bottom of some of the columns that they couldn't get out of the marble that will be a stark reminder, a chilling reminder of what happened there only two weeks ago," Sen. Amy Klobuchar told NPR on Jan. 19, 2021. The violence has been denounced by people on both sides of the aisle, but the damage is still there, both physically and metaphorically.