The Real Reason Kamala Harris Wore Purple For Inauguration Day
Alex Wong/Getty Images
Vice President Kamala Harris wore a beautiful purple coat to the Inauguration Day swearing-in ceremony at the U.S. Capitol on Jan. 20, 2021. VP Harris chose the color purple for a symbolic reason, keeping with the theme of unity running through all of the Inauguration events for the Biden and Harris administration.
According to The Cut, Black American designer Christopher John Rogers created Harris' coat. The color of her coat was chosen to send a powerful message. PopSugar reported that Harris wore "the color purple as a nod to the [women's] suffragist movement." 
However, Candice Fortman, Executive Director of Outlier Media, gave extra insight into why Harris chose purple. Fortman tweeted why the color of the coat was important: "Let's talk about Madame VP's purple coat. The importance of color choice. Purple is the color intermediately between red and blue." Keep reading to learn more about the symbolic coat Harris wore for Inauguration Day.
Kamala Harris makes history by taking office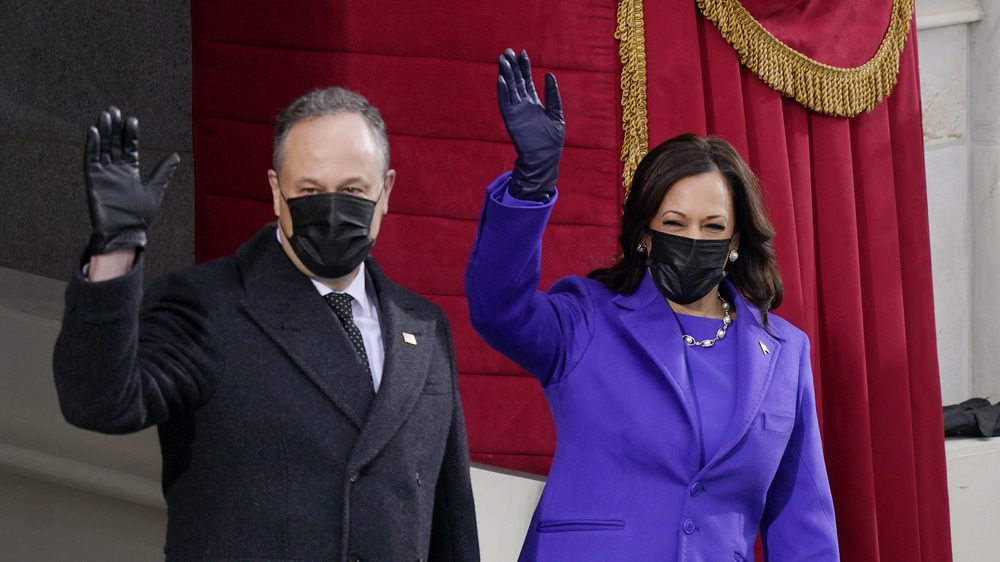 Drew Angerer/Getty Images
Kamala Harris made history in multiple ways as she was sworn into the office of the vice president. She is the first woman, the first Black woman, and the first woman of South Asian descent to serve as VP of the United States. The purple coat worn by Harris to the Inauguration Day swearing-in ceremony at the U.S. Capitol symbolized unity.
But the symbolic reason Harris wore the coat did not take away from the fashion statement the coat made. Twitter had many feelings about the fabulous purple coat. Gretchen Carlson tweeted, "LOVE the purple Inauguration Day coat @KamalaHarris #KamalaHarrisDay." British Twitter user @jojowiththeflow opted for a compliment, tweeting, "Excuse my shallowness but purple is my favourite colour and her coat is an absolute dream." Dr. Daniel Summers added, "Welp, that was a nice little sob I made seeing the VP-elect in her stunning purple dress and coat."
Ireland's Mama Duck summed it up perfectly when she tweeted, "First woman of colour to be America's @VP, wearing a #Purple coat. Purple = red & blue. Purple is for #suffragettes.The Color Purple is a wondrous colour, indeed."