Inside Warren Buffett's Marriage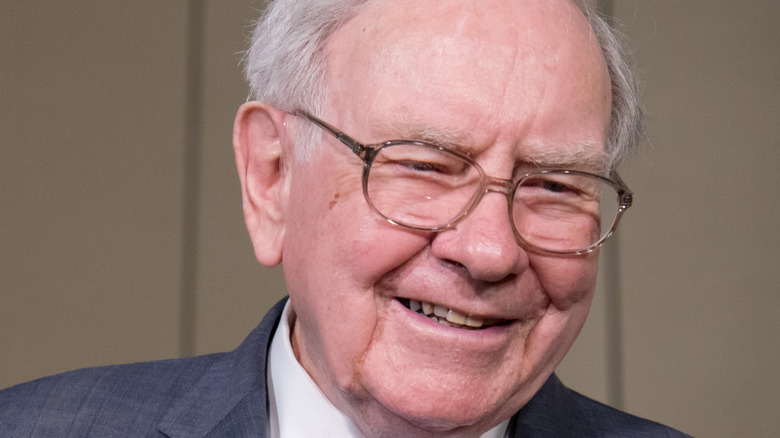 Kent Sievers/Shutterstock
Anyone interested in personal finance and investment must have heard of Warren Buffett. He is one of the world's wealthiest individuals — as of October 2021, his net worth stood at $101.4 billion, per Forbes. Known as the "Oracle of Omaha," Buffett is the CEO of American multinational conglomerate Berkshire Hathaway and has played an active part in its growth. He's also been a board member of the Gates Foundation, helping the organization with problem-solving strategies.
Buffett has quite a rapport with his fans, and much of it comes from the way he has grown in his career. Per Forbes, he first purchased stocks when he was 11 years old. He first filed taxes at 13. The billionaire — who's also been a good friend of Bill Gates — is also quite generous with the wealth he has amassed. Per the outlet, he has donated over $45 billion to the Gates Foundation and the foundations run by his children.
Buffett's success as an investor and businessman has drawn much attention. He's a role model for numerous young investors. With 15 books under his name, Buffett is also a favorite pick on bookshelves (per CNBC). While there's much said about his investment strategies and how he changed the outlook on personal finance, the details on his personal life — except his friendship with Gates — remain largely obscure, albeit interesting. Here are some fascinating details about Buffett's marriage(s) that show the other side of the world-famous billionaire and philanthropist.
Warren Buffett's second marriage was open and 'unconventional'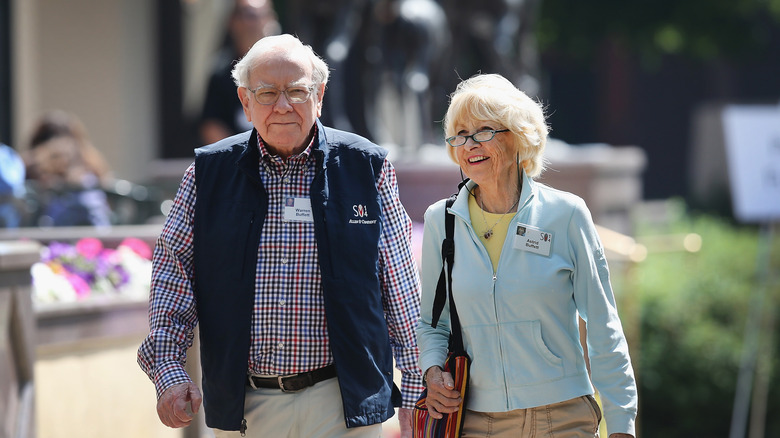 Scott Olson/Getty Images
Warren Buffett's known to yearn for female companionship, so the openness around his marriage doesn't come as a surprise. His biographer Andy Kilpatrick told The Guardian the billionaire "needs people around him who can take care of some needs." Menks was aware of Buffett's attitude towards companionship when she met Buffett in the mid-1970s.
Per the outlet, Buffett's first wife, Susan, had resumed her career as a nightclub singer at French Café. Menks also worked at the same establishment as a waitress. When Susan moved to San Francisco to pursue her singing career, she asked friends, including Menks, to care for her husband. The Guardian wrote that Menks and Buffett grew closer during that period, and she moved in with him a year later. Soon, the two women would begin to "share" Buffett between themselves.
The openness of their relationship seemed to work well. "She [Menks] made a home for him, yet she would see him off with neatly laundered shirts when he left town to be with Susie," wrote author Roger Lowenstein in his book "The Making of an American Capitalist." Their relationship — they married in 2006, two years after Susan's death — even resonated with their children. "Unconventional is not a bad thing. More people should have unconventional marriages," Buffett's daughter Susan Jr. told The New York Times. 
Warren Buffet's first marriage to Susan Thompson lasted 52 years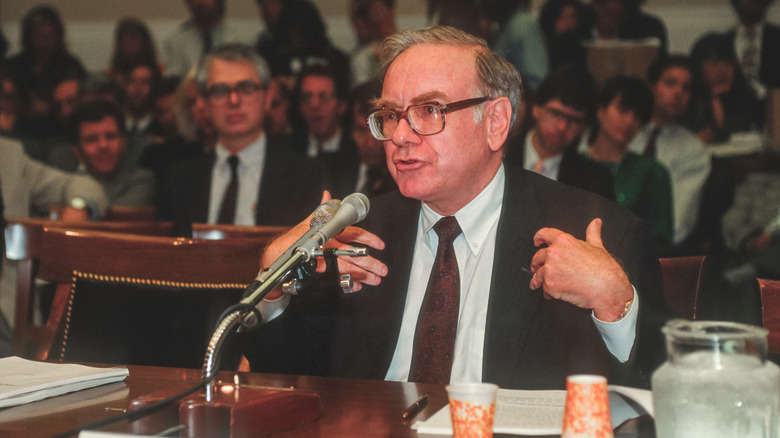 Rob Crandall/Shutterstock
Warren Buffett has enjoyed much stability with his relationships. According to The Sun, he was married to Susan Thompson from 1952 to 2004. Susan was from Omaha, Nebraska, and worked as abortion rights and civil rights activist. According to The Washington Post, she was the world's 17th wealthiest woman. She was also the president of the Buffett Foundation and served as a director at Berkshire Hathaway. Susan died of a stroke at the age of 72 in 2004.
Buffett's perspective on marriage and relationships is clear. "Who you marry, which is the ultimate partnership, is enormously important in determining the happiness in your life and your success, and I was lucky in that respect," he told Forbes (via CNBC). He also said that "it's much more fun achieving things in life with a partner."
Buffett believes that his first wife was one of the "greatest teachers" in his life, along with his father and his mentor. In a conversation with Bill Gates in January 2017, Buffett stressed upon the importance of respecting one's partner. "The most important person by far in that respect is your spouse," he said. "I can't overemphasize how important that is." It sounds like Warren will have a lot of relationship advice for his next book, should he decide to write one!