The Real Reason Warren Buffett Allegedly Cut Off His Granddaughters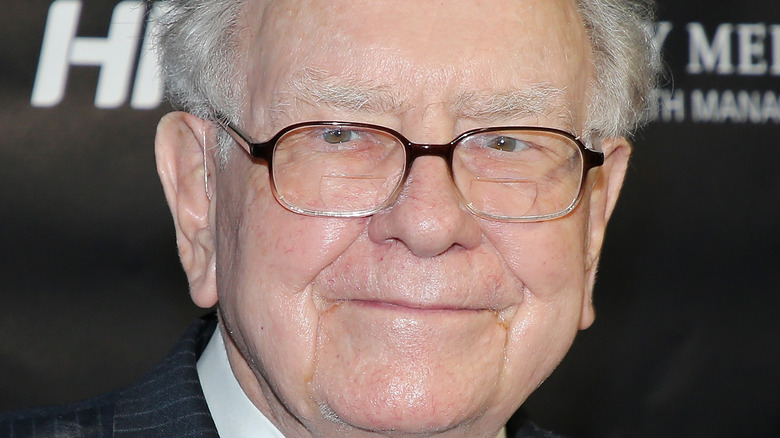 J. Countess/Getty Images
Legendary investor Warren Buffett is currently the ninth richest man in the world with a fortune of nearly $101 billion, per Forbes. Despite his massive wealth, Buffett's normalcy is pretty legendary. He still lives in the modest five-bedroom house he bought for $35,000 in Omaha in 1956, per CNBC. He's a fan of eating at McDonald's. He drives a Lincoln. He's a member of the Giving Pledge and has vowed to give away his fortune before he dies.
Warren has three children. Each received $90,000 in 1977, and the money was given to them in Berkshire Hathaway stock, Buffett's company, as Buffet's youngest child, Peter, confirmed to NPR. That $90K would reportedly be worth more than $200 million today, but the Buffett kids spent it over time. Additionally, The Washington Post reported in 2014 that Buffett's kids each have a $2 billion foundation bankrolled by him. 
When Peter got married, he adopted his wife Mary's identical twin daughters, Erica and Nicole. Though Peter and Mary divorced in the early '90s, Peter is the only dad the twins have ever known and they maintain a relationship with him. The twins do not, however, have a relationship with their grandfather Warren. Keep reading to find out why.
Warren Buffett supposedly felt betrayed by his granddaughters
Erica and Nicole Buffett had a good relationship with their billionaire grandfather Warren Buffett for much of their lives, as Nicole shared in an interview with Marie Claire (though a source told Reuters that the twins had "exaggerated" their relationship with the magnate). In either case, things took a turn in 2006, when Nicole appeared in a documentary by Jamie Johnson, heir to the Johnson & Johnson fortune. This documentary was about rich kids and was called "The One Percent," per IMDb, and in it, Nicole made the claim that "money is the spoke" in her grandfather's "wheel of life."
Although she claimed to Marie Claire that she didn't mean any harm, the damage was done. Nicole allegedly received a letter from her grandfather that said, in part, "I have not emotionally or legally adopted you as a grandchild, nor have the rest of my family adopted you as a niece or a cousin." He signed the letter "Warren," despite Nicole receiving a card signed "Grandpa" the year before, as she alleged to Marie Claire. "I don't have an easy answer for where my father is coming from," Peter Buffett told the outlet. "But I know I can't change the spots on a leopard."
Nicole told Reuters that Buffett allegedly disowned Erica, too, and as of 2008, she was living off of $40,000 a year from her paintings, which is ironic considering she claimed her grandpa paid her art school tuition. Of course, it's impossible to know how Buffett really feels unless he speaks out himself.