The Truth About Brooke Burke And Scott Rigsby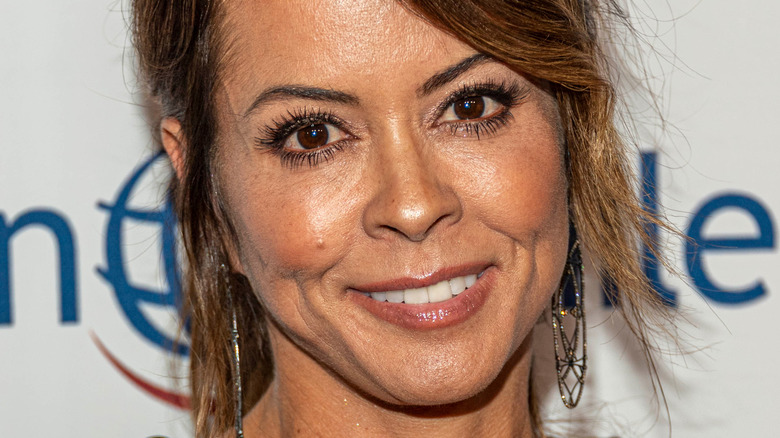 Eugene Powers/Shutterstock
Brooke Burke celebrated her half-century anniversary in style. The former "Dancing With The Stars" host took to Instagram to share the "birthday vibes" and show off her figure in a silky green number. A day later, she posted more pics where she threw her hands in the air while sitting next to a cake. In the background, her boyfriend of two years, Scott Rigsby, put his hands together for the celeb.
And looking at her daily schedule, it makes sense that the real estate developer applauds Burke on her special day. Last year, the fitness guru allowed Us Weekly to take a peek at her life. Burke revealed that the first thing she does is share a cup of java with her beau in the morning. She waxed, "How can you not have a great day when you wake up [to a] handsome face [like his]." She then described the rest of her busy day, emphasizing how much her family means to her. Burke noted, "I hope my kids never get too old for snuggles with their mom."
Burke seems to be big on personal relationships. So, what's the tea on her and Rigsby? Let's have a kiki and talk about Burke and her bae.
Brooke Burke and Scott Rigsby take it to the next level
Brooke Burke and Scott Rigsby are smitten with each other. A quick look at her Instagram account will reveal snaps of the loved-up turning up the heat with their sizzling romance. According to People, Burke had a big birthday week; she and Rigsby are officially engaged! The pair celebrated their news on social media with three photos where Burke flaunted her massive diamond ring. In her caption, she wrote, "Rigsby, pasta, diamonds.... that's amoré." It seems as if third time might be the charm for Burke, who has been married twice before.
The mother-of-four first showed off Rigsby as her plus-one while attending Operation Smile's Hollywood Fight Night at the end of 2019. At the time, she gushed, "He is a sweetheart, a really sweet guy." She also revealed that they had reached a milestone in their relationship at the time. "Yesterday I used the 'B' word. I was like, 'Whoa! Boyfriend?! Babe, do you want to be my boyfriend?!' I had to change his name in my contacts to 'Boyfriend.'" Girl, you may update his status to "fiance" now.
According to The U.S. Sun, Rigsby is a property developer and one of the founders of Industry Partners, a real estate firm. He was also previously married and has two children from that union.
Family is important to Brooke Burke and Scott Rigsby
Brooke Burke is a mama of four and often shares snaps of her kids. She shares Neriah, 21, and Sierra, 19, with her ex-husband Garth Fisher, and she has a daughter Heaven Rain, 14, and son Shaya, 13, with her ex-husband David Charvet. Of course, this begs the question of whether they approve of Scott Rigsby in their mother's life. According to People, Burke revealed that they "really like" him. That's a good thing, because he may be spending the rest of his life with their mother.
The actor also shared that Rigsby knew something about parenting as he has kids of his own. Burke said, "It is awesome because he is a great father," and added, "He has two children and that is one of the things that I love most about him. He is really kind and responsible and devoted, so our kids are getting to know each other." 
It's been about two years since she made that statement, so the kids may have had some time to get better acquainted. Congrats to Brooke and Scott on their engagement!