The Real Meaning Behind Kacey Musgraves' 'Camera Roll'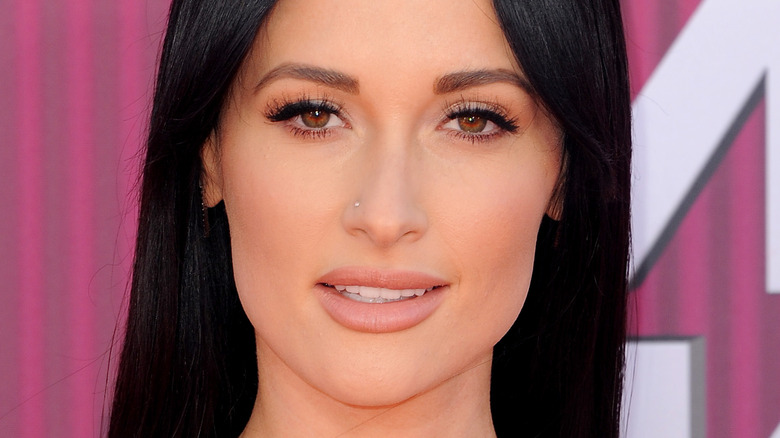 Tinseltown/Shutterstock
The title of Kacey Musgraves' new album, "star-crossed," captures its overarching theme perfectly. Remember the fate of Shakespeare's famous star-crossed lovers after they had the literary world's most famous meet-cute?
Musgrave's ex-husband, singer-songwriter Ruston Kelly, once served as the inspiration for some of the country music star's first love songs, per Good Housekeeping, and she worked on her 2018 record "Golden Hour" while basking in their newlywed bliss. "I started to see the world in a more fond, pretty light," she told Glamour in 2019 of the effect her relationship with Kelly had on her.
Circumstances have changed greatly as the six-time Grammy winner drops her highly anticipated fifth album. Instead of singing along to songs about the "Butterflies" we feel when we fall in love, we're trying not to bawl as we listen to Musgraves work through the fallout from her 2020 divorce from Kelly by reflecting back on her failed marriage. "Kacey doesn't regret falling in love; she reminisces on the good days as heartily as she stews over the bad ones," reads Vulture's review of "Star-Crossed." The album's Paramount+ film provides some vivid visuals to accompany her lyrical emotional rollercoaster.
Speaking of visuals, the ninth track on the record is titled "camera roll." Read on to learn the sad story behind the song.
Kacey Musgraves cried while writing camera roll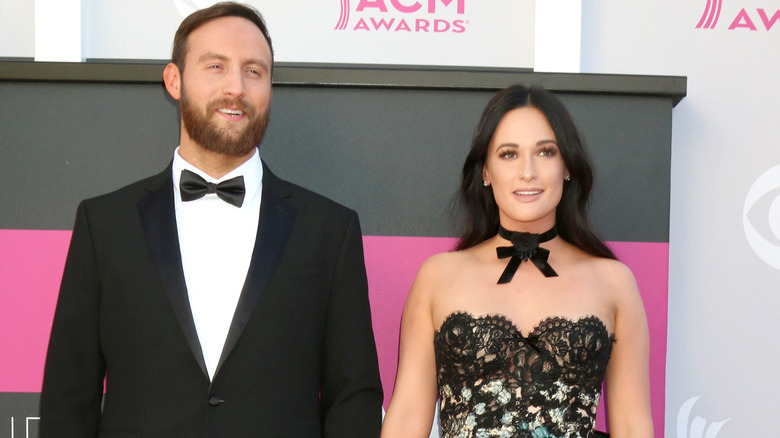 Kathy Hutchins/Shutterstock
The song "camera roll" is a fitting follow-up to "Golden Hour," which is the term used to describe the soft, warm light of a sunrise or sunset that's considered ideal for photos. But the track isn't about Kacey Musgraves filling up her phone's camera roll with happy vacation pictures. It's a cautionary tale about looking at life through the filtered lens of the photos we choose to save on our devices.
During an interview with Apple Music 1's Zane Lowe, Musgraves explained that the inspiration for the song came when she found herself obsessively scrolling back through her camera roll, even though she knew it was a bad idea. "What's crazy is that we never take pictures of the bad times," she observed. In other words, the photos on our phones force us to focus on the happiness that we lost, which in turn makes us feel like we did when we were experiencing the miserable times that we did not want to capture on camera. "Lurking behind these sunset photos is the fight that you had before dinner where we were like, 'This is over,'" she continued. 
Musgrave recalled "sobbing uncontrollably" when she composed the first line of "camera roll," which serves as a warning to others: "Don't go / for your camera roll / so much you don't know that you've forgotten." She also explained that she doesn't delete her old, pain-inducing pictures because they're her "memories." 
A new guy might be appearing on Kacey Musgraves' camera roll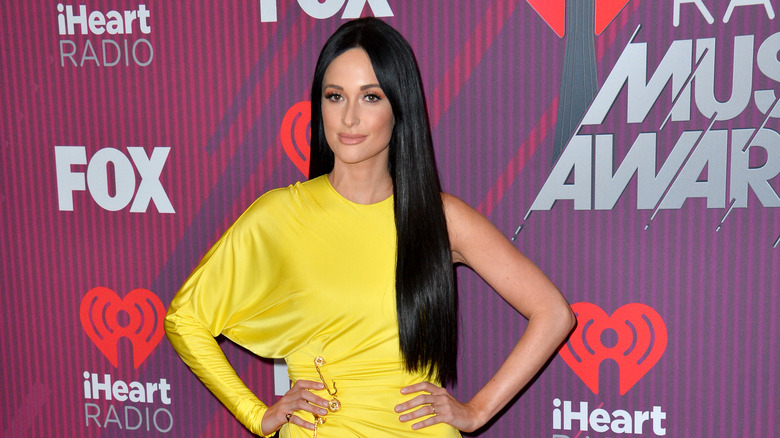 Featureflash Photo Agency/Shutterstock
We're hoping Kacey Musgraves is now busy creating carefully curated new memories for her camera roll instead of scrolling backward. One person who is likely popping up in her pics these days is Nashville-based poet Cole Schafer. In June, he and Musgraves were spotted enjoying a sidewalk stroll in New York City. According to Us Weekly, Schafer doesn't just pen poetry — he's compared himself to "Mad Men" ad man Don Draper because he also works in advertising.
Schafer made his relationship with Musgraves Instagram official by sharing a Polaroid shot of the pair kissing on his page, and he revealed that the singer is on the verge of becoming his muse. "I'm trying like hell not to write about her," his caption read. 
But while the new couple looks pretty smitten, don't expect wedding bells in the near future. During an interview with NPR, Musgraves revealed that she's come to a realization that there's a reason marital bliss can be so fleeting. "I think that marriage is beautiful because it keeps you accountable in all seasons to someone that you love," she said. "But it's also unrealistic in my mind on many fronts, because we do change so much over the years." And it's those changes that make a wordsmith like Musgraves such a prolific songwriter.