The Truth About Alicia Keys' Relationship With Makeup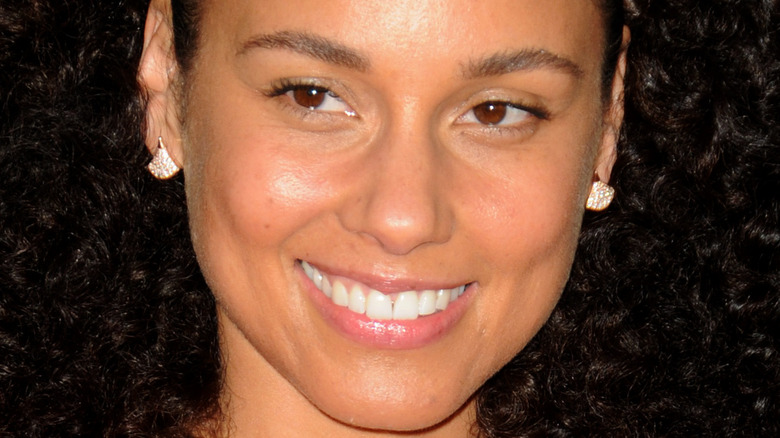 Kathy Hutchins/Shutterstock
What's really going on with Alicia Keys' relationship with makeup? The star has been very vocal about how she feels about cosmetics in the past, pretty much being on both sides of the spectrum with it comes to showing some creativity through makeup.
The "If I Ain't Got You" singer has showed off some stunning and striking makeup looks over the years, including going full on glam with electric blue eye shadow at the 2009 American Music Awards, rocking full on glitter eyelids at her first Grammy Awards back in 2002, and showing off a stunning magenta lip and cat eye that gave us serious glam envy at the same music award show in 2008.
But since then, Keys has taken a bit of a U-turn in the makeup game and has appeared on several red carpets, in interviews, on social media, and even on "The Voice" during her time as a coach with no makeup on her face. But why? Read on for what the star has said about her take on cosmetics and why it's caused a little controversy in the past.
Alicia Keys seemingly swore off makeup in 2016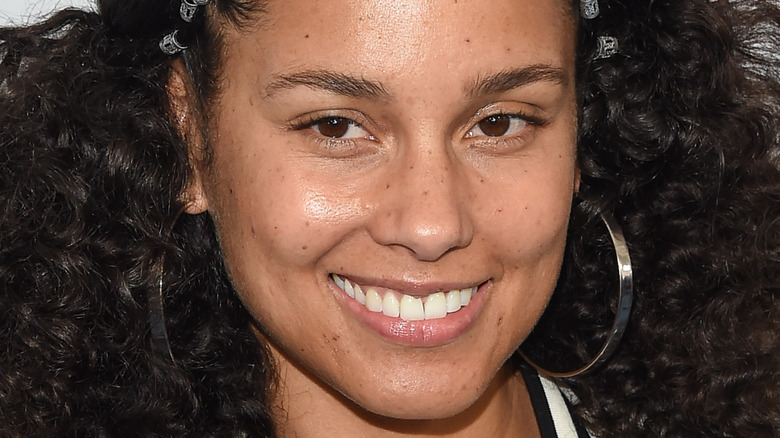 DFree/Shutterstock
Alicia Keys announced back in 2016 that she'd decided to stop wearing makeup, telling fans in a Lenny Letter that she had vowed to stop covering up. "Not my face, not my mind, not my soul, not my thoughts, not my dreams, not my struggles, not my emotional growth. Nothing," she wrote, adding that going without makeup was the "strongest, most empowered, most free, and most honestly beautiful that I have ever felt."
In September of that year, she spoke openly about ditching makeup in several interviews, including appearing bare faced during an interview on "Today" where she inspired Tamron Hall to take her makeup off on air. Keys even helped her wipe off her foundation after Hall explained that she was a big fan of the message the star was sending.
She then went on to walk the red carpet showing off her stunning natural beauty at the 2016 MTV Video Music Awards and other red carpets, before going on to tell ELLE U.K. that feeling comfortable with nothing on her skin didn't happen overnight. "It took me forever to get this skin. I mean, I know how it feels to have a face full of bumps and pimples. I lived through that in the public eye... I [used] to feel the pressure to appear as the music industry expected, but I don't now," she said.
But that does mean Keys never wore makeup again? Well, not exactly.
Alicia Keys has rocked some bold makeup looks since ditching the cosmetics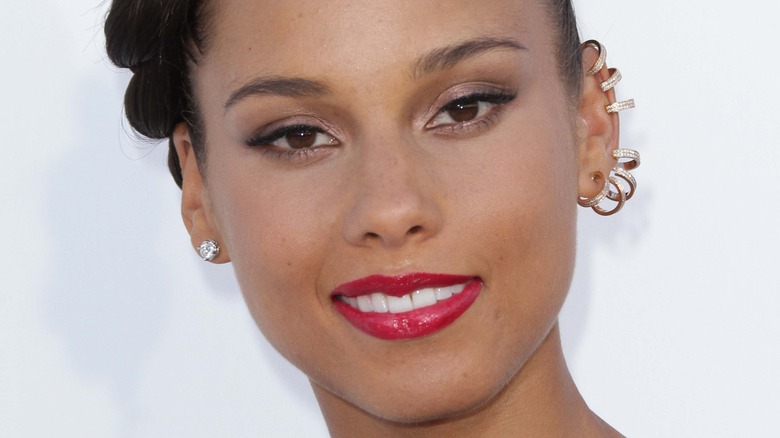 s_bukley/Shutterstock
Alicia Keys has worn makeup since she boldly opened up about not feeling the need to paint her face every time she steps out. In fact, in February 2017, she appeared covered Allure with no makeup but rocked bold looks inside, including fun turquoise eyeliner. She explained her stance was more about not feeling pressured to wear cosmetics rather than taking a firm stance against it. "I'm not a slave to makeup. I'm not a slave to not wearing makeup either. I get to choose at [any] given moment. That's my right," she said.
In 2020, she opened up a little more, explaining to Glamour U.K. that stepping back from the beauty counter was more a break than a permanent decision. "Makeup was a big thing for me; I had been wearing it since I was, like, 16 years old," she shared, revealing she wore a lot every day because of her job. "I did it because I thought that's what you're supposed to do. And I realized I became addicted to it; I didn't feel comfortable without it," she added.
That same year, she proved she's definitely not against beauty lines by teaming up with cosmetics brand e.l.f. — which caused a stir due to her previous comments. In December 2020, she launched Keys Soulcare, a selection of skincare and lifestyle products. 
Makeup or not, there's no doubting Alicia Keys is a naturally beautiful girl on fire.