The Real Reason Lana Del Rey Deactivated Her Social Media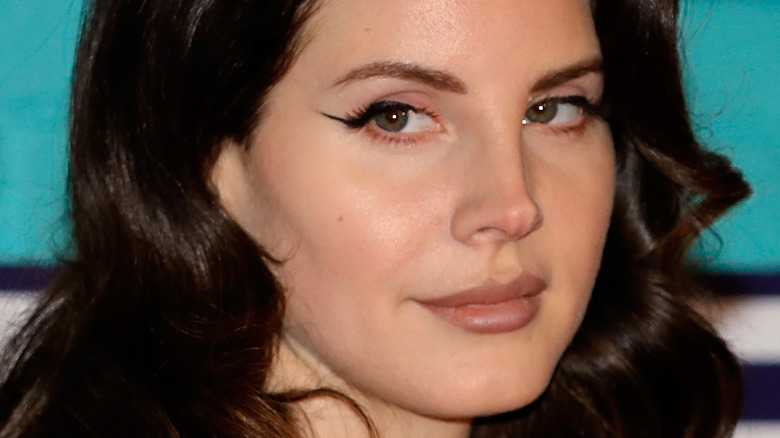 Andreas Rentz/Getty Images
It looks like Lana Del Rey is done with social media. Given the online backlash she has received lately, her decision is pretty understandable. At the height of the COVID-19 pandemic, in October 2020, the singer received criticism for wearing a mesh face mask at a signing event for her poetry book "Violet Bent Backwards Over the Grass" in Los Angeles, California (via People). After Del Rey posted several photos and videos from the meet-and-greet on Instagram, fans quickly noticed her peculiar mask and took to the comments section to call her out.
"Lana sweetie what is this mask," one user fan wrote (via People). "Lana i love you but PLEASE the mask," another added. Del Rey didn't immediately react to the criticism, though she responded one month later. In a now-deleted tweet, the singer retweeted an article from The Michigan Daily and explained that the controversial face mask came with plastic lining.
"The mask had plastic on the inside," Del Rey tweeted in November 2020, per TODAY. "They're commonly sewn in by stylists these days. I don't generally respond to articles because I don't care. But there ya go." She continued, "Same goes for everyone's masks in my video. I'm lucky enough to have a team of people who can do that." Now, almost one year later, the singer has deactivated all of her social media accounts. Scroll down to find out why.
Lana Del Rey wants to keep her circle 'a little bit closer'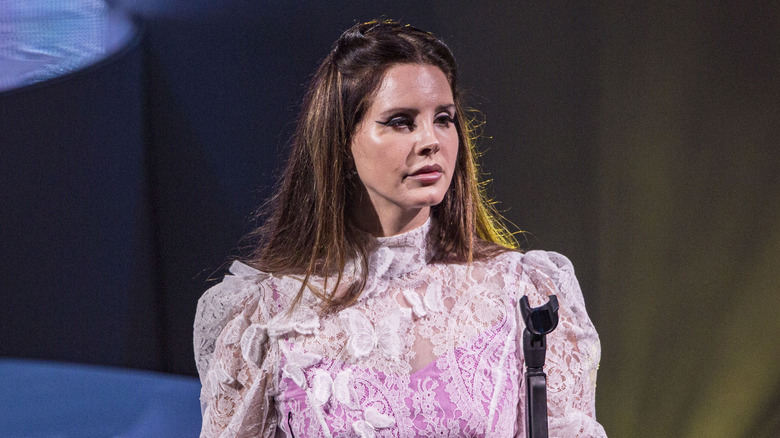 Daniel Knighton/Getty Images
On September 12, Lana Del Rey posted a black-and-white video on Instagram, announcing her departure from social media. "Hi guys, I just wanted to let you know that tomorrow, we are going to be deactivating our social media accounts, my social media accounts," the singer said in the now-deleted clip (via People). "And that is simply because I have so many other interests and other jobs I'm doing that require privacy and transparency."
Despite her online absence, Del Rey reassured fans that she will continue to work on her craft. "I'm still present and I love what I do," she explained. "And I'm absolutely here for the music, and I'm also just going on some different endeavors." She then revealed what her upcoming project entails. "It's a compilation of older songs and a few newer songs, some written by family and friends and mostly old collaborators, and there will probably always be more to come."
Elsewhere, Del Rey further explained why she's leaving social media. "For right now, I think I'm going to just keep my circle a little bit closer and continue to develop some other skills and interests." Then, she thanked her fans before logging off for good. "So, I've really enjoyed sharing all these small tidbits with you, and I'm really blessed. So, thank you and ... signing off." As of this writing, Del Rey's Instagram and Twitter accounts have, indeed, been deactivated.
For Lana Del Rey, 2020 was filled with drama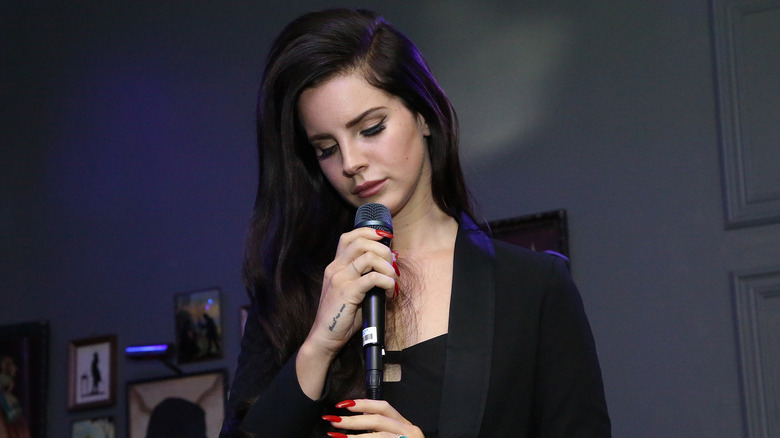 Astrid Stawiarz/Getty Images
Apart from the controversial face mask incident, Lana Del Rey received even more criticism in 2020. In May, the internet slammed Del Rey for her comments on fellow female artists, such as Beyoncé, Doja Cat, and Nicki Minaj. Taking to Instagram, the "Summertime Sadness" star seemingly reacted to her colleagues' Billboard success in a lengthy post titled "Question for the culture."
"Now that Doja Cat, Ariana, Camila, Cardi B, Kehlani and Nicki Minaj and Beyoncé have had number ones with songs about being sexy, wearing no clothes, f******, cheating, etc — can I please go back to singing about being embodied, feeling beautiful by being in love even if the relationship is not perfect, or dancing for money — or whatever I want — without being crucified or saying that I'm glamorizing abuse?" She wrote in the now-deleted post (via NBC).
Del Rey's statement didn't sit well with fans, though, who slammed her for coming after singers of color. "I don't know who was giving Lana Del Rey a hard time but I'm pretty sure it wasn't Black women," journalist Jamilah Lemieux tweeted. "Girl, sing your little cocaine carols and leave us alone." "Lana blatantly ignoring the criticism Beyoncé, Nicki, and other black women have received (and continue to) for being confident in their sexuality doesn't sit right with me," a fan added. "Commercial success hasn't made them exempt from misogynistic attacks masked as constructive criticism."