Faye Dunaway Breaks Silence On Oscars Mishap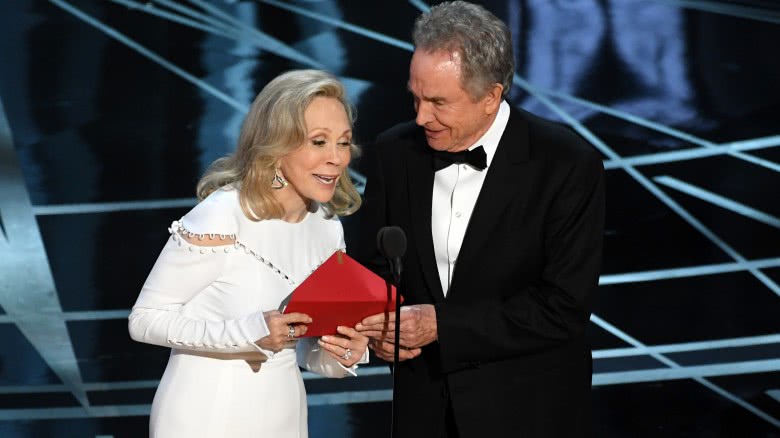 Getty Images
In an interview with NBC Nightly News, actress Faye Dunaway expressed regret over accidentally declaring that La La Land had won Best Picture at the
2017 Academy Awards
in February.
"I could have done something, surely. Why didn't I see Emma Stone's name on the top of the card?" Dunaway told anchor Lester Holt in the interview that aired on Monday, April 24, 2017.
Dunaway presented the final award of the evening, Best Picture, at the 89th Oscars on Feb. 27, alongside her Bonnie and Clyde (1967) co-star Warren Beatty. When Beatty opened the envelope, he paused awkwardly, delaying the announcement for what felt like minutes before finally showing the card to Dunaway. Then, without missing a beat, Dunaway announced that La La Land had won.
"He took the card out, and he didn't say anything," Dunaway remembered. "He paused. He looked over at me, [then] offstage. He looked around. And I finally said, 'You're impossible.' I thought he was joking. I mean, I thought he was stalling. Warren's like that. He kind of holds the power and makes people — a dramatic pause. But it's part of his charm."
Of course, as we all know by now, the real winner of the evening was Moonlight, not La La Land, a realization that
unfolded in jaw-dropping real time on stage
. Hours after the ceremony had ended, it was discovered that Beatty had accidentally been given the envelope for Actress in a Leading Role by a member of the accounting firm PricewaterhouseCoopers. The accountant, along with his counterpart, will not return for the 90th Academy Awards, according to the Hollywood Reporter.
Looking back on the incident months later, Dunaway admits she felt stung on stage. "We were, I won't say 'deer in the headlight,' but you are completely stunned. You don't know what has happened."
Dunaway's confession comes a little over a week after Beatty described his thoughts on the fiasco to British talk show host Graham Norton. "I guess you could say it was chaos,"
he said
.
You don't say!