The Bravo Show You Didn't Know Donald Trump Made A Cameo In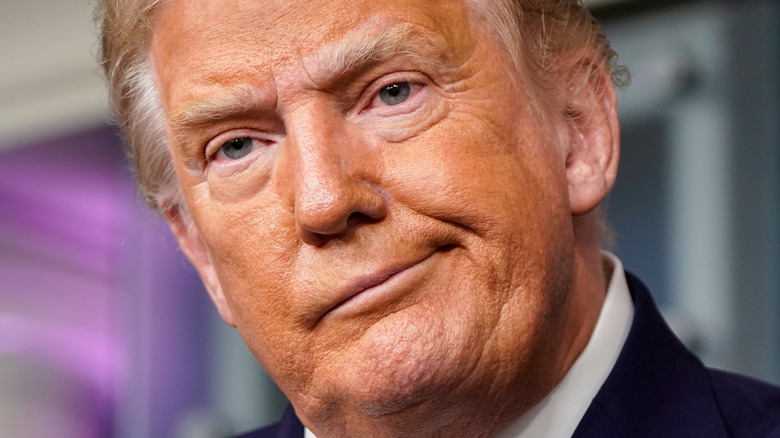 Naresh777/Shutterstock
Before Donald Trump took the White House, he was best known as a reality television star thanks to his NBC series, "The Apprentice." In fact, it was a role that gave him the kind of celebrity exposure that he didn't otherwise get as a New York-based businessman and real estate mogul prior to his reality television fame. Speaking to the Economic Club in 2014, Trump revealed how he got to coin his famous tag line, "You're fired!" He recalled, "The first season there was one guy, and he was a nice guy, but he was really pathetic — so bad that I got angry at him. And I said — I won't use his name, but I'm sure he's going to find out. I said, so and so, 'You're fired.' And the whole place went crazy. The cameramen. Everybody went crazy. And that's how that came about. It wasn't scripted. There's no script. We don't have any script at all."
But little do fans know that "The Apprentice" wasn't Donald Trump's only foray into reality TV. In fact, the former president of the United States appeared on a Bravo show with a "Real Housewife" that he actually knew quite well, both personally and professionally. To find out all the details, keep scrolling below!
Donald Trump made a cameo on NeNe Leakes' Bravo show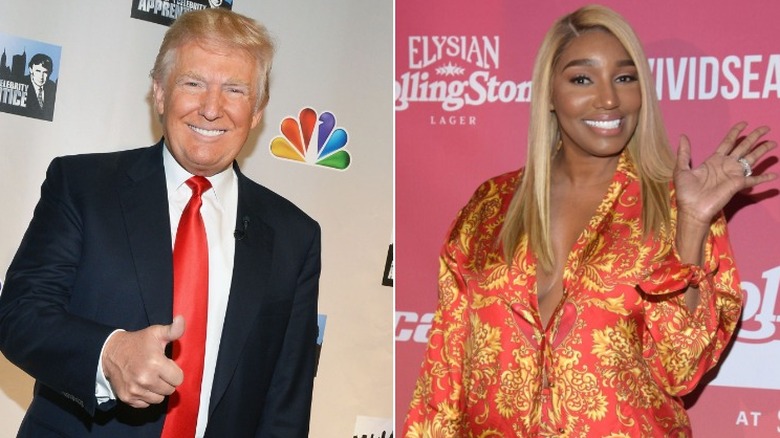 Slaven Vlasic/Getty Images, Jason Kempin/Getty Images
It's not a secret, but it's also not a well-known fact that Donald Trump made a cameo in NeNe Leakes' short-lived series, "I Dream of NeNe: The Wedding" in 2013. Trump appeared in Episode 2 of the series, where NeNe asked him his opinion about getting a prenup and dealing with family drama. 
As many of NeNe's fans already know, she was a contestant on "The Apprentice" in Season 11, but quit halfway through. In 2017, "The Real Housewives of Atlanta" star opened up about working with Trump in an interview with Entertainment Weekly. She said, "Obviously, when he was running, so many people asked me about him because I worked with him and then I got married actually again and he did a little scene with me on my show. And I have to say, when I worked for Donald, he and I got along very well. I must say, he was very true to who he was when I worked with him." However, she did add at the time that the person she saw in the White House wasn't one that she recognized. "I don't know who that is. I don't know him to ever speak that way. He's always been very honest and very true and very blunt — that's true. He's always been that way," she added.
So, how does NeNe's professional relationship with Trump look like today? 
NeNe Leakes makes her feelings about Donald Trump pretty clear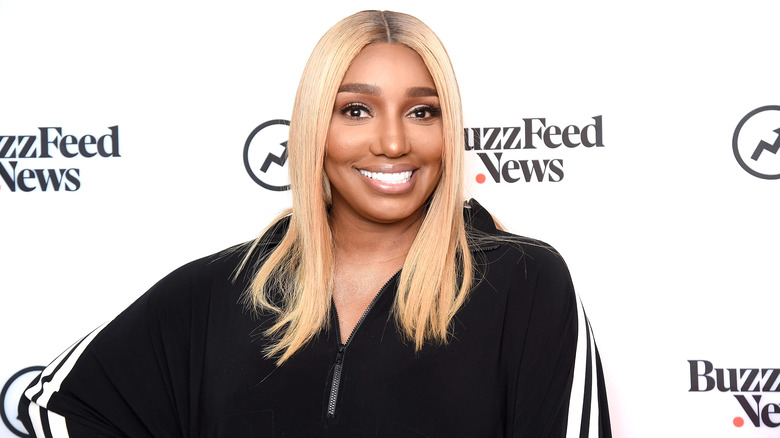 Gary Gershoff/Getty Images
While there might have been a time in which NeNe Leakes was willing to take Donald Trump's advice on everything from dating to her career to her post-marriage finances, that all must have changed the moment Trump became president. That's because during an interview with Extra back in 2020, NeNe weighed in on a presidential debate between Trump and then-Democratic nominee Joe Biden. From the sounds of it, NeNe wasn't very supportive of her former mentor.
Commenting about the debate, NeNe said, "I thought Trump was silly to laugh at Biden for wearing a mask. I could give [Biden] some good one-liners to say... 'The only reason why you're not wearing your mask is because you don't want your orange spray to come off' or something. You know I need to have to say something back."
One can only wonder if NeNe learned from the best, right? If there's anything that NeNe's fans have learned, it's that she's definitely an observant apprentice.