Floribama Shore: Who Is Nilsa Prowant's Fiance, Gus Gazda?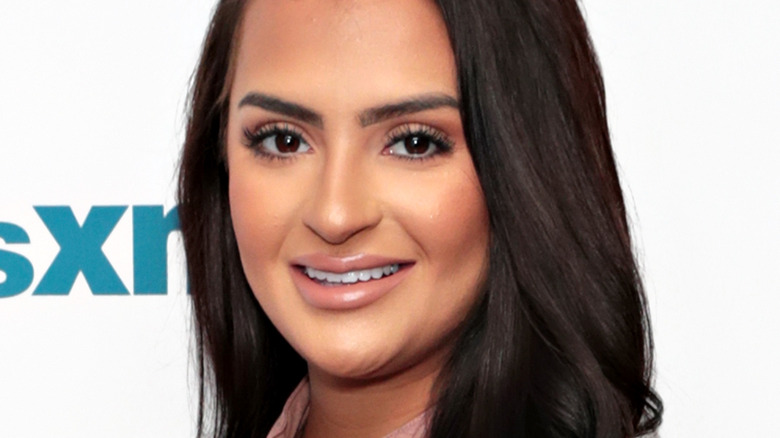 Cindy Ord/Getty Images
There is neverending drama amongst the cast of MTV's "Floribama Shore", and as the show heads into Season 5, things are seemingly only going to get more heated. One of the central narratives throughout the series has been the relationship between Nilsa Prowant and her on-again-off-again beau, Gus Smyrnios, which got all the more complicated in Season 4 when Nilsa revealed that she was pregnant with her fiancé, Gus Gazda. And it's not just complicated because the two men share the same first name.
Nilsa started dating Gus 2.0, as he is known, per RealityTV.com, in the fall of 2019. Nilsa made the relationship Instagram official with the caption, "No ones ever gunna love you more than, God, your mama, and me," per the outlet. They've been dating — and posting it all on social media — ever since. In December 2020, the couple announced that they were expecting a baby together, they were engaged in January 2019, and then welcomed their son this May. 
Nilsa shared a pic of her new baby on social media writing, "He is completely perfect in every single possible way. We are so blessed! Thank you God for our beautiful baby boy. This is everything I have always wanted, a family of my own with the man of my dreams." So what do we really know about this second Gus anyway? Read on for some deets.
The couple seems meant to be
Since his Instagram profile is private, it's hard to tell what Gus Gazda does for a living or even if he'll end up on "Floribama Shore," though it's likely. If only because of how much Nilsa Prowant posts and shares about him. On social media, the two seem inseparable and really happy now that they have a kid together. For one thing, they seem to love going to baseball games, as Nilsa shared an adorbs photo (seen above) of the pair attending an Atlanta Braves game. 
Also, according to Instagram, Nilsa lost her father in 2020, so it seems like Gus couldn't have come at a better time in the support department. "I wish he could be here to walk me down the [a]isle in a few short months..I know he's watching from above, but it's just not the same," Nilsa wrote on the one-year anniversary of her loss. Gus seems like he's really been there for her, at least.
If anything, it looks like Gus is supportive of Nilsa's realty TV and Instagram influencer lifestyle. There isn't any word about when exactly they plan on tying the knot, but it will likely be soon (especially since she's mentioning as much on social). It's also very likely that Gus will be on the show a little bit — if not a lot. That, of course, will likely only add to the drama on "Floribama Shore." And isn't that what it's all about anyway?