The Real Reason Kortni Gilson Left Floribama Shore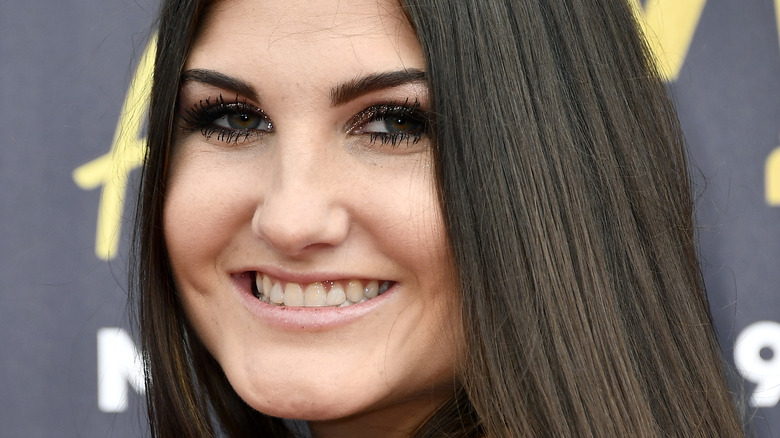 Frazer Harrison/Getty Images
After Kortni Gibson's emotional exit at the end of Season 3, "Floribama Shore" fans have wondered about her mental health, both then and now.
From the beginning, Kortni had a complicated life on the MTV show. In the first season, she gained the nickname "Krazy Kortni," and in the following seasons, many of her storylines involved her relationship with her ex-boyfriend Logan Fairbanks, who first appeared in Season 2. Kortni later took a restraining order against him, after she alleged that he stalked and threatened her and her "Floribama Shore" castmates, per Distractify. The outlet also noted that part of the reason Kortni continued to film was because of the extra protection the show's production team offered in case he came by again.
It was always clear that there was more going on in Kortni's life than was captured by the cameras, but this became extremely clear when she was filmed having a traumatic mental health crisis in the back of the van. Here's what she's said about leaving the show.
Kortni's Floribama Shore departure was emotional
At the end of Season 3 of "Floribama Shore," Kortni Gilson, in tears, told her roommates Codi Butts and Kirk Medas that she was dealing with too much anxiety to stay. "I'm just feeling like I am not okay," she said in a confessional. "Maybe I'm not ready to be back in the beach house." She told Kirk, "I know I'm okay, but I feel like I have so much going on. I'm going to go and get some help." She explained, "My anxiety has never been this high. Whenever you guys were arguing I feel like that triggered something. And I don't know what brought it up but now my body's like freaking out."
Her roommates, to their credit, were totally supportive, and agreed that living in the beach house wasn't a great spot for anyone who wasn't in a good place with their mental health. They commended her for being strong enough to reach out for help when she needed it. It wasn't until later, in a conversation with Dr. Drew, that Kortni opened up about the reason behind her mental health crisis that led to her leaving the show.
Kortni opened up about Floribama Shore on Instagram
After leaving "Floribama Shore," Kortni Gilson opened up to Dr. Drew in an interview about her past trauma, including sexual assault. "I was sexually assaulted when I was 16," she said, "And I couldn't tell anybody about it." Crying in the back of the car after she left the beach house was the first time she'd spoken up about the assault. "Nobody really knew until me having a freakout," she said. "I was just having flashbacks, if that makes sense. I felt like I was stuck in the past." She also described feeling embarrassed and ashamed following her assault, and attempting to block the attack from her memory.
Since then, Kortni has been more open about her mental health and her experience on social media with fans, explaining that she hopes sharing her story will help others going through the same thing. "I was reckless and out of control. Keeping my mind busy so I wouldn't have to "deal" with my trauma. Constantly on the run," she wrote in an Instagram caption. "This continued until season 3 of Floribama Shore, when I totally lost it on national television for everyone to see. I'm a firm believer that everything happens for a reason. And despite everything, I am thankful."
Kortni probably won't be back on the show, but hopefully her time there — and her openness about her experience– had a positive impact for others.
If you or anyone you know has been a victim of sexual assault, help is available. Visit the Rape, Abuse & Incest National Network website or contact RAINN's National Helpline at 1-800-656-HOPE (4673).