The Real Reason Jack Nicholson Always Wears Sunglasses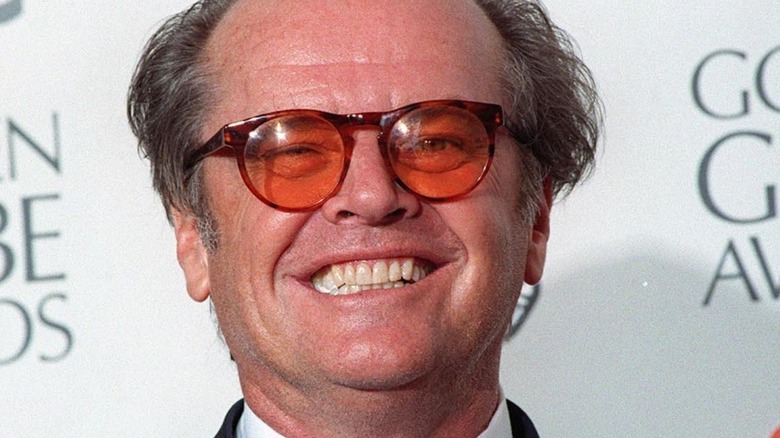 Featureflash Photo Agency/Shutterstock
Most people would agree that it looks silly and is downright impractical to rock sunglasses when there is no sun at all. And yet, certain celebrities are always in shades. Some veered towards colored tints, like Bono from U2 and Elton John. While others like fashion industry stars Anna Wintour and Karl Lagerfeld often went with much darker lenses. Fashion sites will tell you not to wear sunglasses inside — you can't do it, and you won't look cool. However, GQ makes one exception: "Jack Nicholson can pull it off. Unless you're Jack Nicholson, remove your frames." Starting decades ago, the actor's choice of eyewear became intertwined with his likeness along with that devilish smile.
As a legend in Hollywood, Nicholson has earned the right to wear whatever he wants, wherever he wants, especially as the most Oscar-nominated male actor of all time, per Screen Rant. And while Nicholson mostly disappeared from Hollywood, the veteran actor still proudly wears sunglasses in his personal life — even paper glasses on the beach.
After all these years, it's time to find out the real reason Jack Nicholson always wears sunglasses.
Jack Nicholson was inspired by another actor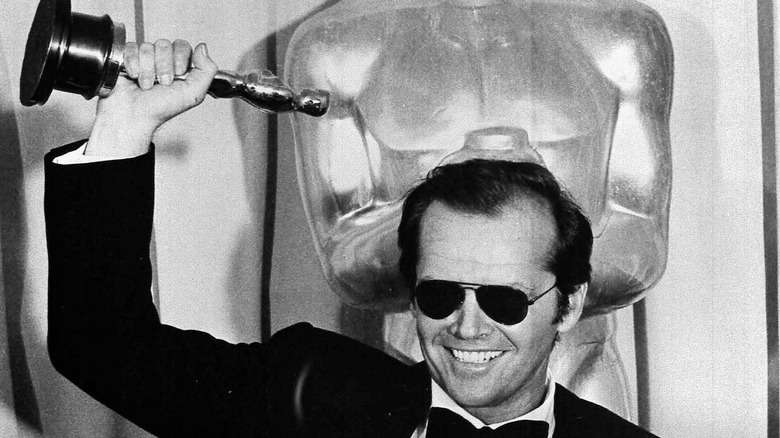 Photoshot/Getty Images
While attending the 1975 Oscar ceremony, Jack Nicholson gave a preview of his signature shaded look. He showed up on the red carpet with a classic peak-lapel tux but accessorized with a beret and aviator sunglasses. Before entering the theater, Nicholson showed off his look standing next to his on-and-off girlfriend for 17 years. And Nicholson was no simple guest — that night, he was nominated for Best Actor in the film "Chinatown." Though he ultimately lost, it showed the confidence and coolness to wear sunglasses on the biggest night in Hollywood.
The original idea for the look came from another Hollywood icon, Fred Astaire. Reportedly, Nicholson once saw Astaire "put on a pair of shades after he lost out on an acting award, and figured: that was a great idea," according to Mr. Porter. Maybe that's why the following year at the 1976 Oscars, Nicholson sat in the audience without sunglasses. He won Best Actor for his performance in "One Flew Over the Cuckoo's Nest."
In the early '80s, the Ray-Ban Wayfarers came back in style thanks, in part, to the 1980 film "Blues Brothers." And Nicholson made the eyewear even more popular when he wore the style, previously associated with '50s icons like Buddy Holly, in the film "Terms of Endearment," as the Los Angeles Times recapped. Nicholson went on to Best Supporting Actor for his performance in the film, and of course, he wore his signature sunglasses while delivering his acceptance speech.
The sunglasses became tied to Jack Nicholson's image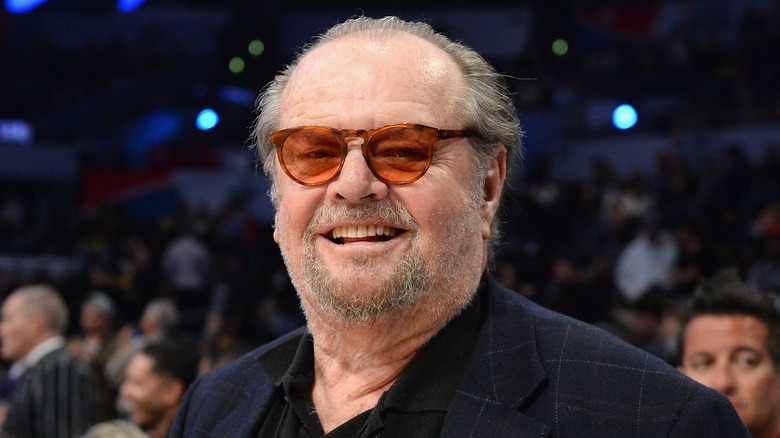 Kevork Djansezian/Getty Images
Rolling into middle age, the actor confessed that the look with sunglasses took on a life of its own. It became such a well-known look that Nicholson didn't really have a choice to ever take them off. "With my sunglasses on, I'm Jack Nicholson. Without them, I'm fat and 60," he once said, via Esquire. Similarly, he felt his choice of eyewear protected him from more than just UV rays. "Sunglasses are a part of my armor," Nicholson mused, per Mr. Porter.
The actor, like so many others, may also rock tinted eyewear for another reason. In addition to a too-cool-for-school look, it can make the wearer appear younger. It's easier to hide wrinkles, crow's feet, bags under the eyes, and other signs of aging, as the Wall Street Journal notes. Though some would argue it's strictly a fashion choice, like a Canadian artist who felt "Nicholson's really deep tint is like he's hiding — he's a little shady."
Shady or not, out in public Nicholson would often be seen wearing various styles of sunglasses. For example, he occasionally posts photos on his Instagram standing in sunglasses next to celebrities. And any basketball fan could usually spot the actor in frames sitting courtside at a Los Angeles Lakers home game. In a series of photos, the Los Angeles Times showed the number one celebrity Lakers fan always wearing sunglasses while supporting his team.