One Former White House Insider Has Some Shocking Things To Say About Melania Trump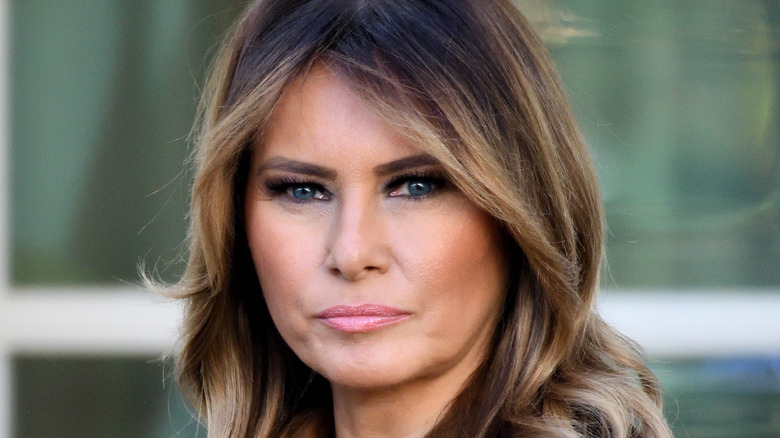 Evan El-Amin/Shutterstock
While the early days of the Donald Trump presidency were seemingly littered with "Free Melania!" memes, a number of revelations throughout the Trump White House and the months following his presidency have given the public a much different idea of the inner workings of the former first lady. Now, it appears a book-long tell-all written by one of Melania's one-time closest confidants will stir the pot again — only this time, it could purportedly bring Melania to a point far beyond anything damage control could hope to repair. 
According to Politico, Former White House Secretary Stephanie Grisham announced in September her exposé centered on her time in the West Wing as the ex-FLOTUS' chief of staff and communications aide will be published in the near future, and will include the shocking moment which spurred Grisham to tender her resignation. Though Insider noted that a number of the more disquieting and distressing events Grisham will share in her book are still under wraps, a number of tidbits have already been leaked to the public. Examples of such include that Melania fully supported and believed in her husband's baseless voter fraud claims and that this belief informed her decision to forgo meeting with first lady Dr. Jill Biden on President Joe Biden's Inauguration Day, thus eschewing decades of tradition with obstinance. However, according to Grisham's account, this is only the tip of the iceberg.
White House insider said Melania Trump refused to tweet an appeal to violent Jan. 6 rioters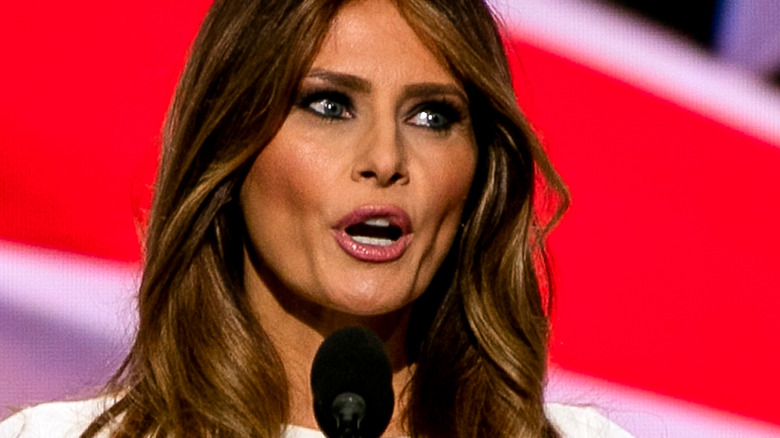 mark reinstein/Shutterstock
Despite the variety of stories about her time in the White House, there is one particularly astounding anecdote shared by former aide Stephanie Grisham which prompted her to immediately resign from her post as Melania Trump's chief of staff. The point of no return? According to Grisham, it was Melania's response, or lack thereof, to the violent right-wing insurrection on January 6 at Capitol Hill, which many still believe to have been potentially indirectly engineered, or at least indirectly supported, by then-President Donald Trump. (A government-appointed committee is currently investigating the attack and the events which led to it as of this report.)
Per Politico, Grisham wrote in her book that she texted Melania on the day in question, while rioters took hold and broke into the Capitol Building, asking Melania directly if she would post on social media in an attempt to dissuade rioters, many of them white nationalists and extremists, from committing violence. "Do you want to tweet that peaceful protests are the right of every American, but there is no place for lawlessness and violence?" Grisham purportedly asked Melania, to which she received a single, one-word response: "No."
In a statement to Insider, a spokesperson from Melania's camp has denied the veracity of Grisham's book, calling it "an attempt [for Grisham] to redeem herself after a poor performance as press secretary." Now, only time (and publication) will tell what's in store for either Grisham or her one-time boss.