Inside The Tragic Death Of Blake Shelton's Brother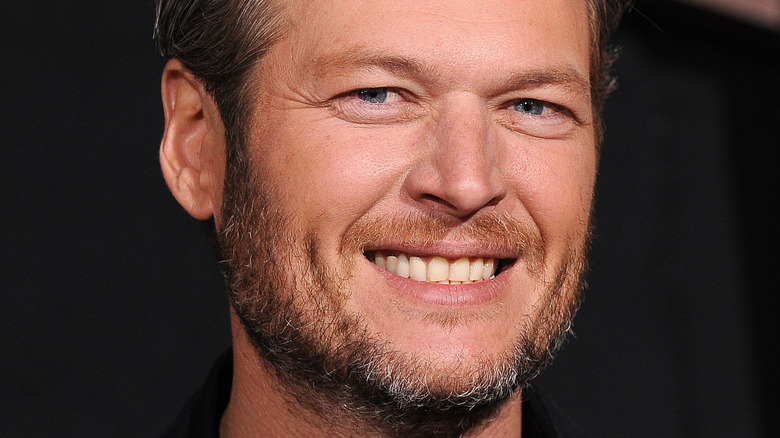 DFree/Shutterstock
With nearly 30 No. 1 singles and eight Grammy nominations under his belt, Blake Shelton has enough talent to compensate for those of us who can't hit a note. But Blake is a country icon not only because he can sing and play the guitar, but because he embodies what the South is all about. With his contagious smile and down-to-earth personality, the country star has touched so many fans because he's relatable. "When I go home, I hunt, and I fish, and I plant corn and I drive back roads. I literally do the things that I sing about," he told "60 Minutes" in 2014 (via CBS News).
And like a good Southern boy, Blake is also a family man through and through. In July 2021, Blake and Gwen Stefani tied the knot in an intimate ceremony in the backyard of his ranch in Tishomingo, Oklahoma, in front of just family members and close friends, as People noted. "They're a very family-oriented couple, and that's exactly what the wedding was about. Family was at the center of everything," a source told the magazine.
It has been that way since he was a child. "I could always, and I can still always, count on my family. I could always count on seeing everybody I was related to at least a couple times a year," he told Cowboys & Indians magazine in 2018. But his large, welcoming family lost an important member in 1990. Keep scrolling to learn about Richie Shelton, Blake's late older brother.
Blake Shelton was a teenager when Richie died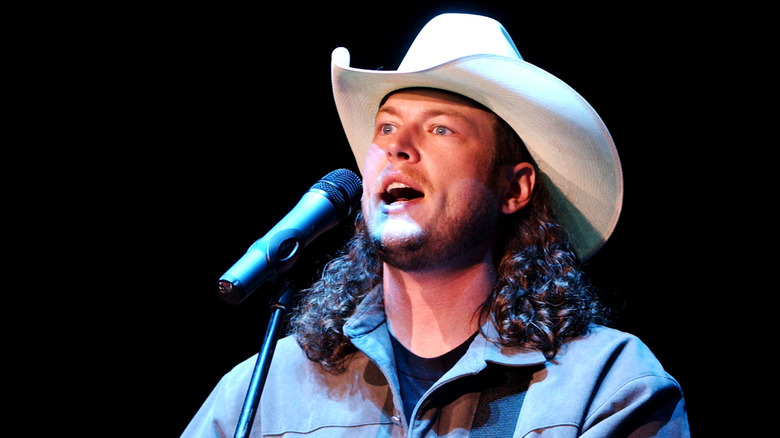 Tim Mosenfelder/Getty Images
On November 13, 1990, Richie Shelton died when his girlfriend reportedly hit a school bus near Ada, the Oklahoma town where Blake was born and raised, The Oklahoman reported. Per the report, the accident happened around 7 a.m., when the sun prevented her from seeing the bus. She was critically injured but survived. In addition to Richie, who was 24, the accident also claimed his girlfriend's 3-year-old son's life, per The Oklahoman. 
Blake was 14 years old. "My brother was my big brother. I mean, I wanted to be him. I wanted to look like him, dress like him, listen to what he listened to, and be into the things he was into," he told Cowboys & Indians. Some of Blake's earliest music inspiration seeped right through from across the hallway, where Richie's bedroom was. "He was listening to Hank Williams, Jr. or Waylon, Lynyrd Skynyrd or Bob Seeger. I just, whatever was popular really, Richie loved all music," he told "60 Minutes" (via CBS News).
Understanding his brother died was a process. "I remember picking up the phone to call him a week after he was dead, to tell him something ... it was like constantly a shock to me that he was dead," he told CBS. Blake still misses Richies and frequently honors him on November 13. "Wow... 25 years ago today we lost my brother Richie Shelton. He's still my hero going strong. Wish everyone could've known him," he tweeted in 2015.
Blake Shelton co-wrote a song in Richie's memory with Miranda Lambert
Blake Shelton and his then-wife Miranda Lambert co-wrote "Over You" in honor of Richie Shelton in 2011, a song that was featured on the latter's fourth studio album "Four the Record." Lambert urged Blake to consider writing about his grief to help him heal. "He started telling me about the experience of it all ... And I was like, 'Well, could we write it?... I feel your pain talking to me right now,'" she said on Essentials Radio in March 2021 (via Today).
Blake drew inspiration from the words his father shared with him when Richie died, words that stuck with him. "He said, 'Look, you will never, ever get over this happening. You're just going to have to learn to get used to it.' He was absolutely right," Shelton told "60 Minutes" (via CBS News). That's the sentiment he translated into the lyrics that won Song of the Year at the CMAs and the ACM Awards. "I miss you / They say I'll be okay / But I'm not going to ever get over you," the lyrics read.
"Over You" was released on January 9, 2012, nine days before Blake's father died, per The Boot, adding an extra layer of grief to the song. "It was really a special moment," Lambert said of writing the song with Blake, per Today. "I'm so glad we shared that song and that it helped his family heal, to have that together."