The Worst Thing Skylar Astin Has Ever Done On A Date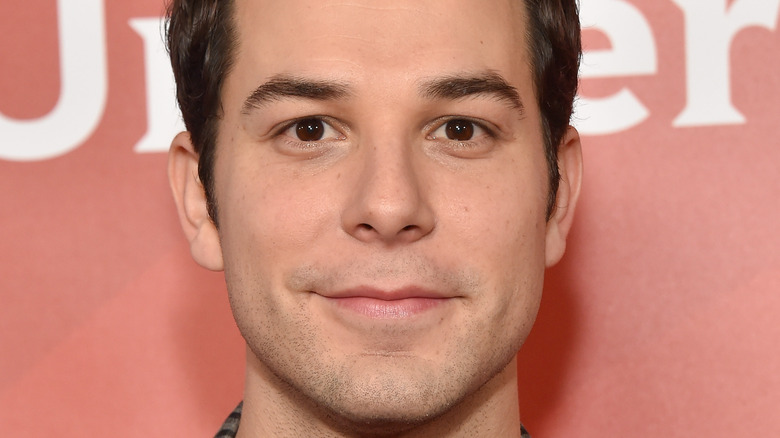 DFree/Shutterstock
Hollywood heartthrob Skylar Astin is no stranger to the dating scene. The actor, who rose to prominence through his roles in "Pitch Perfect," "Wreck-It Ralph," and "21 & Over," has been acting for over a decade, and while he hasn't had quite the tumultuous dating life (compared to most!), he has surely seen a lot throughout his Hollywood endeavors. Throughout his personal life, Astin has dated singer Lauren "Lolo" Pritchard (per Broadway.com) and Lisa Stelly — whom he split from in September.
Astin's most publicized relationship, however, was his marriage to fellow "Pitch Perfect" actor Anna Camp. After starring together in the 2012 musical-comedy, the couple began dating a year later and eventually tied the knot in 2016. Unfortunately, after six years of being together, the couple split, "mutually and amicably" finalizing their divorce in August 2019.
Following the breakup, Astin became a free agent once more. And before linking up with Stelly, Astin opened up about his dating life and revealed the worst thing he's ever done on a date. So, what exactly did Skylar Astin do? Read on to find out!
Skylar Astin once forgot this crucial accessory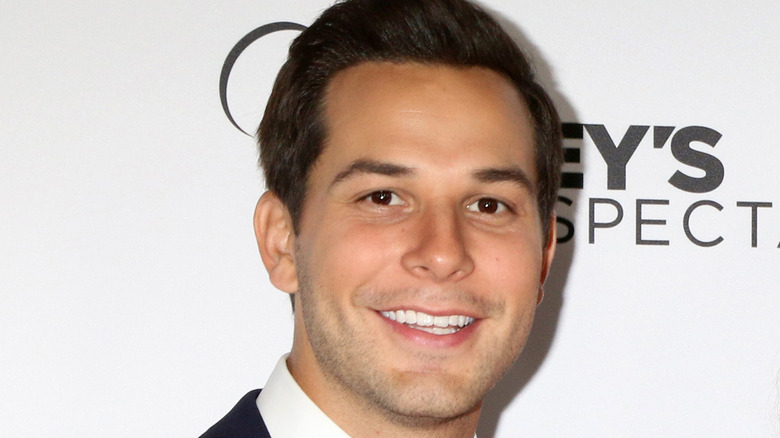 Kathy Hutchins/Shutterstock
Phone? Check. Keys? Check. Wallet? "Uhhh..." was probably Skylar Astin's reaction to perhaps his biggest dating flub to date. In a 2020 interview with Glamour, the outlet asked the actor-slash-singer some "inappropriate questions" — including "What's the sexiest thing about yourself?" ("A pretty healthy balance of drive and humor [and being a] Libra," he responded) and "What's the weirdest thing you do in your alone time?" (watching professional wrestling and dancing apparently consumes Astin's private time).
However, when the outlet asked, "What was the worst thing you've ever done on a date?" Astin had a rather humorous anecdote to accompany. "I forgot my wallet once," Astin recalled. "I'd made the person come to my side of town, and we'd been making jokes about how I would definitely pay," he continued. "I knew she would pay, but I was so embarrassed. I had to say, 'I'm mortified about this, but is there any chance you'll stay here for 20 minutes and I'll just go back and get it?' Thank God, I was very close to my house," he concluded. Thank God indeed, Mr. Astin!
It seems as if Astin was gifted with the natural ability to avert crises in situations like this one — and perhaps it was his same smooth-talking ways that landed him in a relationship with Lisa Stelly. 
A power couple with different trajectories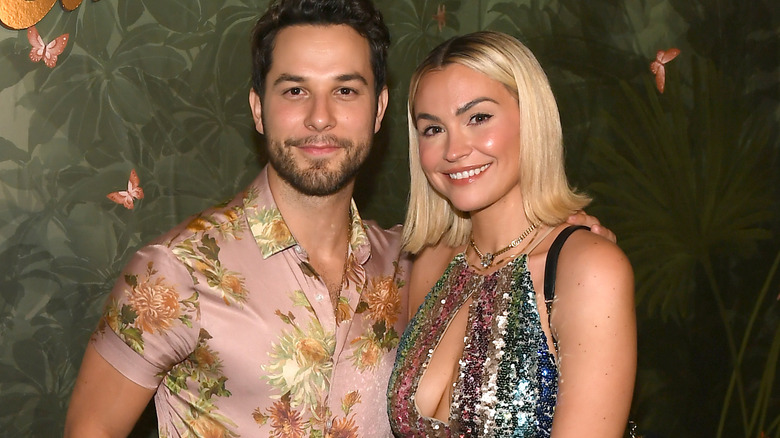 Bryan Steffy/Getty Images
In July 2020, Skylar Astin and Lisa Stelly went public with their relationship, when the latter shared a romantic flick of the two kissing under the stars on Instagram. In the caption, Stelly jokingly inquired, "​​is that a bottle of mini champagne in your pocket or u just happy to see me @skylarastin ?"  And when Us Weekly reported that Astin was dating Stelly, whom they referred to as "Jack Osbourne's ex-wife," the actor gave a rather noble and chivalrous response, stating, "Correction: I am dating FOUNDER, ENTREPRENEUR, MOTHER, CCO, etc, Lisa Stelly," he tweeted. "Treat your ladies better, media!"
And while the power couple had a fruitful relationship through their yearlong stint together, they eventually called it quits for reasons out of their control. According to People, a source revealed that "they're both so busy, but there is no drama between them at all." "Lisa's business is growing like crazy, Skylar was in Canada working for half the time they were together, and they both just needed some time to recalibrate on their own," the source added, further noting that "they still love and support each other a lot and it's definitely hard for both of them."
Well, we hope that Skylar Astin doesn't forget his wallet on his next date.