Nicki Minaj's COVID-19 Controversy Is Worse Than We Thought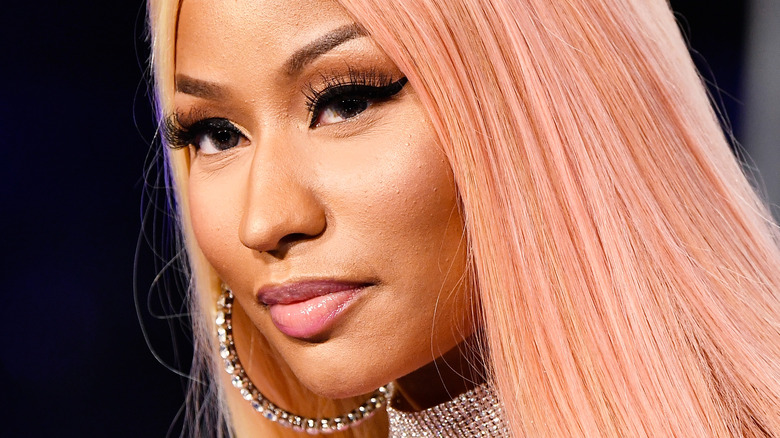 Frazer Harrison/Getty Images
While celebs graced the Met Gala's red carpet on September 13, Nicki Minaj went on social media to share her views on the COVID-19 vaccine. First, Minaj explained why she skipped the star-studded event. "They want you to get vaccinated for the Met," the rapper tweeted. "if I get vaccinated it won't for the Met. It'll be once I feel I've done enough research. I'm working on that now." She continued, "In the meantime my loves, be safe. Wear the mask with 2 strings that grips your head & face. Not that loose one."
The Met Gala isn't the only event Minaj skipped this week. On September 12, the rapper decided not to perform at the VMAs. "I just pulled out," the "Seeing Green" rapper wrote in a now-deleted tweet (via the New York Post). "I'll explain why another day." Then, the following day, Minaj explained she had to pass on the MTV VMAs due to having contracted COVID-19. "I was prepping for vmas then i shot a video & guess who got COVID?" she wrote. "Do u know what it is not to be able to kiss or hold your tiny baby for over a week? A baby who is only used to his mama?" 
In the same tweet, Minaj referenced Drake's past experience with COVID-19 and hinted at the vaccine not being effective. "'[G]et vaccinated' Drake had just told me he got covid w|THE VACCINE tho so chile," she continued. Then, the rapper made some even wilder statements. Read them below.
Nicki Minaj claims her cousin's friend became 'impotent' after taking the vaccine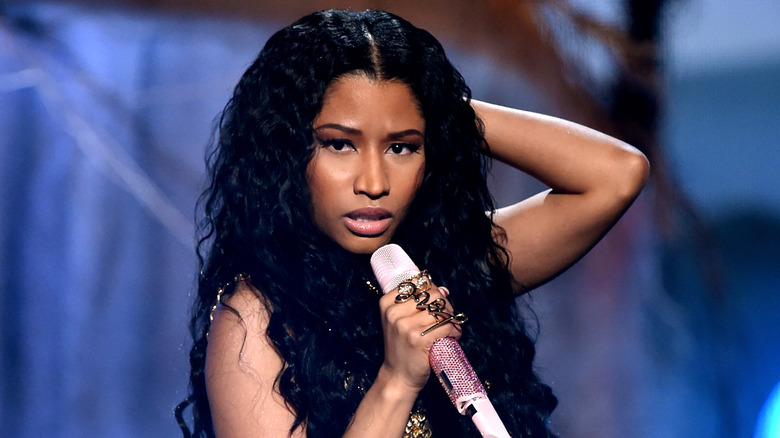 Kevin Winter/Getty Images
After explaining why she skipped out on the VMAs and the Met Gala, Nicki Minaj continued to make controversial claims regarding the COVID-19 vaccine. In one particular tweet, the Trinidadian American star described why her cousin refuses to get the vaccine. "My cousin in Trinidad won't get the vaccine cuz his friend got it & became impotent," she wrote. "His testicles became swollen. His friend was weeks away from getting married, now the girl called off the wedding." Then, she asked her fans not to get "bullied" into taking the vaccine. 
However, in a later tweet, the rapper said she will consider getting vaccinated once it's time to go on tour. "I'm sure I'll b vaccinated as well cuz I have to go on tour, etc.," she typed. "A lot of countries won't let ppl work w/o the vaccine. I'd def recommend they get the vaccine. They have to feed their families," she continued. Soon after Minaj's COVID-19 statements, political commentator Joy Anne Reid criticized the rapper on MSNBC's "The Reid Out."
"You have 22 million followers," Reid said. "For you to use your platform to encourage our community to not protect themselves and save their lives... MY God sister, you can do better than that." She continued, "As a fan, I am so sad that you did that." The criticism did not go unnoticed, though, as Minaj had some words for Reid. Read more below.
Nicki Minaj's COVID-19 comments had fans going wild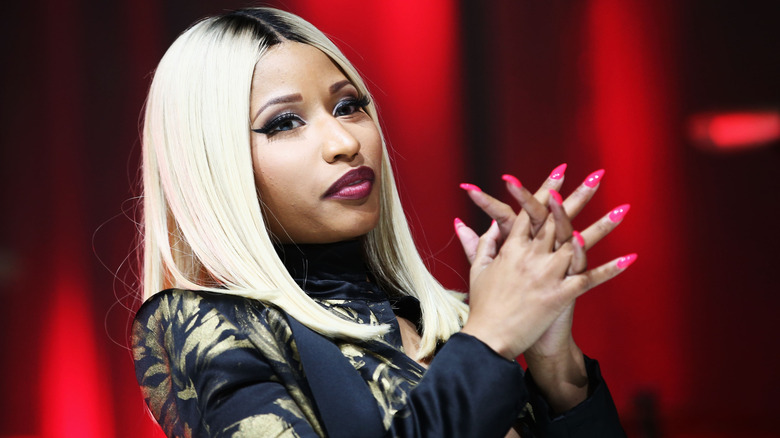 Neilson Barnard/Getty Images
Joy Anne Reid's comments didn't sit well with Nicki Minaj, who called out the political commentator. "This is what happens when you're so thirsty to down another black woman (by the request of the white man), that you didn't bother to read all my tweets," Minaj tweeted. "'My God SISTER do better; imagine getting ur dumb a** on tv a min after a tweet to spread a false narrative about a black woman."
"The two white men sittin there nodding their heads cuz this uncle tomiana doing the work chile," she continued in another tweet. "How sad." Reid wasn't alone in criticizing Minaj's comments on the COVID-19 vaccine, though, as fans took to Twitter to call out the rapper, as well. "I love you Nicki but I hate this," comedian Chris Klemens wrote. "It's not a lie it's just science. Just because you had mild symptoms doesn't mean that was the case for the 500,000+ who have died from straight up, unvaccinated covid."
Meanwhile, many think that the side effects Minaj mentioned had nothing to do with the vaccine. "your cousin's friend prolly just picked up an STD but please keep going," comedian Crissle West tweeted. "Imagine telling your friend your flimsy alibi for your STD, saying 'wait promise me you won't tell Nicki Minaj about this' then waking up one day and doctors and the international media is fact-checking your humongous testicles and floppy peen," another fan wrote.