The Tattoo That Jennifer Lawrence Regrets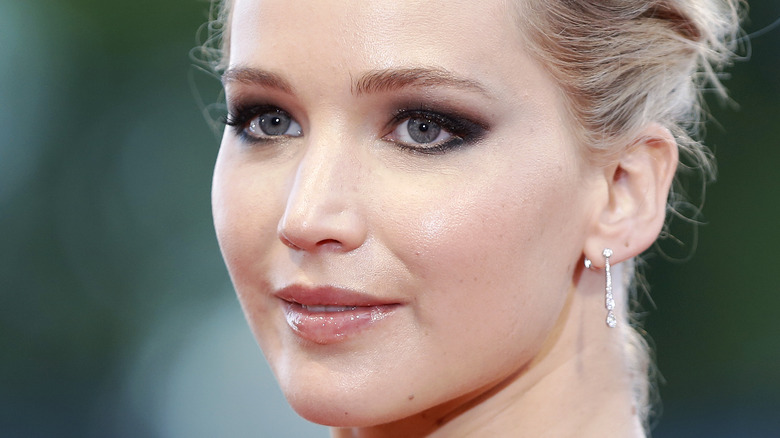 Andrea Raffin/Shutterstock
It's a bit harder to let go of mistakes when they're permanently inked on you. Jennifer Lawrence is just one star who left the tattoo parlor feeling a little more "stupid" than satisfied with her body art. Fortunately for J-Law, her relatively small tattoo resembles a "scar" these days, but some other celebs aren't so lucky. 
While some try to grin and bear their artistic regrets, others go down the expensive and painful removal process — Angelina Jolie being one of them. Jolie famously got her first husband's name, Billy Bob Thornton, tattooed on her upper arm to mark their marriage in 2000. After three years, the pair called it quits — although it wasn't so easy for Jolie to say goodbye. "I'll never be stupid enough to have a man's name tattooed on me again. It took 5 visits to the tattoo removal clinic to erase the dragon and you can still see it a bit," she said in an interview once she had it removed, per The Scottish Sun. 
Other celebs, however, weren't love-drunk when getting inked ... and were in fact actually inebriated. Kendall Jenner admitted on "The Ellen Show" she wasn't thinking clearly when she tattooed "meow" on her lip. "It was literally the first thing that came to my mind. I don't know. Just like my drunk thoughts!" Kendall's tattoo might have been meaningless, but Lawrence's botched tattoo actually provides some personal meaning. Sadly, it just didn't translate. Keep scrolling for more information on the tattoo J-Law regrets.
Jennifer Lawrence wishes she 'Googled' her H20 tattoo beforehand
Sometimes we need a little daily reminder to drink more water — and that's exactly what Jennifer Lawrence wanted. Apparently, Lawrence and her "Hunger Games" co-stars made a pact to get inked before they finished shooting the final film in 2015. In a bid to keep "hydrated," the actor opted to get a tiny H20 notation on her hand — except it wasn't the proper chemical formula. "I was with Liam [Hemsworth]'s family and everybody was getting tattoos, and I was like, well, 'I'm always going to need to be hydrated,' so I guess I should get H2O on my hand," she told HitFix in 2015. "By the way, I know that the two is high and in H2O the two is supposed to be low. I should've Googled it before I got it tattooed on my body forever."
Not only did Lawrence mess up the design, she also didn't check to see whether her co-stars would actually go through with their own. "I was like, 'I don't wanna get a tattoo', so I got one the color of a scar and I got it on wrong and then Liam bailed and didn't get a tattoo, and Josh never got one either," Lawrence told Conan O'Brien (via news.com.au). But fortunately, the ever-frank and funny A-Lister didn't take it to heart and instead blamed herself: "I'm the goose," she said. But it's not to say she hasn't provided a little payback to her co-stars.
Jennifer Lawrence used to eat 'disgusting' fish before 'Hunger Games' kissing scenes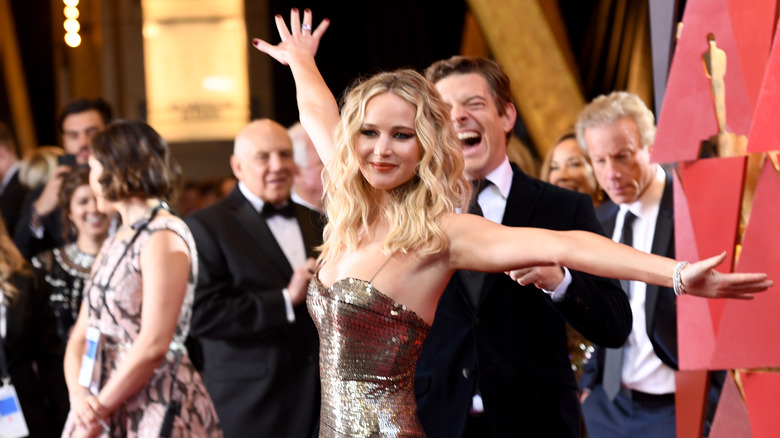 Kevork Djansezian/Getty Images
Jennifer Lawrence is not only Hollywood's most notorious prankster and photobomber — but she also unsurprisingly loves to make intimate scenes "uncomfortable." Former co-star Liam Hemsworth revealed on "The Tonight Show with Jimmy Fallon" he felt awkward kissing her on set of the "Hunger Games"... and no, not just because they're "best friends." He recalled, "When you look at it on the outside, it looks like a great picture. She's one of my best friends, I love her." However, Hemsworth explained that Lawrence would purposefully eat garlic, tuna fish "or something that was disgusting" right before shooting. "She'd be like, 'Yeah, I ate tuna' or 'I had garlic, and I didn't brush my teeth.' And I'd be like, 'Fantastic, I can't wait to get in there and taste it!'"
But all is fair in love and war and when Lawrence is on the receiving end — she also gets pranked hard. Josh Hutcherson revealed Lawrence once "peed in her pants" after he decided to scare her with a set prop. "I took a dead fake body and I put it in her bathroom in her trailer and she actually peed in her pants," he told E! News in 2015.
Despite Lawrence keeping relatively quiet amid the pandemic, we're sure she's been doing plenty of lockdown pranks to her husband and now future baby daddy, New York art dealer Cooke Maroney.