Inside Elliot Page's Stunning Met Gala Debut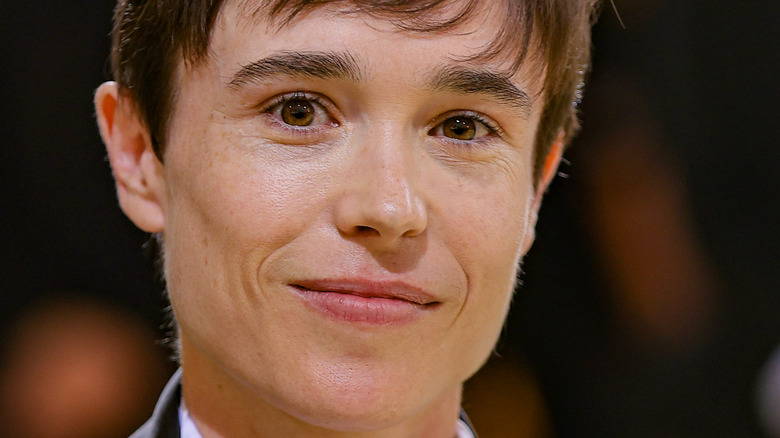 Theo Wargo/Getty Images
Actor Elliot Page has finally made his 2021 Met Gala debut — and his first red first carpet appearance after coming out as transgender. Page first revealed that he identified as transgender in a letter that he shared via a post on his Instagram account in December 2020. After announcing his pronouns and his name, he wrote that he felt "lucky" to be writing the letter. 
Later, in his first interview after coming out, he told Time that he had struggled with his identity since he was very young. "I felt like a boy. I wanted to be a boy. I would ask my mom if I could be someday," he revealed. Unfortunately, things only became more unsettling as his acting career started to rise. "I became a professional actor at the age of 10," Page explained. "Of course I had to look a certain way," he lamented about the struggles he faced wearing costumes for various projects — including low cut tops designed for women. Page revealed that even the act of "just putting on a T-shirt cut for a woman" would make him "unwell."
Fortunately, those feelings are a thing of the past for Page, as he now gets to dress exactly as he chooses — including at high-fashion events like the 2021 Met Gala. Keep reading to learn just how Page opted to express himself at the annual extravaganza.
Elliot Page gave a nod to Oscar Wilde at the 2021 Met Gala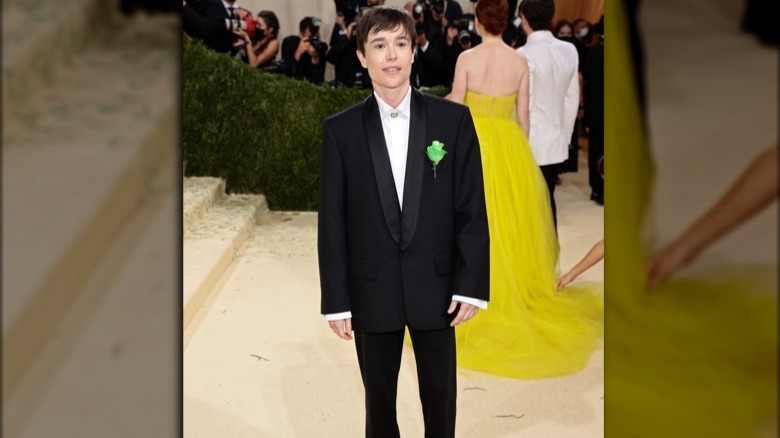 Dimitrios Kambouris/Getty Images
As reported by Page Six, Page celebrated the star-studded evening in style, sporting a black Balenciaga suit paired with black sneakers. He also adorned a green flower to his lapel — a symbolic nod to the LBGT+ community a la Oscar Wilde, per Mirror UK. 
Shortly after being spotted on the famous carpet, Twitter was set ablaze with many singing Page's praises. "I can't admire this man anymore than I do right now," one fan tweeted. Another user said they didn't pay attention to the Met Gala until the "Whip It" actor showed up. A third fan was happy to see Page happy. "Good for him!! He should be proud to be himself and not have to worry about what other people think," they wrote.
Still, some were left craving more from the actor. "I think his fit is pretty bland but since he is elliot page he deserves it," one user tweeted about all of the fanfare. While this may have been Page's Met Gala debut, we think it's safe to say that we'll see him gracing many more carpets in the future!