Jason Biggs And Jenny Mollen Reveal Second Child's Gender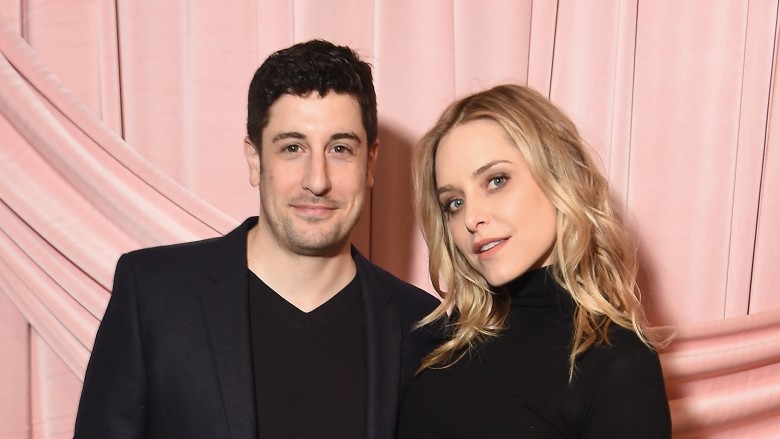 Getty Images
It's a boy! Jason Biggs and his wife Jenny Mollen have announced that they are expecting a second son together.
Mollen, 37, shared the happy news on Instagram on April 24, 2017. Captioning a beautiful photo of her cradling her baby bump while donning a blue dress, the I Like You Just The Way I Am author jokingly wrote, "To quote Beyoncé, 'I have two penises' (not twins. Just mine and the one inside me.) #Itsaboy."



The reveal comes only a few weeks after the married couple of nine years first announced they were expecting with a silly snapshot on Mollen's Instagram.



The Orange Is the New Black (2013-) actor, 38, and his pregnant wife recently caught up with People at the Milk+Bookies charity event in Los Angeles, where they talked all things pregnancy—from morning sickness to cravings to showing support. Mollen admitted she's "still nauseous," although her morning sickness has thankfully subsided a bit, and expressed how she's been craving "pickles, olives, the typical stuff."
The pair also revealed how their son Sid, 3, is dealing with the baby news. Mollen explained, "He's great with his sibling because the sibling is still within me." Biggs then chimed in, "[The baby is] not trying to take anything from him yet. Except a little bit of...attention."
And, because these two are too cute, Mollen couldn't stop herself from gushing over her supportive husband. She joked, "He's my wife, even when I'm not pregnant. He's fantastic."
Mollen and Biggs clearly make a great team. In Jan. 2017, during a joint interview with Bravo's Personal Space, the two opened up about their strong marriage and parenting partnership. "He's the most supportive human being I've ever met in my life and he's also an amazing mom," Mollen shared. "He's like the most incredible dad but I think he could compete against the best moms in the world and win." To which, Biggs added, "Jenny's the most generous person I know." Aww!
Baby No. 2 is due in early October. Congratulations!