Joy Behar Gets Candid On Past Firing From The View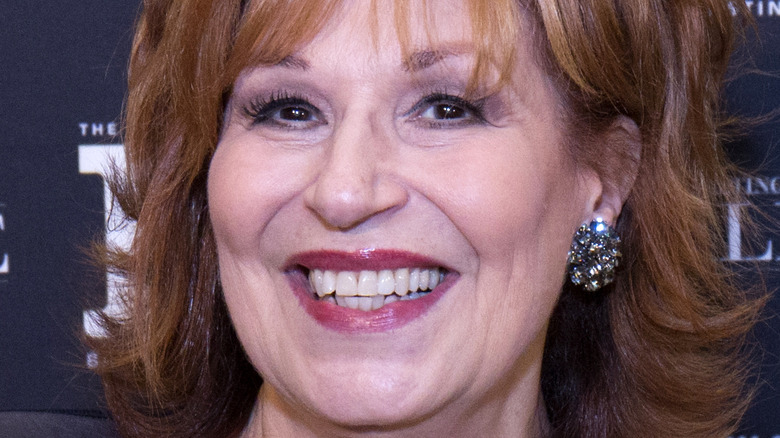 Santiago Felipe/Getty Images
It's hard to believe, but "The View" has been on air for 25 seasons. Created by Barbara Walters, the female-led daytime talk show was one of a kind when it premiered on August 11, 1997, per ABC News, because of its focus on female voices on societal topics and debates. The show began with Walters, Meredith Viera, Star Jones, Debbie Matenopoulos, and Joy Behar as the original co-hosts, but as years went on, "The View" had made its changing roster a bit of a news sensation. Only Behar remains the sole original co-host on the show, but her longevity on the show didn't mean she was always safe from getting fired.
In an exclusive podcast to celebrate Season 25 of "The View," Behar and Vieira recorded a special podcast series for the show titled "Behind The Table," and dished on their experiences on the show. Find out what Behar had to say about her past firing from the show and the drama that went on behind the scenes below.
Joy Behar was fired from 'The View' twice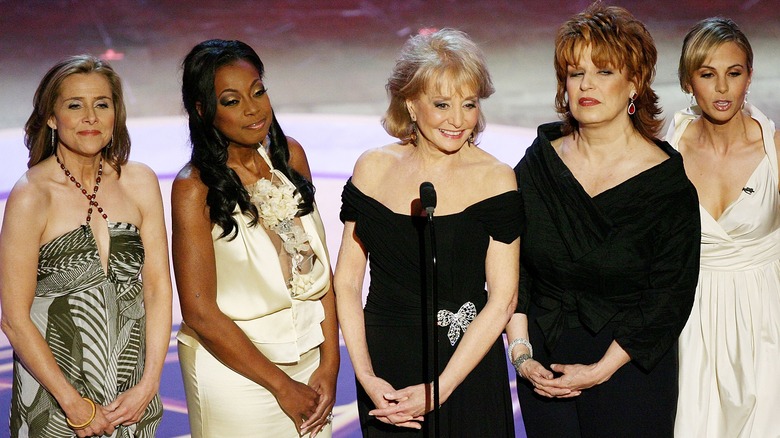 Kevin Winter/Getty Images
Fans of "The View" would note that Joy Behar took a leave of absence from the show for two seasons in 2013. At the time, Behar told Deadline that she left the show to focus on her standup. "It seemed like the right time," she said. "You reach a point when you say to yourself, 'Do I want to keep doing this?' There are other things on my plate I want to do — I've been writing a play, I've been neglecting my standup." However, Behar made her grand return to the show in 2015, and opened up to Meredith Vieira on "Behind The Table," about what really went down about her departure.
"They fired me at one point. I remember I was eating with you at Dox. I said, 'I don't know, they canned me. I don't know why.' They said I was becoming predictable," Behar told Vieira. "That was the end of that and I was so glad to leave. ... I said, 'Good, I've been waiting to get out of here.'"
Behar went on to do her own thing, but was eventually courted back on the show in 2015 by Hillary McLaughlin, a then-new executive producer. "I had to have some reason to make money," she said. "When I came back, they promised me there'd be smarter topics." While Behar was given her job back, she also had a similar experience with Walters.
Barbara Walters fired Joy Behar unexpectedly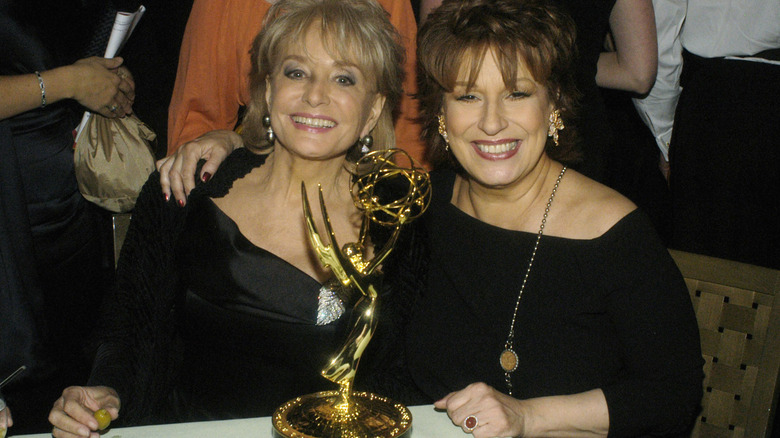 Myrna Suarez/Getty Images
Throughout the past 24 seasons of "The View," co-hosts who have gotten the axe have expressed displeasure about their firing, but Joy Behar waited years to spill the tea on Barbara Walters firing her during the early years of her career. "Remember when she fired me in LA?" Behar asked Meredith Vieira on the "Behind The Table" special. "She swore us to secrecy. And then 'Entertainment Tonight' comes up to me in the swag room and they say, 'How do you like that Rosie's coming on?' And I say, 'It's great!'" Per People, Rosie O'Donnell joined "The View" in 2006, which was around the time Walters made the decision to fire Behar.
"I go back to my room and she fired me. She said to me, 'I just got a call from 'Entertainment Tonight' saying that someone told them that Rosie O'Donnell is coming on the show and do you know who that person was?'" Behar recalled. Walters then informed her that her contract would not be renewed. Behar said Walters ultimately changed her mind when they appeared at the Emmys. What a wild story.
Despite all the drama and feuds Behar has experienced on "The View," she hopes to end her talk show days on the show, with Variety reporting that she has plans to retire in 2022. With all the happiness Behar has brought to audiences, "The View" will definitely look different without her if her retirement plans are true.