The Truth About Courtney Thorne-Smith And Norm Macdonald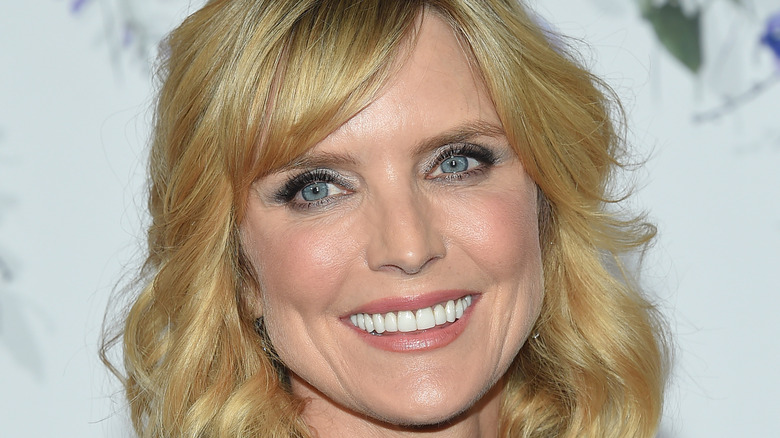 DFree/Shutterstock
As fans of "Saturday Night Live" icon Norm Macdonald continue mourning his death at age 61, they're also reminiscing about some of his funniest moments on television. The loss came as a shock to the entertainment industry and Macdonald's millions of admirers, as it was reported that he'd kept a cancer diagnosis private for nine years. "He never wanted the diagnosis to affect the way the audience or any of his loved ones saw him," his friend and producing partner Lori Jo Hoekstra told Deadline.
Macdonald's fellow comedians took to social media to share their grief over the loss of one of their own, including "The Daily Show" host Jon Stewart, "SNL" alum Gilbert Gottfried, and "Full House" star Bob Saget, who was memorably roasted by his close friend. Younger comedians like Seth Rogen tweeted about how he served as inspiration for them as they pursued careers in comedy. Rogen even confessed that he "ripped off" Macdonald's delivery for his early acting roles. "I would stay up specifically to watch him on talk shows," he wrote. 
So when he was a teenager, perhaps he witnessed a hilarious exchange Macdonald had with "Melrose Place" star Courtney Thorne-Smith when they both appeared as guests on "Late Night with Conan O'Brien" in 1997. For a recap of what Macdonald said about one of Thorne-Smith's movies, read on.
Norm Macdonald brutally roasted Courtney Thorne-Smith's movie
In 1997, Courtney Thorne-Smith exited the popular primetime soap "Melrose Place." Her next project was the 1998 movie "Chairman of the Board," which co-starred prop comic Carrot Top in his big screen debut. The film was not well received by critics, with The Los Angeles Times calling the comedian an "irritant who can't stay in character."
Unfortunately for Thorne-Smith, she appeared on "Late Night with Conan O'Brien" to promote the film the same night that Norm Macdonald was a guest, and he predicted that her movie was going to be a hot mess. But first, he interrupted O'Brien and Thorne-Smith's chat about the "Melrose Place" finale to talk about the tourists he saw snapping photos of a Los Angeles restaurant also called Melrose Place. "Thanks for the help, pal," Conan O'Brien responded.
Thorne-Smith joked that there was so much "making out" in "Chairman of the Board" that it was "like '9 ½ Weeks,' but with Carrot Top," and Macdonald couldn't resist butting in again. "Is it called '9 ½ Seconds?' he quipped. "Like, he's a premature ejaculator." His explanation of the joke made the audience laugh even harder than they had been. After that, he was on a roll. He suggested that the movie should be titled "Box Office Poison" due to Carrot Top's casting in it, and when Thorne-Smith shared its real title, O'Brien said to Macdonald, "Do something with that, you freak." So he did. "I bet the 'Board' is spelled 'B-O-R-E-D,'" Macdonald joked.
How Courtney Thorne-Smith really felt about Norm Macdonald's comments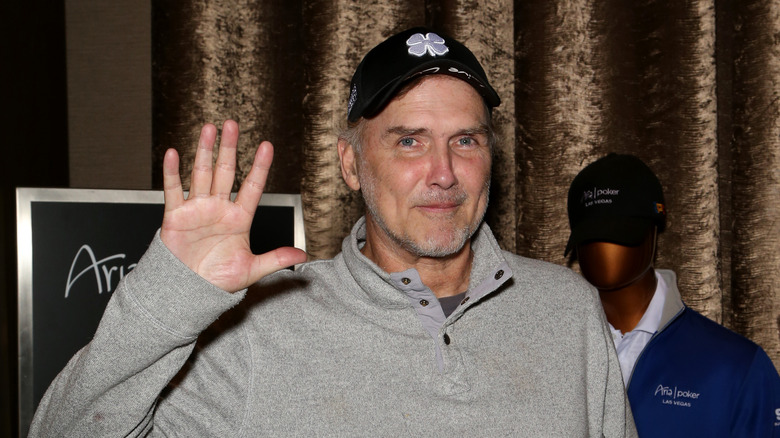 Gabe Ginsberg/Getty Images
For Norm Macdonald fans, his roasting of Courtney Thorne-Smith and Carrot Top's film is unforgettable. Vice called it "the Citizen Kane of Norm Macdonald talk show appearances," and The AV Club deemed the "Box Office Poison" joke "the three funniest words of Norm Macdonald's career." However, Conan O'Brien told Vulture that his pal had no recollection of the famous interview, nor did he feel any remorse about it. "Not only is Norm not sweating it, he doesn't remember it even happened," he said. O'Brien paid tribute to Macdonald's unapologetic attitude and comedic fearlessness after learning about his tragic death. "Norm had the most unique comedic voice I have ever encountered and he was so relentlessly and uncompromisingly funny," he wrote on Twitter.
As for Thorne-Smith, she told Vanity Fair that she was relieved when Macdonald started talking about her movie, because she wasn't exactly thrilled about doing it herself. She even called the roasting a "blessing" and said that she had an absolute blast. "You know those great nights you go out with your friends and you start laughing and you can't stop, and you have that satiated feeling? That's how I felt," she stated. She also proved that there were no hard feelings by guest starring on an episode of Macdonald's sitcom "The Norm Show" in 2000. Her character Rebecca was a lesbian with whom Norm was pursuing a romantic relationship, hence the title "The Hopeless Cause."