The Truth About Floribama Shore Star Nilsa Prowant's Pregnancy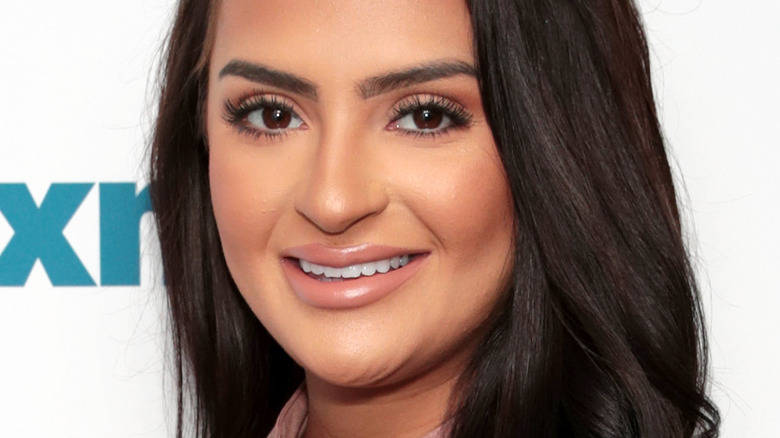 Cindy Ord/Getty Images
On September 16, the fifth season of MTV's "Floribama Shore" will premiere, the network reported. The show, which is a direct successor to "Jersey Shore," follows the same premise, filming a group of people living in the same house and capturing their exploits and drama. While the initial two seasons of "Floribama Shore" did indeed take place on the Florida panhandle — the cast hung out in Panama City Beach, FL, per The Cinemaholic — the third season saw them move to St. Pete Beach, FL, and the fourth was split between Missoula, Montana and Lake Havasu City, Arizona. The fifth season will see the "Floribama Shore" crew move once again, this time settling down in Athens, GA, per MTV.
Season 5 is bound to showcase a bunch of drama, but there might be a specific focus on castmate Nilsa Prowant and her pregnancy. The premiere of Season 4 saw Nilly share her pregnancy news with her fellow cast members (and a great response by her ex-boyfriend, Gus Smyrnios, reported MTV) and this next season seems to be partially focused on her journey to becoming a mother. An exclusive sneak preview clip shows Nilly talking to Jeremiah Buoni and Aimee Hall about her postnatal care and what that entailed, including some potential benefits Jeremiah seemed interested in.
But filming while pregnant was no easy task, and Nilly shared some of the struggles she faced before the birth of her son, Gray, in May. Keep scrolling to learn more about Nilsa Prowant's pregnancy.
Nilsa Prowant said filming while pregnant "prepared [her] for motherhood"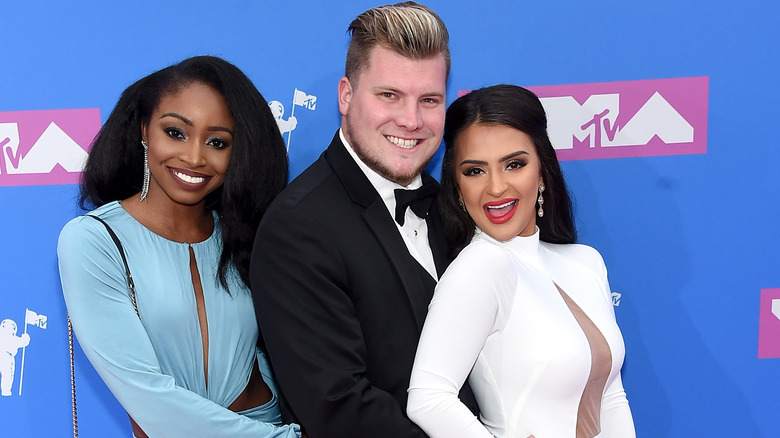 Jamie Mccarthy/Getty Images
One of the reasons Nilsa Prowant told her "Floribama Shore" castmates that she was pregnant at the beginning of Season 4 was because she wanted to avoid speculation about why she wasn't drinking, reported MTV. However, this restriction seemed to be difficult for Nilly to follow. As she told Us Weekly, "everyone knows I'm a big party girl and I couldn't participate, you know, in very much of the drinking activities." 
She also explained how she was trying to stay out of the drama because she didn't want the stress. "I had just lost my father, so I was grieving and then I found out I was pregnant ... filming in the house and being in the house with everyone drunk all the time and all the fighting and drama, it was just so much on me."
However, she also shared that her castmates made sure she was okay and would "comfort me and make sure I was feeling the best I could in the situation," which she appreciated. She said she was thankful that she got to spend time in the house, however, because it prepared her for being a mother. "I need to be grateful because filming ... while pregnant really prepared me for motherhood. It's like I had six drunk kids at all times. I gotta make sure they stay alive."
Nilsa Prowant faced some health issues
Although Nilsa Prowant welcomed her son, Gray, on May 20 with her fiancé Gus Gazda, and she shared via Instagram that he was "completely perfect in every single possible way," she didn't have a seamless third trimester. She shared in the same post that she had 31 hours of labor and had previously told her fans about a medical diagnosis she received during one of her checkups. According to a caption on one of her Instagram posts, Nilly revealed that at her 37-week appointment, she measured 40 weeks "per the belly measurement." An ultrasound diagnosed her with polyhydramnios, which meant she had an excess of amniotic fluid in her uterus. She also wrote that she would be induced by the 39-week mark.
Although Gray seems to be perfectly healthy, Nilly hasn't been shy with sharing her postpartum journey, telling her fans she has been struggling with postpartum depression in a few of her Instagram posts. In one caption, she described her depression as "hitting me like a tons [sic] of bricks" but pointed to her son's "sweet smile" as what "keeps me going." 
While being a new mom on a reality show is undoubtedly tough, she appears to have her fellow cast members' support. Jeremiah Buoni told Us Weekly, "based off the way that she handled all the kids in Montana ... I'd say she's going to be a great mom ... I honestly feel like she's going to be the most nurturing mother."