The Tori Spelling And Dean McDermott Divorce Rumors Explained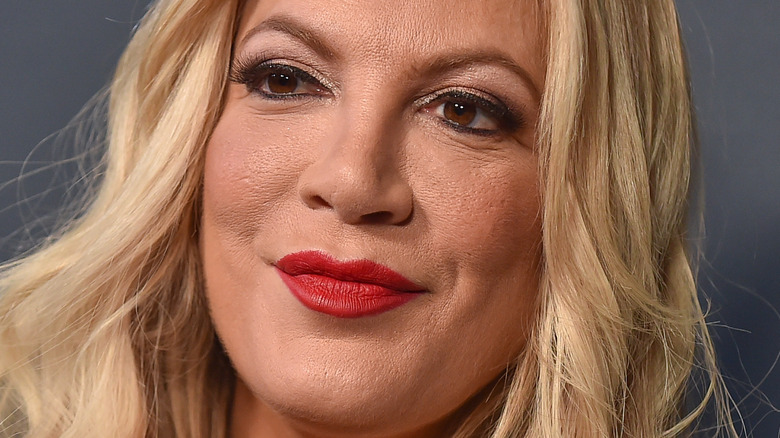 DFree/Shutterstock
Tori Spelling and Dean McDermott divorce rumors have circulated on and off over the past several months. Those rumors were kicked into high gear in March, when Spelling was spotted without her wedding ring, during an outing with three of her kids, according to the Daily Mail. Then, in June, Spelling revealed that she and her husband don't sleep in the same bed. According to Page Six, Spelling appeared on SiriusXM's "Jeff Lewis Live," and was asked what was really going on with McDermott. "Are things OK?. Because I feel like the last time you were here things were good, you were having sex. Are you guys sleeping in the same bed? Personal?" Lewis asked.
"You know what? Right now, my kids and dogs sleep in my bed," Spelling told Lewis, according to Page Six. She went on to explain that when McDermott left for work — in Canada. "Since he left — this is not good, you guys — but since he left [and] he was gone for six months filming in another country, they all stayed with me. So I currently still have four in the bedroom with me who have yet to go back to their rooms," she said.
Then, in July, Spelling was spotted out without her wedding ring once more, according to The Sun. Paparazzi caught up with the actor while she was at the gas station. She was dressed casually, and wasn't wearing any jewelry. So, are Spelling and McDermott really headed for divorce? Read on to learn more.
Dean McDermott has spoken out about the divorce rumors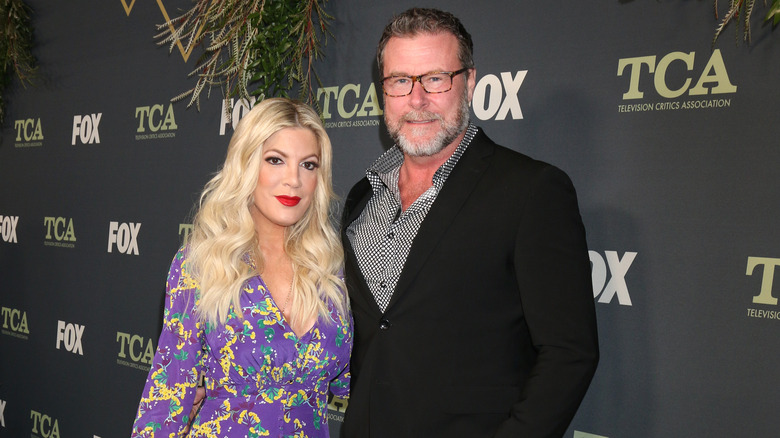 Kathy Hutchins/Shutterstock
On. September 15, Dean McDermott sat down for an interview on the "Feminine Warrior" podcast, according to Us Weekly. During the visit, McDermott revealed that he no longer pays attention to the persistent rumors about his marriage to Tori Spelling. "I don't reply, you know, anymore," he said. "It's just like, 'OK, if that's what you want to think, then think it,'" he added. He went on to say that he finds it "weird" that people "need to know" what's going on in his personal life. "Why do you need to know that? How is that going to affect your day?" he questioned. 
McDermott didn't reveal how things were going between him and Spelling, but he did explain an instance in which he was seen without his wedding ring. "I had a silicone utility ring that I took off when I was playing golf, and I put it in my pocket. And when I take my glove out, it fell out on the golf course. So, I lost my utility ring and then somebody saw that. 'He doesn't have his ring.' So, now, everybody's in a titter, so I'm like, 'Forget it, I'm not going to replace it. Just let them think it,'" he said (via Us Weekly).
Tori Spelling and Dean McDermott were spotted together over Labor Day Weekend
Featureflash Photo Agency/Shutterstock
Tori Spelling and Dean McDermott stepped out together for the first time in months back in September. According to Radar Online, they attended the Malibu Chili Cookoff with their five kids, Stella, Hattie, Liam, Beau, and Finn. Although Spelling and McDermott weren't loved up on one another, their joint appearance may have helped cool off those pesky split rumors — at least temporarily. However, Radar Online pointed out that the two did not pose for any photos together, nor did they walk next to one another during the outing. 
Flash forward a couple of weeks and divorce rumors are alive and well once more. Another report from Radar Online quotes an anonymous source as saying that divorce is "imminent" and that an announcement would be coming soon. "[Tori] and Dean have been done for about three months now. To their credit, they tried...they really tried, but Dean's sex addiction became too much for Tori. He absolutely did not cheat, but he just wants sex all the time," a source previously told the outlet.
Spelling and McDermott have been married since 2006.