The Truth About Tori Spelling And Dean McDermott's Issues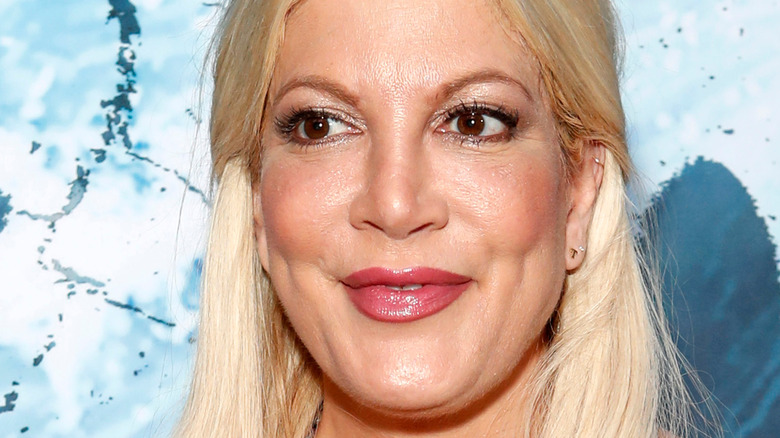 Shutterstock
Like most celebrity unions, the marriage of Tori Spelling and Dean McDermott has been at the forefront of many people's minds as it makes plenty of headlines. As we all know, making your relationship survive in Hollywood seems like an impossible task, and many Hollywood marriages ultimately end in divorce. While we love to see a story like Tom Hanks and Rita Wilson (who have been married for 32 years), more often that not, we see these high-profile relationships crumble. But does this stop up from being hopeless romantics? Absolutely not.
Tori and Dean's relationship has been in the public eye for quite some time. The couple walked down the aisle in 2006 after ending their respective marriages, and they have faced plenty of ups and downs. They share a beautiful brood of kiddos, five to be exact: Liam, Stella, Hattie, Finn, and Beau. The duo signed on for a reality show, "True Tori," which aired from 2014-2016 and showed many aspects of their relationship (with a focus on Dean's cheating scandal). In 2016, Dean proposed to Tori (again) in front of the Eiffel Tower and their children, per E!, and things seemed to be really great between the two. "The ... kids and I were so surprised and so happy. It's been a rough few years, and this was a perfect family moment for unity and love!" Tori gushed at the time. 
Despite a proposal in the "City of Love," things are not going well. Keep scrolling. 
Things aren't looking good for Tori Spelling and Dean McDermott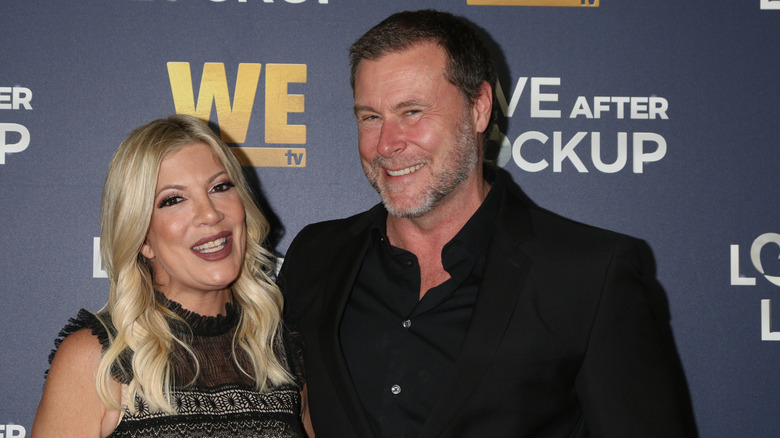 Shutterstock
Tori Spelling and Dean McDermott have hit a few roadblocks in their relationship in 2021. First, Tori made a shocking admission when she was a guest on "Jeff Lewis Live." When asked about her marriage and whether or not she and Dean were sleeping in the same bed, Tori was incredibly open and honest. "You know what? Right now, my kids and dogs sleep in my bed." she revealed. " ... This is not good, you guys — but since he left [and] he was gone for six months filming in another country, they all stayed with me. So I currently still have four in the bedroom with me." Plus, when asked where exactly Dean is sleeping, Tori succinctly replied, "In a room."
And a source told Us Weekly in June that Tori's admission is no bueno. "Tori and Dean have been having major issues for over a year now," the insider dished. "The fact that she's talking about sleeping in separate beds is very telling, she wouldn't do that unless things were really not great between them."
Additionally, the same source went on to say that since Tori publicly acknowledged that she and Dean are having issues, that's a very telling sign. "Tori knows her kids see what she says online, so for her to say something publicly means the end could be very near," the source revealed. We can only hope for the best, but expect the worst.