For Every Time Jimmy Kimmel Has Been Controversial, This Moment Stands Above The Rest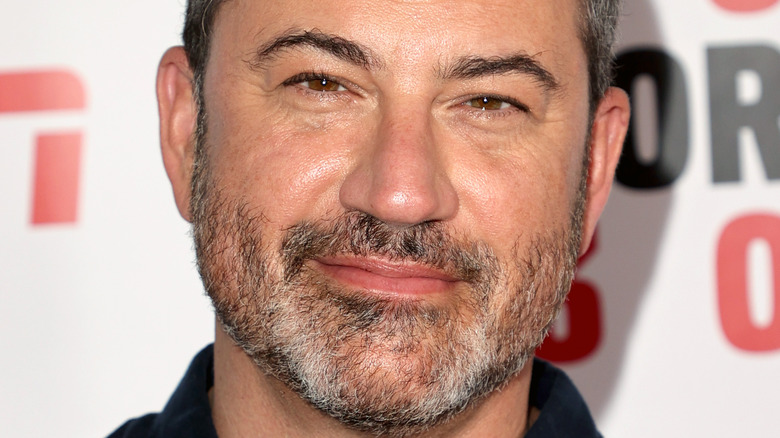 Kevin Winter/Getty Images
Jimmy Kimmel is a well-seasoned host. His hosting style and familiarity with the American audience have helped him seal his spot as one of the most popular late-night show hosts. His show, "Jimmy Kimmel Live!," beat NBC's "The Tonight Show" in total viewership for the first time in 18 years during the 2020-21 TV season, per Deadline, marking his transition to becoming one of the most familiar faces on American television.
From when he was first introduced as a co-host for "The Man Show" on Comedy Central in 1999 with Adam Carolla to hosting multiple Emmy shows and having a star on the Hollywood Walk of Fame, Kimmel has come a long way as a show host and entertainer. However, his popularity has not been shy of controversies. Throughout his career, Kimmel has been subject to some drama and criticism for his sketches and impersonations. He was even criticized by Donald Trump Jr., who called him an "unfunny hack" in a June 2020 tweet, and wondered why "@ABCNetwork allows him to keep his show."
However, Kimmel holds a record as a show host that suggests he's here to stay. As Kimmel's popularity continues to rise, it's time we look at his most controversial moment — one that drew much criticism from fans, celebrities, and politicians alike. Keep scrolling for the details on Kimmel's controversial moment that stands above the rest.
Jimmy Kimmel was under fire for his blackface sketch
Jimmy Kimmel has been in a sea of controversies. The show host has been called out for being insensitive to Megan Fox, sexualizing women, and using racial slurs for "comedy material," per Newsweek. However, there's one controversial moment that stands above the rest.
In 2020, the show host was criticized for using blackface while co-hosting "The Man Show" with Adam Carolla between 1999 to 2003. Per the Los Angeles Times, Kimmel used blackface to impersonate various celebrities. Videos of Kimmel using blackface to impersonate NBA star Karl Malone resurfaced, and the backlash was huge. Kimmel's initial response was taking a break from his hosting duties. "There's nothing wrong. My family's healthy. I'm healthy. I just need a couple of months off," he announced during his show. Many argued that Kimmel's response was not appropriate after the old clips resurfaced and that he should have apologized instead of taking a "vacation."
Kimmel wasn't the only name in the late-night club to have performed blackface sketches. Per The New York Times, weeks before Kimmel was called out, Jimmy Fallon apologized for a "Saturday Night Live" sketch from 2000 in which he used blackface to impersonate Chris Rock. Tina Fey and Robert Carlock — the co-showrunners of "30 Rock" — also requested that several episodes of the show be taken down, as there were various blackface acts in the series. Fey explained her request by saying that "intent" was "not a free pass for white people to use these images."
Here's how Jimmy Kimmel ultimately responded to the blackface controversy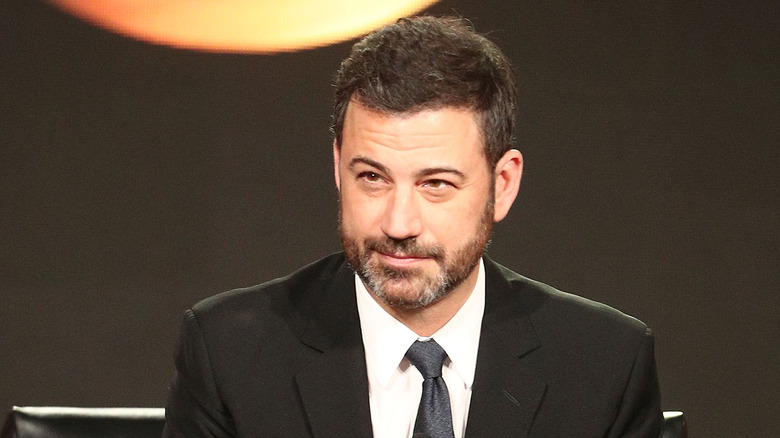 Frederick M. Brown/Getty Images
It wasn't immediate, but Jimmy Kimmel did issue an official apology on June 23, 2020 for the "embarrassing" use of blackface in his comedy sketches. In a response obtained by CNN, Kimmel admitted that the "delay" in apologizing was a mistake. He wrote, "There is nothing more important to me than your respect, and I apologize to those who were genuinely hurt or offended by the makeup I wore or the words I spoke."
Kimmel went on to explain how he'd hire makeup artists to make him look "as much like Karl Malone as possible," and that he never saw any problem with that sort of impersonation. "I never considered that this might be seen as anything other than an imitation of a fellow human being, one that had no more to do with Karl's skin color than it did his bulging muscles and bald head," he explained, adding that he'd done impressions of various Black celebrities and many of them were "embarrassing."
In his statement, Kimmel regretted that his "thoughtless moments" as a show host had become "weapons" used by some people against his "criticisms of social and other injustices." He also hoped that people see how far he has "evolved and matured" as an individual. He ended his note by saying, "Thank you for giving me an opportunity to explain and to those I've disappointed, I am sorry." As of this writing, Kimmel is still on air and looking ahead.