How Many Grandchildren Does Whoopi Goldberg Have?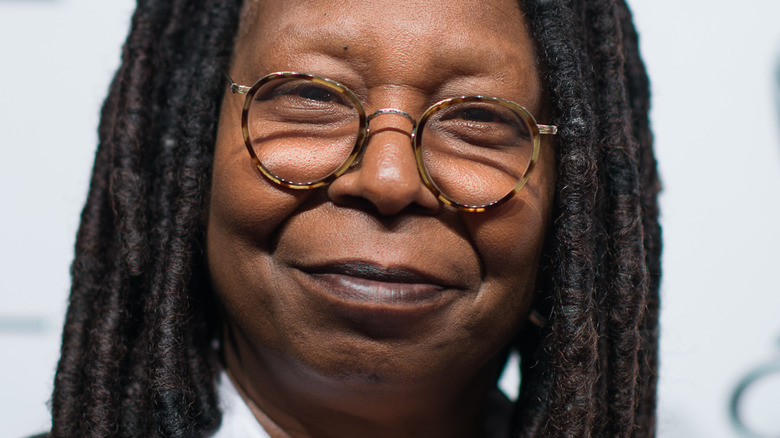 Dave Kotinsky/Getty Images
We may receive a commission on purchases made from links.
Whoopi Goldberg has been baring her soul both on stage and the small and big screens for four decades. Her work has earned the actor and comedian pretty much every award out there. In fact, as Insider pointed out, she is one of only 16 to have won an Emmy, a Grammy, an Oscar, and a Tony, commonly known as an EGOT. Goldberg has been groundbreaking in most things she has put her hands on. In 1991, she became the second Black female actor to ever win an Oscar for her role in "Ghost" — the first to win it in 50 years, according to Variety. At that point, she had already won a Golden Globe and a BAFTA, even though she had kicked off her career only in the early 1980s.
Goldberg didn't just knock down barriers when it came to her career; the actor has been open about her unconventional thoughts on family structure and womanhood. After marrying three times for short periods of time, Goldberg realized early on that marriage was just not her thing. "I always thought if I was married, I'd be closer to normal. But as it turns out, I'm just not normal, and it's something I've come to accept," she said on the Oprah Winfrey Network. 
As a person who didn't fit the mold, Goldberg also opted to not have a large family, but she did have a daughter with her first husband, Alvin Martin. Keep reading to learn how many grandchildren Goldberg has. 
Whoopi Goldberg has three grown grandchildren
Whoopi Goldberg married her first husband, Alvin Martin, in 1973, a union that lasted until 1979, according to BET. The same year they tied the knot, the couple welcomed a daughter, Alexandrea Martin, per CBS News. Goldberg was just 17 years old when she gave birth to her first and only child. Alexandrea herself became a mother at a young age, giving birth to daughter Amarah Dean on November 13, 1989, when she was just 16, according to Bio Gossip. That means that Goldberg became a grandmother for the first when she was just 34, as Hello! magazine pointed out. 
Alexandrea went on to have two more children with husband Bernard Dean, a daughter, Jerzey, born in 1996, according to her Instagram bio, and a son, Mason, born in 1998, according to Closer Weekly. Jerzey is an aspiring model and a fashion designer who founded the brand Jerzey Kennedy Designs, with a presence in Los Angeles and New York. Mason also followed in his grandmother's artistic footsteps and is making a name for himself as a musician, according to his Instagram page.
On a segment of The View in 2015, Goldberg described the moment Mason realized his grandma was the Whoopi Goldberg. "We were in the car once and there was a big billboard of me and — he must have been 5 — and he just went, 'You're Whoopi Goldberg!'" Goldberg recalled. "And [Alexandrea] was like, 'Yeah, that's granny,' and he was like, 'I didn't know!'" 
Whoopi Goldberg has been candid about her personal highs and lows
After giving birth to Alexandrea Martin when she was just a teenager, Whoopi Goldberg decided that one child would be enough. In Angela Bonavoglia's 1991 book "The Choices We Made," Goldberg opened up about her difficult path toward motherhood, describing getting pregnant at 14 and carrying out a home abortion, according to The Baltimore Sun. Throughout her adolescence, Goldberg struggled with drug addiction. "I was young, homeless and addicted to heroin. I'd dropped out of high school and into drugs," she told The Telegraph (via The Sydney Morning Herald). Alex's father, Alvin Martin, was actually Goldberg's drug counselor.
After getting clean and splitting from Martin in 1979, Goldberg moved with Alex to California, raising her as a single mother as a bricklayer until she developed her one-woman Broadway show. "I remember we had the one room space and we slept in the bed together," Alex told The Grio. 
Even though she opted to have an only child, she loves being a grandmother and watching her family expand. On March 24, 2014, Goldberg introduced her first great-grandchild on her Instagram page. A few days later, she uploaded a video of herself feeding baby Charli Rose with a bottle. "...yea I'm a tad awkward it took me a minute been a LONG time!" she wrote in the caption, while in the clip she explained it had been about 40 years since she had last fed a baby.