Inside Gwen Stefani And Tony Kanal's Breakup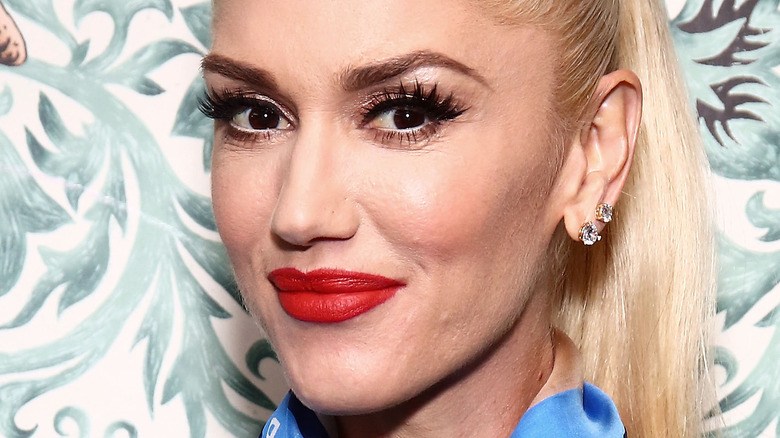 Astrid Stawiarz/Getty Images
Gwen Stefani fell in love with Tony Kanal almost immediately after he joined No Doubt as its bassist in 1987, according to Noise11. At the time, Stefani was still providing backing vocals for the band, which was formed by her brother, Eric, but their relationship continued to flourish as she took over as No Doubt's lead singer around 1989, as the HuffPost pointed out. For the next seven years, Stefani fell in love with Kanal and even planned to marry him.
"All I ever did was look at Tony and pray that God would let me have a baby with him," she told The Guardian in a 2005 interview. In fact, throughout their relationship, Stefani remained a "passive" member of the band, and seemingly prioritized her future with Kanal. "At first it was my brother's songwriting and I was just doing what everyone told me. I was completely passive, no goals. I was in love with Tony and just happy to be in the band," she recalled. 
It wasn't until Stefani experienced deep heartbreak that she began dabbling in songwriting. And the result? Nothing more than No Doubt's breakthrough 1995 album "Tragic Kingdom," which included tracks "Don't Speak," "Just A Girl," and "Spiderwebs" — songs that marked a whole generation. Stefani wrote the popular hits as she tried to cope with the end of her relationship with Kanal. Keep scrolling to learn more about their split.
Gwen Stefani was initially in 'denial' about the breakup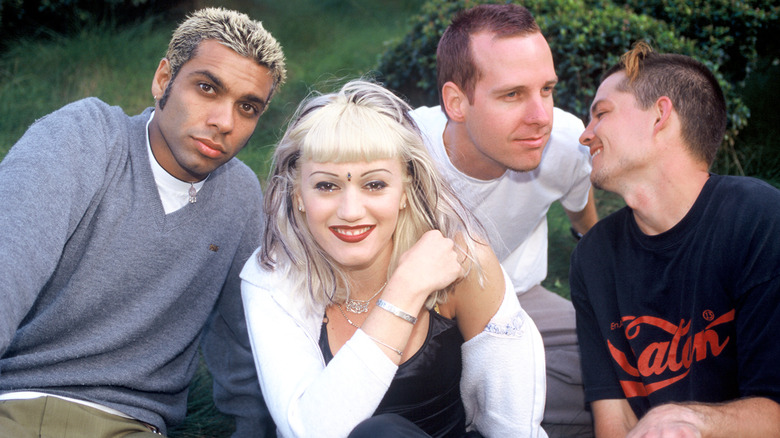 Tim Mosenfelder/Getty Images
Tony Kanal was the one who ended the relationship, and Gwen Stefani was beyond shocked. "I was in denial," she told Spin in 1996. Though Kanal made it clear he wasn't her boyfriend anymore, Stefani still made herself available. "For, like, a year, he didn't have to come to my house when I demanded it. He didn't have to do anything, but when he felt like it, I was there. It was horrible," she admitted. 
To try to cope with the pain, Stefani started working more heavily on the songs that eventually became the "Tragic Kingdom" album, which was released a year after the breakup. When the album came out, Kanal and Stefani were still very much in the midst of their complicated split. Working on the album and then touring together for a whopping 28 months to promote it was not easy for the former couple. "We were going through the breakup, and in every interview we were talking about it so we were opening this wound on an hourly basis. It was so brutal but I don't know how we made it through," Kanal told The Guardian.
Stefani admitted to Spin that both she and the fans made it hard for Kanal. "Everybody's like 'God that guy is a jerk,' which is not fair because he didn't have his lyrics to talk about me when I smothered him and he didn't have a life ... they don't know me. They don't see my faults," she said.
Gwen Stefani and Tony Kanal remained friends and bandmates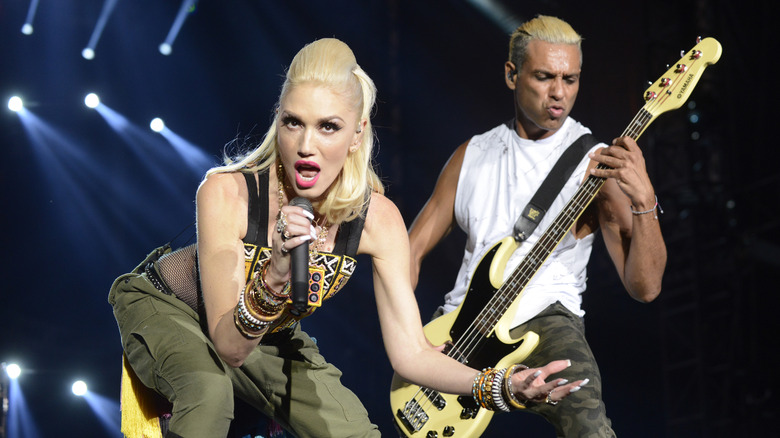 Tim Mosenfelder/Getty Images
Gwen Stefani and Tony Kanal had a very public breakup that involved them working, touring, and living together as they figured out their situation. Their other bandmates, Tom Dumont and Adrian Young, were afraid No Doubt would not make it through, especially since Stefani and Kanal's breakup coincided with Eric Stefani's leaving the band. "There have definitely been moments when we've talked about breaking up, Young told The Guardian in 2012. 
The fact that Stefani was shot to stardom, eclipsing her bandmates, also posed a challenge. "We kind of expected it, in a way ... Yet the whole thing caught us off guard," Kanal explained to The Buffalo News in 1997. But the band was as able to focus on what was important. "We've always treated each other with respect whereas maybe other bands that break up forget that... And we just never reached that [breaking] point," Young recalled to The Guardian.
Kanal and Stefani eventually developed a strong friendship, which often translated into collabs, with Kanal even producing some of Stefani's solo work, per The Guardian. In 2004, Stefani released her fourth solo album, "Cool," which included an eponymous single about Kanal, as MTV noted. "I was never intending to go personal on this record," she said in 2005. "But no matter what you do, things just come out. It just ended this whole thing for me in my head, and it puts an end to a chapter in a really nice way."