What Question Did Donald Trump Really Ask Barack Obama?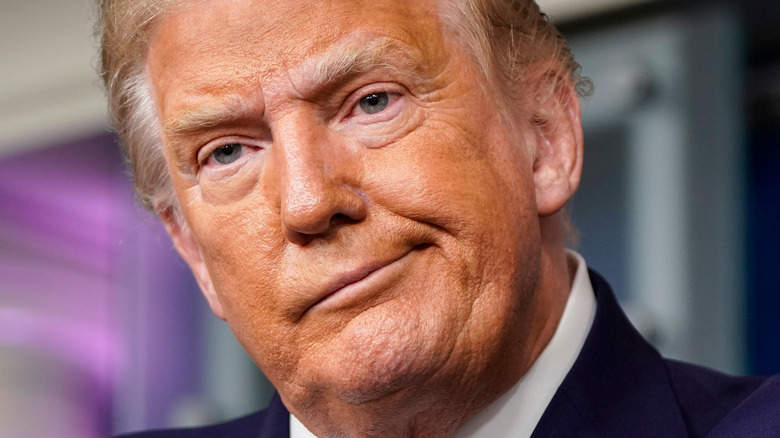 Naresh777/Shutterstock
When Donald Trump started his journey as the 45th President of the United States, he and his family had to learn the ropes of what running the United States would actually be like. Michelle Obama offered to help Melania Trump during the transition because that's traditionally what the previous first ladies did, but according to a November 2018 interview Michelle did with "Good Morning America," Melania did not take her up on the offer. Her husband however, had a different approach with figuring out how to best serve the American people.
During the beginning of his presidency, Donald Trump reached out to 44th president Barack Obama for advice on certain decisions like recommendations for potential cabinet appointments, or Obama's perspective on the greatest challenges America faced at the time.
"I have asked him what he would think of this one and that one," Trump told NBC's Matt Lauer on "The Today Show," "I take his recommendations very seriously." But there was one question Trump asked that threw Obama for a loop.
Barack Obama reportedly couldn't answer Donald Trump's question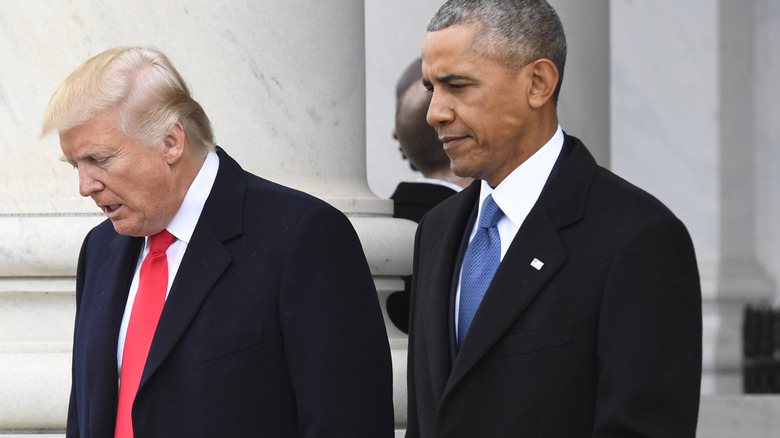 Pool/Getty Images
Bob Woodward and Robert Costa's book "Peril," which was released in September, gives the readers political insight into the months before and after the 2020 election, as well as the COVID-19 pandemic, the Jan. 6 riot, and the 2020 presidential campaign, per Fox News.
Woodward and Costa reported that in 2016, Donald Trump and Barack Obama were riding from the White House together to the Capitol when Trump asked Obama: "What was your biggest mistake?" referring to Obama's time as president. "I can't think of anything," Obama reportedly said. That comment from the former president is particularly surprising because a couple of months later in April 2016 during a Fox News interview, Obama said the worst mistake of his presidency was "probably failing to plan for the day after what I think was the right thing to do in intervening in Libya." That was referring to Obama not planning the aftermath of the 2011 fall of Libyan dictator Muammar Gaddafi properly, which at the time he felt was "a mess," per BBC News.
Even though Obama reportedly couldn't find any common ground on the failures of his presidency for Trump, maybe now these two can get together and compare notes again in preparation for Trump's rumored 2024 presidential run.