The Truth About Michael K. Williams' Relationship With Tasha Smith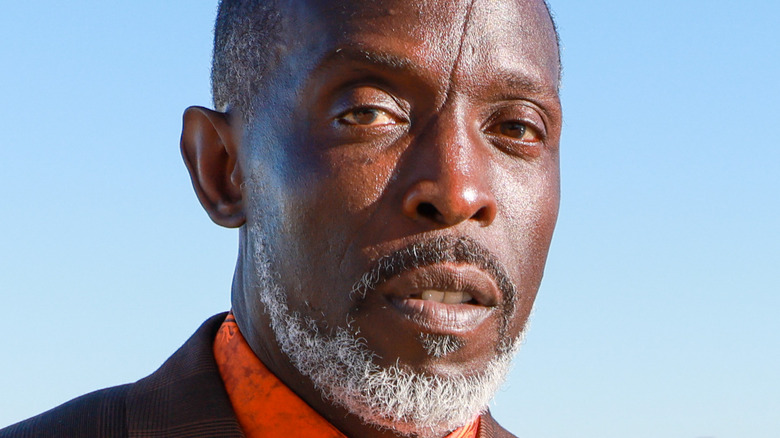 Arturo Holmes/Getty Images
On September 6, Michael K. Williams died inside his Brooklyn apartment, per The New York Times. Although the official cause of death hasn't been revealed, the New York City Police Department is investigating it as a possible drug overdose. One week after his passing, on September 14, Williams was honored through a live-streamed service at St. Stephen's Episcopal Cathedral, where he was described as "one of television's most respected and acclaimed actors," who brought "characters to life, often with surprising tenderness" (via USA Today).
Over the past few days, friends and colleagues of "The Wire" star continued to honor his legacy. "It took me a minute to gather my thoughts and emotions," Jamie Foxx wrote on Instagram. "I wanted to do right by you with my words... I wanted to let you know that you are beloved... RIP MKW." Director Ava DuVernay, who worked with Williams on "When They See Us," also took to Instagram to remember her late friend. 
"Maya Angelou once said, your legacy lives on in every life you touch," DuVernay wrote. "You, brother, touched many. Through your personal interactions big and small, through your community activism, through your struggles, through your triumphs, through your glorious work. You moved many. You moved me." She continued, "What you doubted in life, be certain of now, dear brother. Be certain. You were a flash of love – now gone. But never forgotten." Tasha Smith's tribute, however, may be the most touching of them all. Find out why below.
Tasha Smith once described Michael K. Williams as 'the love of [her] life'
Although Michael K. Williams never married, he was dating fellow actor Tasha Smith at the time of his death. According to WhoDatedWho, the two started dating in 2018, though they didn't make their relationship "Instagram official" until 2019. In May of that year, Smith shared a lovely selfie with Williams. "Nothing makes me happier!!!!!" the "Why Did I Get Married?" actor wrote on Instagram. In the same caption, Smith professed her love for her boyfriend. "The love Of my life @bkbmg [heart emojis]," she continued. "This man gives me goose bumps!!!!!"
Shortly after, Williams posted the same picture, along with a caption suggesting that he spoke this kind of love into existence. "I say word is born cause what I speak I manifest #lawofattraction," the "Lovecraft Country" actor admitted. Friends of the couple took to the comments to share their excitement. "Aww Tashie!! Two absolutely beautiful spirits," actor Meagan Good wrote under Smith's picture (via Bossip). "Love y'all."
Apart from their 2019 announcement, the couple remained quite private about their relationship. In the past, Smith was married to Keith Douglas and dated Michael Jai White and Tyler Perry (via WhoDatedWho). For Williams, meanwhile, this was his very first public relationship. And so, after the Brooklyn actor unexpectedly passed away on September 6, his girlfriend shared some very moving words on social media. Scroll below for her full tribute.
Tasha Smith says 'words cannot express the pain' of losing Michael K. Williams
On September 7, as Hollywood mourned the death of Michael K. Williams, his girlfriend and fellow actor Tasha Smith remembered him in a series of Instagram posts. First, Smith shared a picture with Williams, where the two can be seen laughing together. "Words cannot express the pain I feel in my heart!" she wrote in the caption. "We laughed, we cried, we prayed! Love you forever my friend!"
That same day, Smith posted a photo of her and Williams dancing to Anderson .Paak. "No one made me laugh harder @bkbmg I'm numb! we loved listening to @anderson._paak and dancing," the actor wrote. In another Instagram post, Smith shared a lengthy and emotional message about her late partner. "@bkbmg you gave us all so much love, wisdom and support!!!!!" she typed. "My Confidant, friend, prayer partner, fellow artist!" 
She continued, "You loved hard and lived courageously! You encouraged me and inspired me! You will live in my heart, in our hearts forever! I miss you so much. I can't process this! I know you're with the Lord resting easy, at peace. But damn this hurts." Later, Smith also took a moment to reflect on Williams' transition. "You fought the good fight of faith my love!!!" she wrote in another post. "To be absent from the body is to be present with the Lord my angel! Michael K Williams."