Tom Bergeron Wasn't A Fan Of This Dancing With The Stars Contestant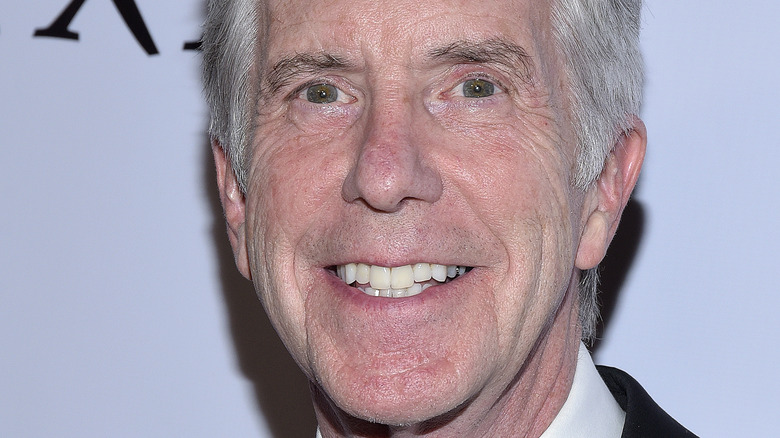 Michael Tullberg/Getty Images
Before Tyra Banks took over as the new host of "Dancing With the Stars," Tom Bergeron was the face of the reality dancing competition series. In fact, he was so loved by fans for his quirky jokes and cheerful disposition, that a lot of long-time viewers were gutted when they found out he would no longer be part of the show. Back in 2014, Bergeron was asked what it was like working with his new co-host, Erin Andrews. Bergeron told the The Hollywood Reporter, "She can act like a fan and be almost a giggly girl with the couples, she has a great interaction with them. It gives me more to play with. It's always good to work with people who are comfortable in their own skin but who can throw you curveballs."
And while Bergeron was certainly someone who always knew how to keep things positive, there was one season in which he couldn't help but speak his truth, regardless of how others might interpret it. It was also the first time that fans saw a different side to his personality. Giggles aside, Bergeron made it clear that he wasn't a fan of this one "Dancing With the Stars" contestant. Here's why.
Things got heated between Tom Bergeron and Sean Spicer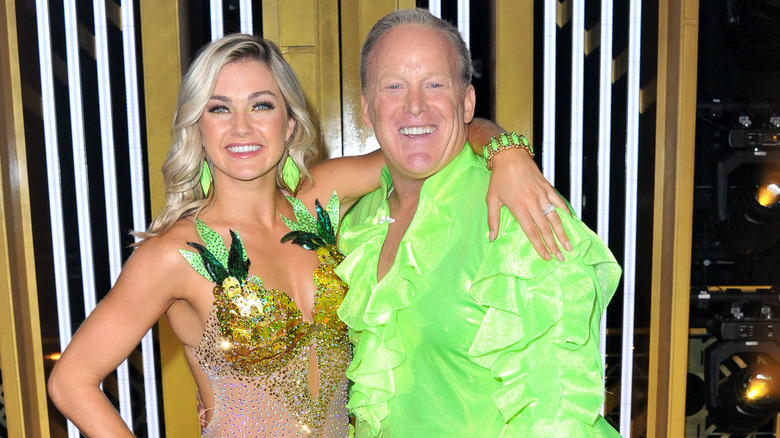 Allen Berezovsky/Getty Images
While there certainly have been a lot of "Dancing With the Stars" feuds over the years, as detailed in Us Weekly, there was one that shocked many fans, mostly because it included the host, Tom Bergeron. Bergeron was almost always supportive of every couple on the dance floor, but he felt there was one contestant who shouldn't have been on the show at all: Sean Spicer. As many can recall, Spicer worked as former President Donald Trump's White House secretary.
Bergeron was so upset about Spicer joining the show in 2019, that he did something that was out of character for him: He took to social media to rant about it. After a year-long hiatus from the show, Bergeron said that he was hoping the season would be a "joyful respite from our exhausting political climate and free of divisive bookings from any party affiliations." But he said that didn't happen when the show decided to cast Spicer. He wrote on Twitter: "Subsequently, (and rather obviously), a decision was made to, as we often say in Hollywood, 'go in a different direction.' It is the prerogative of the producers, in partnership with the network, to make whatever decisions they feel are int eh best long term interests of the franchise. We can agree to disagree, as we do now, but ultimately it's their call."
If that weren't enough, Bergeron and Spicer reportedly even got somewhat physical behind the scenes. Here's what happened.
Sean Spicer wanted to keep politics off the dance floor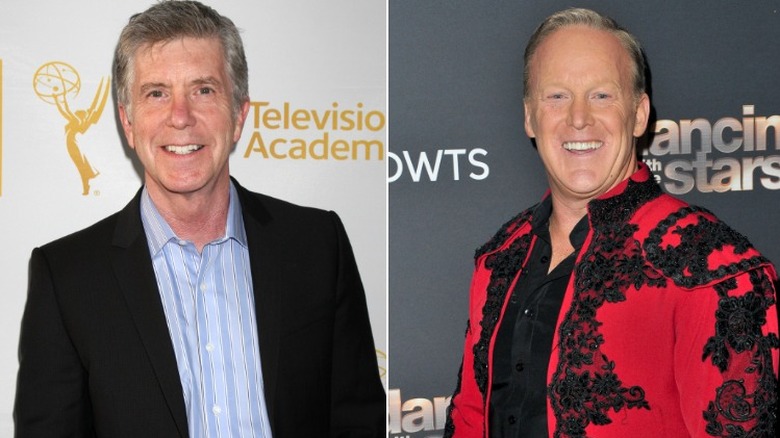 Shutterstock, Allen Berezovsky/Getty Images
Back in September 2019, it was reported that Sean Spicer allegedly "bumped" into Tom Bergeron backstage at "Dancing With the Stars." According to Us Weekly, there was no exchange of words, but it was a bump that was surely felt around the world. Spicer recalled at the time, "It was a quick pass by, but I don't think I've had a chance [to talk to him]. I mean, same thing with Erin [Andrews]. I saw the judges just real quick, but this really was more about us getting a chance to rehearse."
And while Bergeron himself never commented on the situation after his initial statement, Spicer was eventually voted off after the sixth episode of the season. But that didn't stop Sean from keeping his positive attitude — much like Bergeron always had in seasons prior to this one.
Spicer said, "I hope at the end of the season Tom looks back [and] says, 'Hey, this show is an opportunity to show the rest of America that we can bring people together, have a unifying night and put everything away for one night if it's just two hours and really enjoy each others' company no matter what our backgrounds and beliefs are on particular policies."