The Truth About Aly Raisman's Relationship With Colton Underwood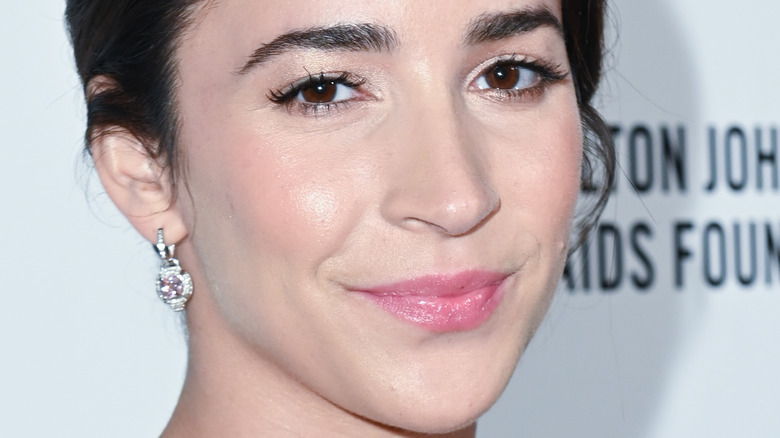 Silvia Elizabeth Pangaro/Shutterstock
Olympic athlete Aly Raisman dated former "Bachelor" star Colton Underwood back in 2016. According to Glamour, the two linked up after Underwood messages Raisman on social media. At the time, Underwood was playing professional football, and had been singed to the Oakland Raiders. He recorded a video message for Raisman in which he congratulated her on her success and let her know that he'd been following along. At the end of the video message, Underwood told Raisman that if she was ever in town, he'd love to take her out on a double date — along with his teammate Andrew East, who is married to former Team USA gymnast Shawn Johnson. Raisman said that she would totally go on a date with Underwood — and she did.
A couple of months later, Raisman and Underwood stepped out together at the Sports Illustrated Sportsperson of the Year event in New York, according to People magazine. Raisman told the outlet that she and Underwood had been dating since the MTV Video Music Awards. The two dated for a few months before Raisman broke things off. Keep reading to find out how Raisman dumped Underwood — and why she did it.
Aly Raisman broke up with Colton Underwood on FaceTime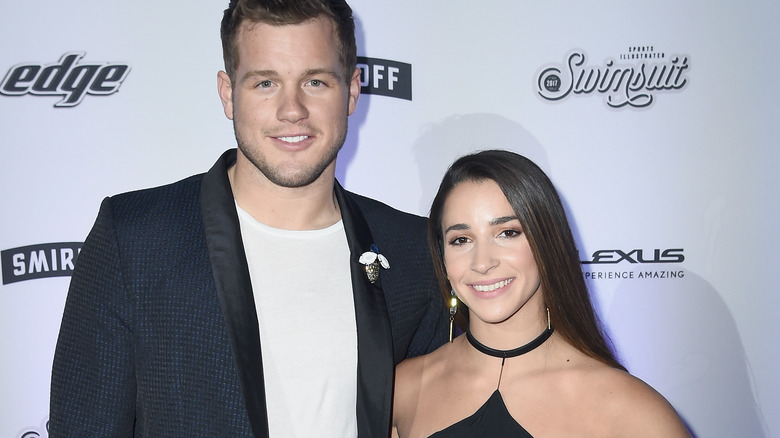 Nicholas Hunt/Getty Images
Colton Underwood and Aly Raisman seemed to have a hard time with their long distance relationship. In fact, in his book "The First Time," Underwood revealed that he used most of his money to travel to see Raisman — but he admitted that he was actually broke. "I was perfectly happy in this relationship. It was satisfying and serious. But I was keeping a secret from Aly. Though I looked like I belonged in this glitzy, glamorous world, I was broke," he shared, according to The Sun.
Despite trying to work things out, Underwood and Raisman's relationship came to an end in April 2017 when Raisman ended things over FaceTime, according to Showbiz Cheatsheet. In an interview on "The Lady Gang" podcast in January 2019, Underwood called Raisman his "first love," and admitted that their split was the "worst heartbreak" that he had experienced (via Us Weekly). "Aly said she felt overwhelmed, confused and in need of a break. Afterward, I sat in my car and cried. I was numb for days. I reached out to Aly several times without getting any response to my calls or texts," he shared. That recollection seemed very different from what Underwood said of his split from Raisman in an interview with the Peoria Journal-Star six months after their 2017 split. "We're still good friends and talk, but all that travel had been a nightmare. It ended fine. We're in a good place," he told the outlet. 
Colton Underwood came out as gay in April 2021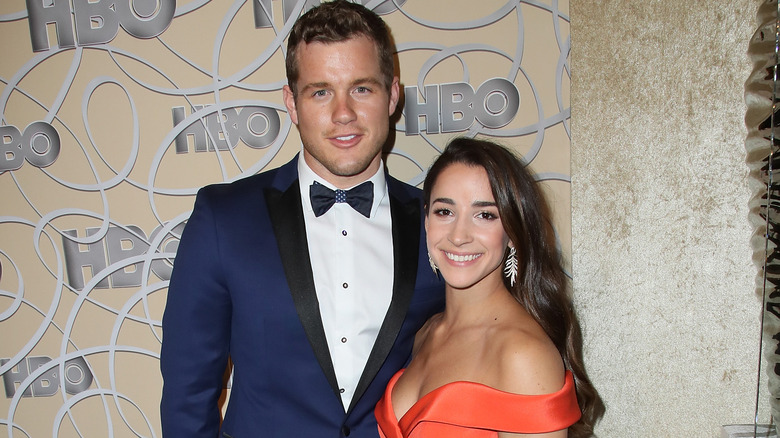 David Livingston/Getty Images
Colton Underwood, who has been very candid about being a virgin, would go on to find love on ABC's "The Bachelorette" during Becca Kufrin's season. Though things didn't work out for him on the show the first time around, he inked a deal to become "The Bachelor" the very next season. Aly Raisman told People magazine that she wasn't watching her ex on television. "I don't watch the show. We broke up a couple of years ago and we really — we have not talked in a really, really long time," she said. Underwood finished his dramatic season by eliminating all of the women before the finale, and leaving the show to follow Cassie Randolph, according to Us Weekly. The two dated for a little more than a year before announcing their decision to split in May 2020.
In April 2021, Underwood came out as gay on "Good Morning America." The former reality star told "GMA" host Robin Roberts that he "hated" himself "for a long time" before he was ready to open up about being gay. "I came to terms with that earlier this year and have been processing it. And the next step in all of this was sort of letting people know," he said, adding that he was "still nervous."
As for Raisman's love life, she was briefly linked to Boston Bruins forward Tim Schaller in 2018, according to Page Six, but she has not gone public with a boyfriend since her split from Underwood.