Goldie Hawn Reveals Why She Took A 15-Year Break From Acting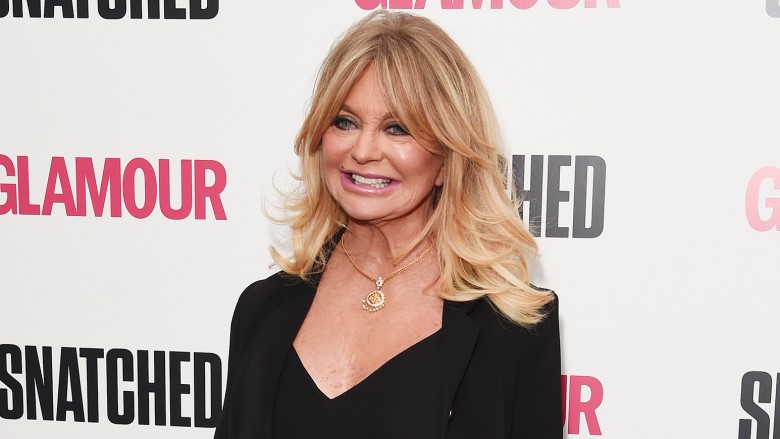 Getty Images
It's been 15 long years since Goldie Hawn last graced the silver screen, and people have questions—namely, her daughter, Kate Hudson.
In a new interview for Interview Magazine, Hudson grilled her mother on what she's been up to in the years since she's left Hollywood—though, of course, we're sure Hudson's been made well aware of her mother's activities.
When asked why she hasn't made a movie since The Banger Sisters (2002), Hawn explained that she simply wanted to try new things. "I believe that life is about doing. It's about changing," Hawn said. "It's about transitioning. I can't imagine, as a human being, not being able to grow."
The iconic actress, who recently walked the red carpet for the premiere of Guardians of the Galaxy Vol. 2, went on, "When I turned 50, I asked some of my girlfriends, all actresses of the same age, 'What are we going to do now?' I wanted to go live somewhere for a while, learn archaeology, or take part in healing the world on some level. I wanted to dig deep and say, 'Who am I now? What do I have to offer? What do I have to learn?"
In that time, Hawn's apparently done quite a bit. "I ended up writing two books and creating MindUP [a program promoting the childhood education of neuroscience, positive psychology, mindful awareness, and social and emotional learning]," the 71-year-old explained. "It's now in Jordan, Serbia, the U.K., America, Canada, Hong Kong. I never looked back. I never wished to be acting again. I was so engaged."
In a March 2017 interview with Yahoo, Hawn elaborated on why she stepped away from the spotlight, crediting it, in part, to a decrease in roles being sent her way. "Every woman hits a certain age, every woman has to face it, that's the way it goes, and I really am not a sit-around-and-wait-for-the-phone-to-ring person," she said.
Of course, Hawn is now making her return to the big screen. She stars alongside Amy Schumer in the upcoming film Snatched, which is set to premiere May 11, 2017.