How Much Does Christina Haack's Engagement Ring Cost?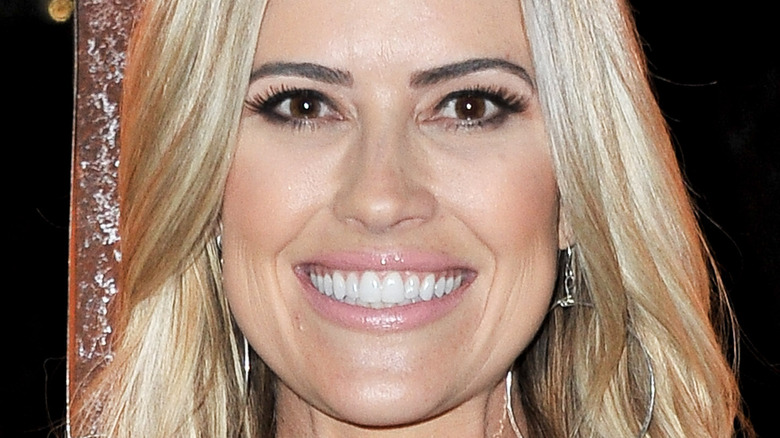 Allen Berezovsky/Getty Images
Christina Haack is engaged again! And boy does she have the sparkler to prove it. Christina officially confirmed that she and her boyfriend, Joshua Hall, are engaged with a series of photos on Instagram on September 20, which showed the two enjoying a romantic candlelit meal on the beach before she put her arm around him to show off her new ring.
She captioned the post with a red heart, eternity symbol, padlock, key, and ring emoji as the two shared big smiles and a kiss on the lips in the accompanying photos. She tagged their location as being Montage Los Cabos in Mexico.
The confirmation came after weeks of speculation about whether or not Hall had popped the question to the "Flip or Flop" and "Christina on the Coast" star, as she'd been repeatedly spotted showing off her new piece of jewelry in photos. Christina first sparked engagement speculation on August 15 when she posted and deleted a snap of herself, Hall, and his mom on a boat with a sparkly bauble on that finger. The speculation only intensified the following month when Page Six published candid photos of Christina and her man on a balcony in San Diego where she was, you guessed it, wearing said ring.
Now, after only given us glimpses at her engagement ring, the reality star is finally letting us see it in all its glory. So, what does it look like and how much is it worth? Scroll on for the details.
Christina Haack's engagement ring from Joshua Hall is estimated to be worth $200,000
Christina Haack's new five-carat engagement ring could have set her fiancé Joshua Hall back a whopping $200,000 according to Benny and the Gems jeweler Benny Hayoun, who dished on the sparkler to E! News.
The stunning piece of jewelry is described as "a radiant-cut diamond and platinum ring" which was "hand-picked" by the groom-to-be and took five whole days to be made by hand. "[Hall] knew exactly what she wanted. He was confident and wanted to pick the best ring he could. He wanted the perfect diamond for her," Hayoun said.
Christina proudly showed off the ring in her Instagram photos and via her Instagram Story. In one short Story video, she wrapped her left hand around her husband-to-be's arm as she zoomed in on her hand while they stood on a balcony overlooking the resort of their Mexican vacation while the rain came down. She gave a good look at the sparkler, showing it's a rectangular diamond on a thin band that also appeared to feature diamonds.
Christina tagged Hayoun in the video and thanked him for her new ring, calling him a "great friend and [the] best jeweler" alongside a white heart and a jewel emoji. The star also appeared to be wearing three Cartier bangles, while her man rocked a gold watch.
How does Christina Haack's engagement ring from Joshua Hall stack up against her others?
There's no doubting Christina Haack's new engagement ring is stunning, but how does it compare to her past sparklers? As fans will know, Christina was previously married to her "Flip or Flop" co-star Tarek El Moussa, before going on to tie the knot with British TV presenter Ant Anstead, both who also presented her with engagement rings.
Not too much is known about the price of Christina's engagement ring from Ant, though she did proudly show it off on Instagram on a few occasions. In a since deleted snap (which can still be seen via Daily Mail) Christina's ring appeared to feature at least one very large white diamond on a platinum band. We know a little more about her second wedding ring though, as that was seriously impressive. Per People, when she tied the knot with Ant in late December 2018, the reality star opted for a platinum band covered in 16 emerald-cut diamonds, weighing 8.5 carats. Now that's a bling ring!
As for her engagement and wedding rings from Tarek? We're guessing those were a little more modest. The two tied the knot in 2009, four years before finding fame on "Flip or Flop," so it seems the two may have spent a little less dough on their love jewelry.
But regardless of her past rings, it seems safe to say Christina is certainly happy with her latest!