The One Guest On The View That Whoopi Goldberg Couldn't Stand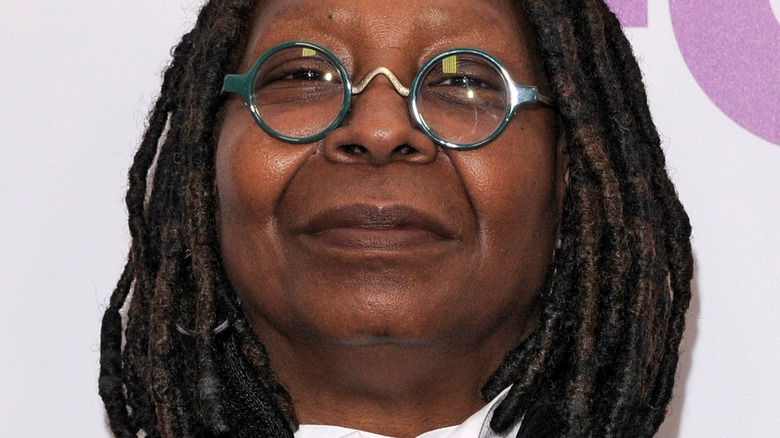 Ron Adar/Shutterstock
Over its long history, "The View" has had plenty of controversial moments. There was the infamous split-screen smackdown over the Iraq war between Rosie O'Donnell and Elisabeth Hasselbeck, which led to O'Donnell quitting the show. Bill O'Reilly made Whoopi Goldberg and Joy Behar walk off the stage when he proclaimed that "Muslims killed us on 9/11." And in 2011, former President Donald Trump sat on the couch and peddled the idea that former President Barack Obama was not born in America, leading Goldberg to say, "Donald, I love you ... that's the biggest pile of dog mess I've heard in ages."
While there have been many, many guests on "The View" over the years, there is one in particular with whom Goldberg had a feud that lasted even after the interview ended — kind of like O'Donnell's famous feud with former president Trump. 
So, who set off the EGOT winner so badly? Keep on reading!
Whoopi Goldberg got into it with Judge Jeanine Pirro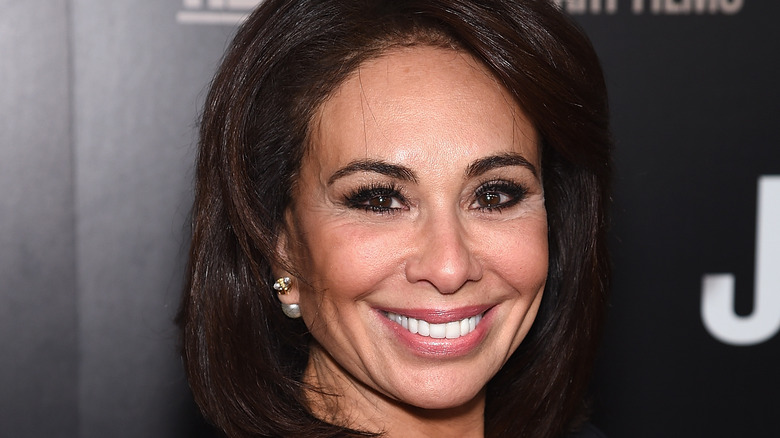 Dimitrios Kambouris/Getty Images
Jeanine Pirro, host of Fox News' "Justice with Judge Jeanine," appeared on "The View" in 2018 to promote her book "Liars, Leakers, and Liberals: The Case Against the Anti-Trump Conspiracy." But as typically happens when a conservative appears on the show, things quickly spiraled into chaos.
Pirro started listing some accomplishments she attributed to Trump's administration, like low unemployment and a high GDP. Meghan McCain then pointed out that Trump still had 89% support in the Republican party. Whoopi Goldberg began yelling a question at Pirro, and Pirro said over her, "You're suffering from Trump Derangement Syndrome." This set Goldberg off.
"Listen, I don't have 'Trump Derangement,'" she retorted. "Let me tell you what I have. I'm tired of people starting a conversation with 'Mexicans are liars and rapists.'" She continued, "Listen, I'm 62 years old. There have been a lot of people in office that I didn't agree with, but I have never, ever seen anything like this. I've never seen anybody whip up such hate. I've never seen anybody be so dismissive."
The two began yelling over each other, with Pirro finally saying, "Whoopi, you know what's horrible? When people who shouldn't be here end up murdering the children of American citizens." Goldberg replied, "You know what's horrible? When the president of the United States whips up people to beat the hell out of people. Say goodbye. I'm done." The show then cut to commercial. So what happened next?
Whoopi Goldberg and Jeanine Pirro accused each other of being aggressive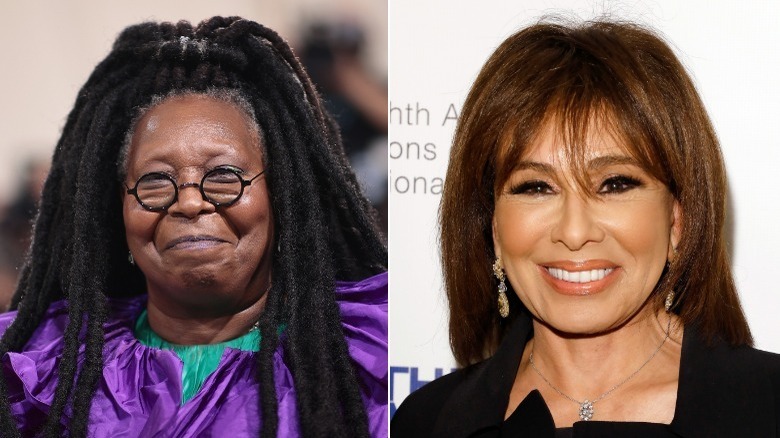 Dimitrios Kambouris, Taylor Hill/Getty Images
When the show returned from commercial, Jeanine Shapiro was no longer sitting at the table. "I very rarely lose my cool," Whoopi Goldberg said. "I'm not proud of it. I don't like it. But I also don't like being accused of being hysterical."
Unfortunately for Goldberg, Pirro doubled down on her accusations of hysteria. Pirro appeared on Fox News' "Hannity" and claimed that during the commercial break, Goldberg came for her backstage. "She was this close to me," Pirro said, holding her hand an inch from her face. "She said, 'F you, F you' ... and then she said, 'Get the F out of this building!'" Pirro continued, "And I felt like I was less than dirt."
But Goldberg recounted a different version of events. The next day on "The View," she told her side of the story. "After the segment, which ended when it was supposed to... she then called everybody at the table a name I cannot repeat on TV and said it in front of the audience." Goldberg continued to describe what happened after both of them left the stage. "She could have just passed me ... but she stopped and put her finger in my face and said, 'I've done more for victims than you ever will.' Then I said to her some few choice words that I cannot repeat." Goldberg admitted, "Yes I did say it ... but she walked out of here cursing..."