The Real Reason Duane Chapman Decided To Become A Bounty Hunter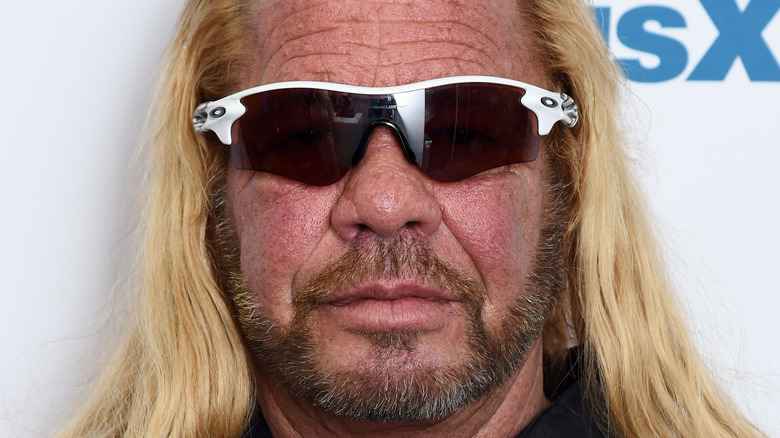 Ilya S. Savenok/Getty Images
With his signature shades and platinum blonde hair, Duane "Dog" Chapman rose to fame in the hit A&E show "Dog the Bounty Hunter," which documented his exploits chasing down bail jumpers. The show — which first aired back in 2004 — ran for eight seasons and sparked America's passion for what The New York Times called "redneck reality." But after Dog's wife Beth Chapman tragically died in 2019 from throat cancer, Dog opted to take a break from reality TV.
At the time, the two had been filming the spinoff series, "Dog's Most Wanted," with Beth continuing to film while ill. Per IMDb, "Dog's Most Wanted" featured "a cross-country manhunt to track down a carefully curated list of Dog's Most Wanted fugitives," in addition to zeroing in on "the family's most difficult fight, Beth's battle with cancer."
Understandably, Dog was bereft with grief after his wife's death, though he eventually found love again with Francie Frane. The two tied the knot in September 2021, with Dog admitting he was positive that Beth would have approved of him marrying Francie. Leading up to his nuptials, the bounty hunter was said to be ending his TV hiatus with "Dog Unleashed," though the show was unexpectedly canceled. While viewers are waiting to see when Dog will make his reality show return, let's take a walk down memory lane to determine why the star decided to become a bounty hunter in the first place.
Dog was inspired to become a bounty hunter while in jail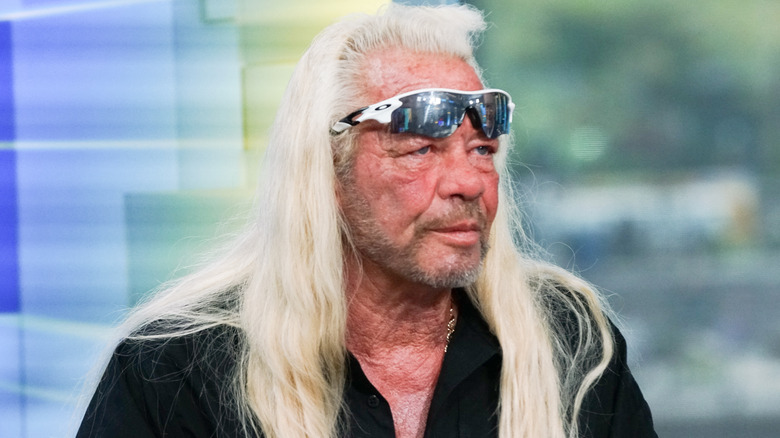 Bennett Raglin/Getty Images
For eight seasons, fans watched Duane "Dog" Chapman, his family, and other bail bondsmen team up to bring perps to justice. Apprehending criminals was just part of Dog's routine workday, but the series also showcased a different side of the bounty hunter's personality. Frequently, Dog would check to see whether perps had sustained injuries during capture, or encourage them to change their lives for the better. Perhaps this softer side arose because Dog himself had once been on the wrong side of the law, and could sympathize with criminals on the run.
Per Toronto Star, Dog was involved in a drug deal gone south in the 1970s, which culminated in his friend shooting the dealer. Though he hadn't done the actual shooting, Dog still ended up in prison, where he did some soul searching. "I did 18 months in prison. When I was in prison, I became the warden's barber, so that means all the guards were my friends," the reality star told Fox News in 2007. "One guy went to break and run ... and I jumped him and just — the guard[s] were going to shoot him in the back. And as the guard walked up when I was on top of the inmate apprehending him ... he said, 'Hook him up, bounty hunter.'" It was a pivotal moment that would forever change the trajectory of Dog's life.
A judge encouraged Dog to become a bounty hunter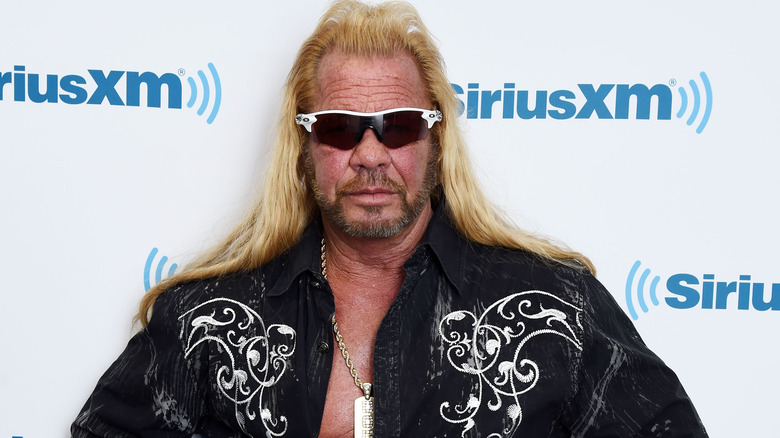 Ilya S. Savenok/Getty Images
Thanks to Duane "Dog" Chapman's good behavior while behind bars, coupled with that fateful tackle, he only served a year and a half of his five-year prison sentence. But once out, Dog — who has fathered a total of 12 children in his life — learned of a son he never knew he had. "Christopher's mom [ex-girlfriend Debbie White] committed suicide in the '70s while I was in a Texas prison doing 18 months," Dog told The National Inquirer. "I didn't know I had a son until I got out." While discovering he had another son was good news to the ex-convict, he was still hit with child support bills from his ex-wife that he couldn't afford to pay.
But in a twist of fate, the judge overseeing Dog's case had heard that the prison wardens held Dog in high esteem and had affectionately dubbed him "bounty hunter," per Worldation. At this point, Dog was already contemplating a career bringing criminals to justice, but the judge encouraged this path by suggesting he turn to bounty hunting to pay off his child support bills. Dog took this advice to heart, and established himself as a force to be reckoned with by tracking down Andrew Luster, who fled the U.S. during his trial for sexual assault. The case won Dog international acclaim and launched his reality show "Dog The Bounty Hunter" — so maybe, he was always meant to be a bounty hunter.