How Olivia Munn Got Involved In Aaron Rodgers' Family Feud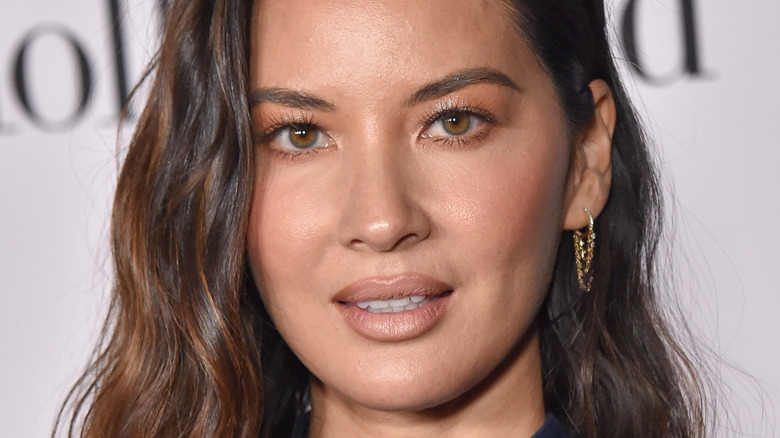 DFree/Shutterstock
As one of the greatest quarterbacks of his generation, Aaron Rodgers has endured scrutiny from the NFL world throughout the highs and lows of his career. In 2016, during a rough patch for the Green Bay Packers, Bleacher Report published an article titled "Can Aaron Rodgers Be the Type of Leader the Packers Need?" That piece examined a growing rift between the quarterback and his family. "He didn't attend his grandfather's funeral — the same grandfather he once called before every game," the outlet wrote. He also reportedly bailed at the last second on being a groomsman for a close friend. "When Mom and Dad sent Christmas presents to the quarterback and his girlfriend that year ... those gifts were mailed back," Bleacher Report wrote. The girlfriend in question was Olivia Munn.
Earlier that year, the NFL star's brother, Jordan Rodgers, was a contestant on "The Bachelorette." While on the show, Jordan revealed he was basically estranged from his older brother. "Like I said, I have a great relationship with my brother Luke. Me and Aaron don't really have that much of a relationship," he said (via Fox News). In January of 2017, their father, Ed Rodgers, admitted to The New York Times that he too had a falling out with Aaron.
Later that year, during an interview with ESPN, Rodgers refused to discuss his family turmoil. "It needs to be handled the right way," the former league MVP said. So how did Munn factor into the family drama?
Olivia Munn got blamed for his family issues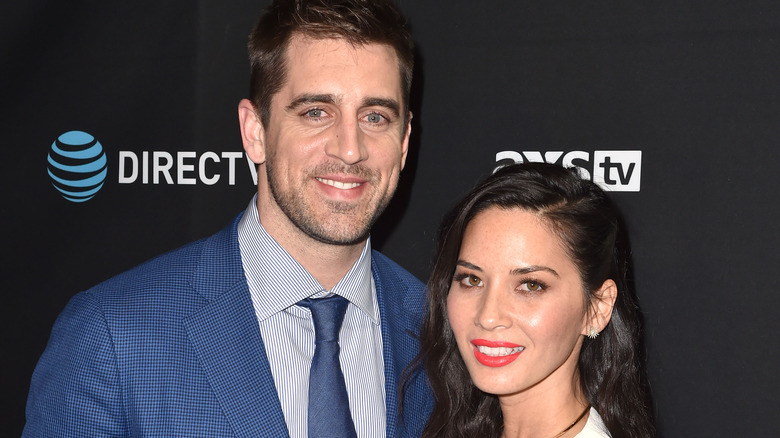 C Flanigan/Getty Images
After Aaron Rodgers' family went public with their spat, it was reported that Olivia Munn was the one who had driven a wedge between her boyfriend and his family. Reportedly, his family members were suspicious of the actor. "When he got together with Olivia Munn, his family told him they didn't trust her and thought she wasn't with him for the right reasons," a source told Us Weekly in January 2017. "That made him furious, and he ended up choosing Olivia over his family." Later that month, Munn liked comments on Instagram from fans who thanked her for supporting Rodgers while his family aired their grievances, per Terez Owens.
Meanwhile, another source refuted the claims that Olivia was behind the beef. "Olivia doesn't really have anything to do with it," the source told People in January 2017. "This is not her issue; this is the Rodgers family issue," they added.
Amidst the public family feuding, Rodgers and Munn broke up a few months later in April 2017, per People. It was reported that the two were on amicable terms. The Green Bay Packers star mentioned how strenuous media coverage became for their relationship. "When you are living out a relationship in the public eye, it's definitely ... it's difficult," told ESPN in August 2017. 
The Rodgers family was feuding before Olivia Munn arrived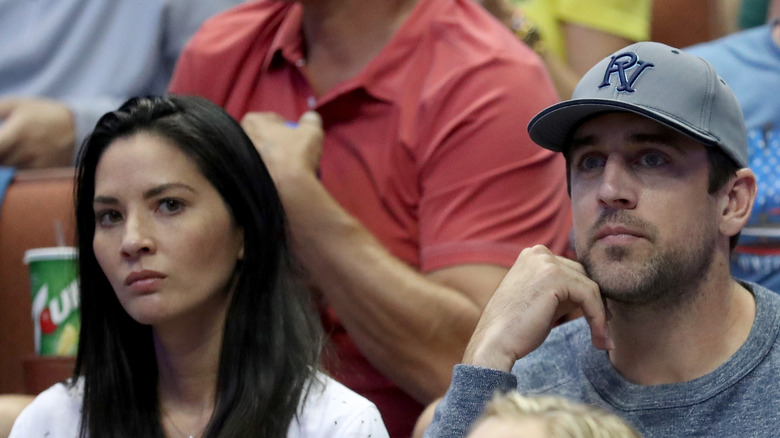 Sean M. Haffey/Getty Images
According to Olivia Munn, the tension between Aaron Rodgers and his family existed well before she entered the picture. The actor said she had met Rodgers' parents "only a couple times," as revealed during a 2018 interview on SiriusXM's "Radio Andy" with Andy Cohen (via USA Today). "Before he and I started dating he hadn't spoken to the parents and one brother for like eight months," Munn said. The "Office Christmas Party" star claimed she tried to play peacekeeper between her ex and his family. "I spent the day in my trailer just encouraging him to have an honest conversation with [his] parents," she said.
Munn told Cohen that Rodgers had momentarily patched things up with his family, but the relationship once again went south. The actor hinted that Rodgers' immense success played a factor. "I do believe that family and fame and success can be really complicated if their dreams are connected to your success," she said. Munn also hurled a harsh criticism at the Rodgers clan for their public comments about the quarterback. "I do think it's not okay when you try to stand on someone's shoulders and then throw dirt in their face, which is what I think they did with [Rodgers]."
Both Rodgers and Munn had no trouble moving on after their split, as Rodgers got engaged to actor Shailene Woodley, and Munn later announced she was pregnant with comedian John Mulaney.