The Steamiest Photos Of Prince Harry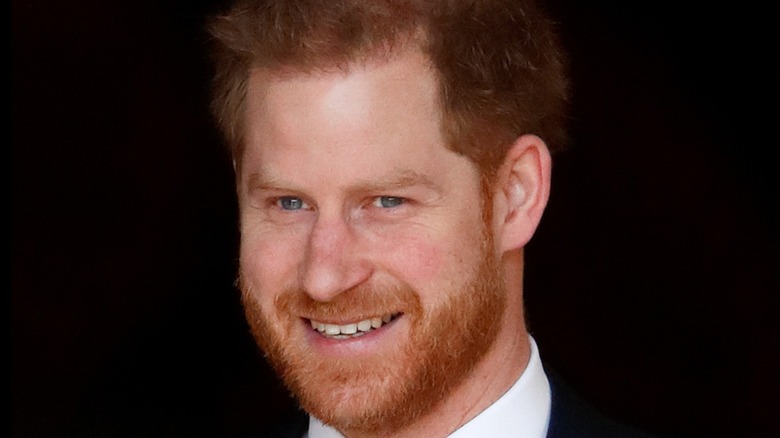 Max Mumby/indigo/Getty Images
Back when they were younger — before they had wives and families of their own, not to mention the responsibilities that come with being British royals — Prince William was considered the heartthrob of the Mountbatten-Windsor crew, but these days it's all about his little brother. Prince Harry always seemed to be the more awkward one between him and his brother when they were growing up, but now we know it's likely because he wasn't particularly comfortable with always being in the spotlight. Thanks to his laid back vibe, passionate nature, and the ultra-manly beard he often sports these days, he's blossomed into quite the stud throughout the years. So much so that in 2014, Fox was inspired to create a reality dating show (or should we say bizarre prank?) starring a guy who... sort of looked like Harry.
Harry's gotten even sexier since he stepped down as senior member of the royal family in 2020. He's taken control of his own media narrative and seems more comfortable in his own skin than ever before. But just for posterity's sake, we're gonna take it way back and share some of the steamiest photos of Prince Harry that have been captured since the royal shed his adolescence and grew into the gorgeous guy he is today. He even managed to nab the "Sexiest Royal" title in People's 2020 "Sexiest Man Alive" issue! Keep scrolling to see exactly why so many people think Prince Harry is so steamy.
Prince Harry's personality makes him super sexy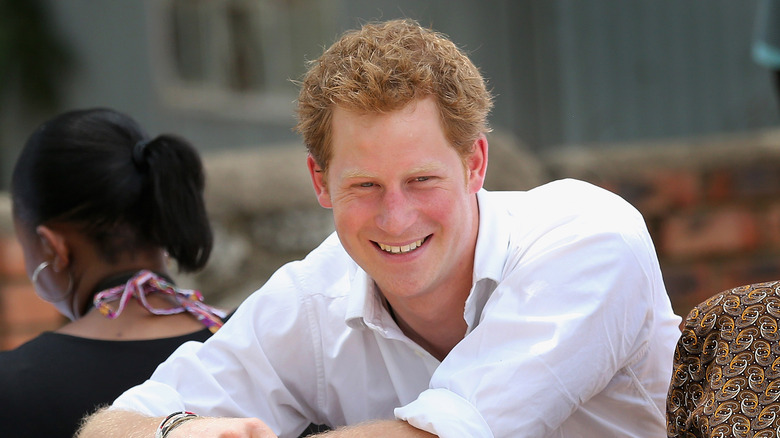 Chris Jackson/Getty Images
Like his gorgeous mother, the late Princess Diana, Prince Harry is a humanitarian through and through. He always seems to light up when he's helping others, and always seems to look the most attractive when he's doing things that really matter to him. He has a killer smile and it always shines bright when he's doing good work, like during this visit he made to St. Bernadette's Centre for the blind in Maseru, Lesotho, back in 2013. According to CBS News, he also visited the Kananelo Centre for the Deaf during that trip, and did things like dance and bake with the children, many of whom were orphans. In nearly every photo from that trip to Lesotho, he looks incredibly relaxed and happy, and just knowing that giving back in that way brings him so much joy, makes him all the more attractive. 
Harry has continued to do work in Lesotho throughout the years, and that work is important to the Duke and Duchess of Sussex. "Both of us have passions for wanting to make change, change for good, and, you know, with lots of young people running around the commonwealth, that's where we'll spend most of our time hopefully," he told the BBC following his and Meghan Markle's engagement announcement. 
Prince Harry started coming into his own in his 20s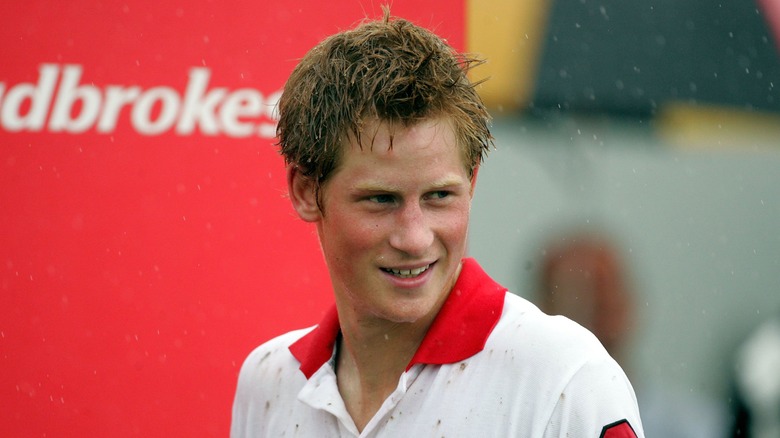 Matt Cardy/Getty Images
Harry Styles isn't the only hot Harry around. As we mentioned, Prince Harry was a bit of an awkward teen (who among us wasn't?), but during his early 20s, we started to see glimpses of the hottie he would one day become. His flop of ginger hair, flushed cheeks, and mischievous grin were totally sexy during this polo match in 2006. Like many members of the royal family, Prince Harry's very into polo; as royals expert Katie Nicholl told ET in 2019, he has "high ambitions" for son Archie's own involvement with the sport.
The royal's competitive nature is obvious in many of the pictures we've seen from various sporting events he's participated in, including at the Cirencester Park Polo Club event pictured here. Harry's eyes are very expressive, which definitely adds to his appeal. Plus, he looks very focused and intense while playing the game, two qualities that can totally work in a person's favor. And this was only a preview of the rugged good looks Prince Harry would one day come to possess. 
Everyone loves a man in uniform, and Prince Harry wears his well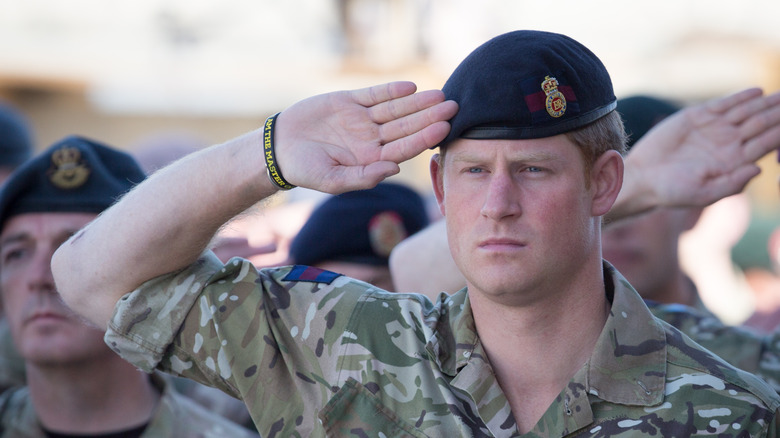 Matt Cardy/Getty Images
Prince Harry served in the British Army for 10 years, completing two tours of duty in Afghanistan, eventually becoming a captain before retiring from the military in 2015. His service was commendable, but we really can't help but to mention how hot he looked in his uniform. Harry looks every bit the dedicated and able soldier in this photo of him that was taken at a Remembrance Sunday service at Kandahar Airfield back in 2014. 
At 6'1," Harry carries off a uniform very well, whether it's battle fatigues or a dress uniform. Though his time in the military is a thing of the past, he remains connected to the Army. "Luckily for me, I will continue to wear the uniform and mix with fellow servicemen and women for the rest of my life, helping where I can, and making sure the next few Invictus Games are as amazing as the last," Harry said in a palace statement when he announced his retirement, according to Today. Boy, are we glad that's the case.
Prince Harry hits the polo fields again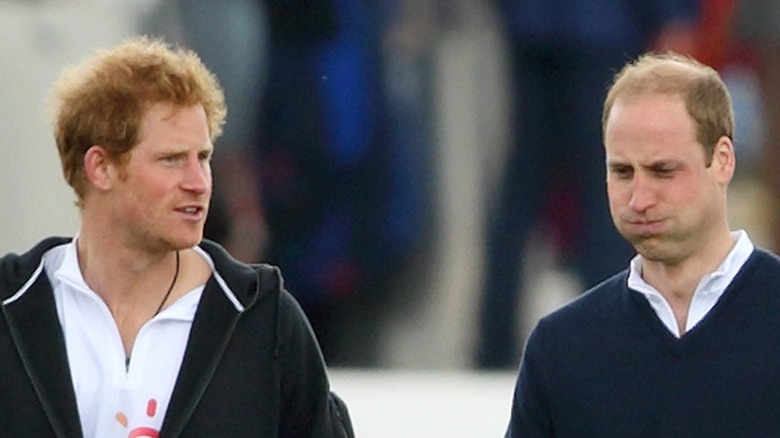 Max Mumby/indigo/Getty Images
We hope you didn't put your mallet and helmet away, because we are not done with the polo. Although as a royal he's been expected to partake in this particular sport since he was a child, Prince Harry quite obviously enjoys it. Speaking of polo, somewhere around the time of the Audi Polo Challenge in 2015, there was no doubt that Prince William's little brother had reached full-fledged heartthrob status. 
Harry may not always be as perfectly put together as Wills, and for some reason that makes him all the more attractive. They both played in this match, and while Prince William doesn't even look a bit tousled, Prince Harry is rumpled and red-faced, but in a super charming way that shows us he's not afraid to exert himself a bit. Again, it's that seemingly inherent passion coming out that makes him totally sexy.
According to People, Harry played in the charity tournament on behalf of Sentebale, the organization he co-founded that's dedicated to the "mental health and wellbeing of children and young people affected by HIV in Lesotho and Botswana."
The casual look really works for Prince Harry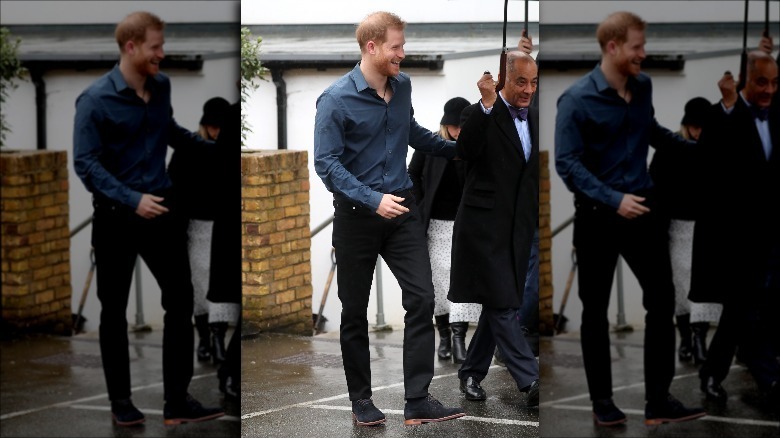 Chris Jackson/Getty Images
With his tall build, Prince Harry looks drop-dead gorgeous in a pair of fitted jeans and a tailored button up. It's a more casual look for a royal, especially one of Harry's stature, and we love that he's willing to stay true to himself even if he has to buck royal protocol occasionally. During this visit to Abbey Road Studios in London in February 2020 during which he met the iconic American rockstar Jon Bon Jovi, he even unbuttoned a bit. And that smile? Well, it's absolutely priceless. If you look closely, you can even see a tiny dimple, which we've only ever been able to spot when Harry is truly enjoying himself. No wonder he was named the world's sexiest royal by People that same year. 
Interestingly, this visit happened a little over a month after Harry and Meghan Markle announced on Instagram that they would "step back as 'senior' members of the Royal Family, and about two weeks before the Commonwealth Day event — their final official engagement as royals.
The rugged charm of Prince Harry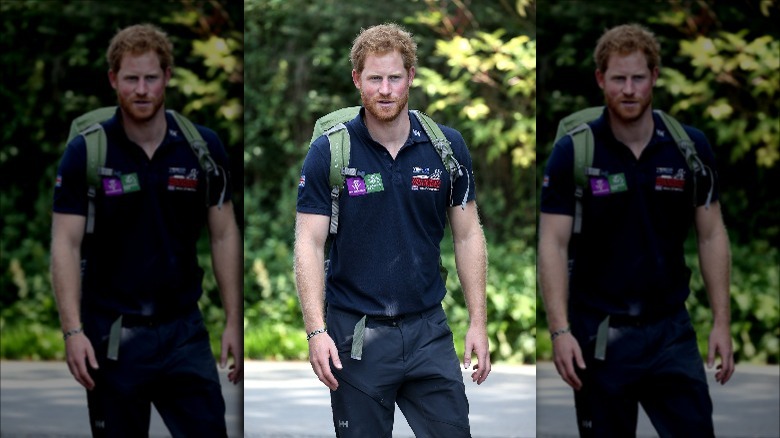 Chris Jackson/Getty Images
If he weren't such a well put-together and polished royal, you could almost say that Prince Harry has a rugged look. Consider this photo of him during the Walking With the Wounded event at Ludlow Castle back in 2015. If you didn't know he was a royal, you'd just think he was a super hot, outdoorsy guy, and you'd probably want to get his number. 
The folks over at PopSugar agree, noting that a big part of Harry's appeal comes from what a good heart he has. "Prince Harry's backpack is cute, but his humanitarian side is cuter," they wrote when this picture was first released, and it's a surely an accurate assessment. We have to say though, that scruffy beard and tiny hint of a bicep showing doesn't hurt either. Might this be one of our favorite Prince Harry pictures of all time? Perhaps. Hey, maybe now that he's holding it down in America with the fam, we'll get to see even more of his rugged, casual side.
Prince Harry wears a tux just as well though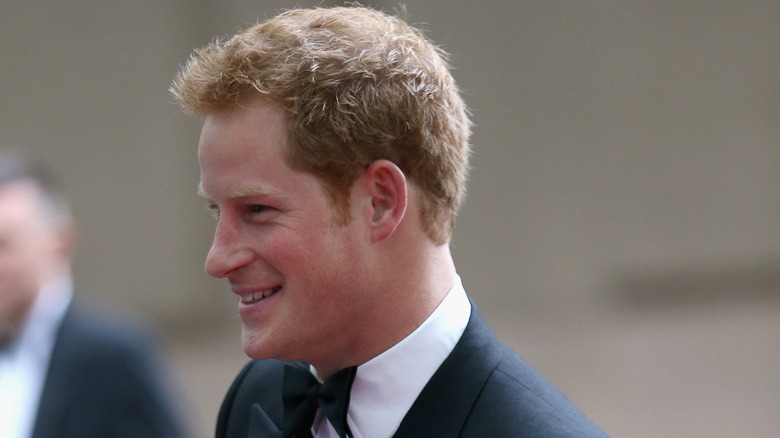 Chris Jackson/Getty Images
Okay, okay. Even though we really like his more rugged side, we fully admit that he also looks fantastic in a tuxedo. He's proven he can get down and dirty, but formality is practically in his royal blood, so it's a given that the man can rock a tux very, very well. He looked absolutely dapper at the Walking With the Wounded Crystal Ball Gala in 2013 — so dapper, in fact, PopSugar included this look in a list titled "15 Times Prince Harry Channelled His Inner James Bond and Looked Sexy as Hell in a Tuxedo." 
When Harry shines, some might even say he has movie star good looks, which honestly, has only become more true in the years since this photo was taken. Like a lot of famous men, he started out cute, but has become downright sexy as he's gotten older. Nevertheless, this picture was taken almost a decade ago, and it definitely gave us a good idea of how well Harry would mature into his looks. Of course, that adorable little grin is still the same today as it was then.
Prince Harry has proven that he's good with his hands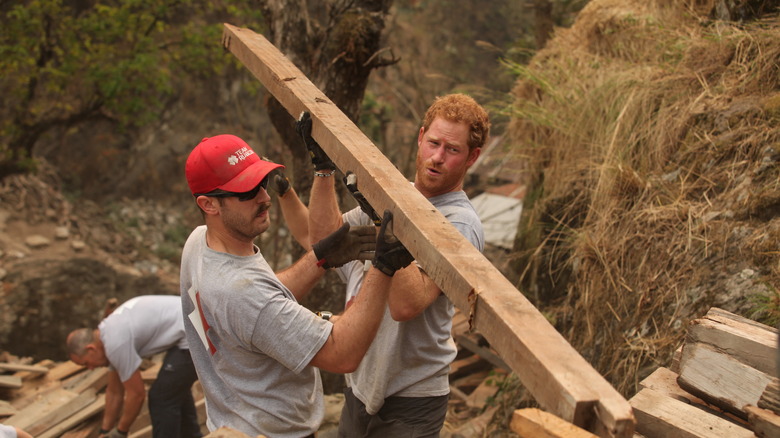 Handout/Getty Images
Not only can Prince Harry waltz with you at the ball, but he can build you a house, too — or at least open that pickle jar that won't budge. In March 2016, he once again proved that he is every bit the tough guy despite his royal bloodline and privileged upbringing when he joined Team Rubicon UK in what was dubbed Operation: Nirman. He spent some time away from home to assist with rebuilding efforts in Lapubesi, Nepal, in the aftermath of devastating earthquakes that had ravaged the country the previous year. 
Harry showed once again that he's at his absolute sexiest when he's doing the kind of humanitarian work he's most passionate about. He's so committed to helping others that he chose to stay in Nepal for this mission at the end of a weeks-long official tour he had completed just prior. Um, yeah. That kind of dedication and selflessness is beyond attractive in a guy.
Prince Harry goes full Spartan
Okay, this one isn't a photograph, but a screengrab pulled from a TV show. When the occasion calls for it, you've got to fudge the rules a bit.
We realize that athletics are a long-standing tradition for the British royal family, but it seems to come to Prince Harry particularly naturally, and he always looks so dang good when he's being active. He was totally drool-worthy while completing a military obstacle course on a 2021 episode of "The Late Late Show with James Corden." The internet went absolutely crazy over how fit Harry looked. "prince harry........never on my radar.........but now.......zaddy prince let's say it," wrote Twitter user Morgan A. Baila. "Just watched the Prince Harry tv appearance and now I'm even more jealous of Meghan! That obstacle course clip was [fire emoji]! Who knew Haz equals hot?!?," agreed Twitter user The Spoiler Spot. 
We agree too. Although this obstacle course segment took place more than five years after he retired from the military, Harry obviously hasn't forgotten how it's done.
The Late Late Show episode that earned Prince Harry a lot of admirers
Yes, it's another screengrab from "The Late Late Show with James Corden." What can we say, a hot screengrab is a hot screengrab.
Nearly a year after stepping down from his royal duties, Prince Harry appeared in a surprise interview with comedian and fellow Brit James Corden, and stole the hearts of many viewers with his approachable personality and that cheeky smile. Oh, and it didn't hurt that he looked pretty fit, too. It was Harry's first television appearance after officially announcing that he and Meghan Markle were ready to go and do their own thing outside of the royal family, and he got a lot of people's attention. 
"Keywords like hot, kinda fine, and even British zaddy began to trend alongside the prince's name (with a slew of hot and bothered GIF selections) on Twitter early this morning as royal fans and regular folks alike shared their sentiments regarding Harry's impressive strength," Harper's Bazaar reported at the time in reference to the aforementioned obstacle course that was documented during the show. The outlet also noted that Harry spoke quite vulnerably about things like his mental health, moving to the U.S., and his priorities as a husband and father. What's not to love?
The great outdoors are great for Prince Harry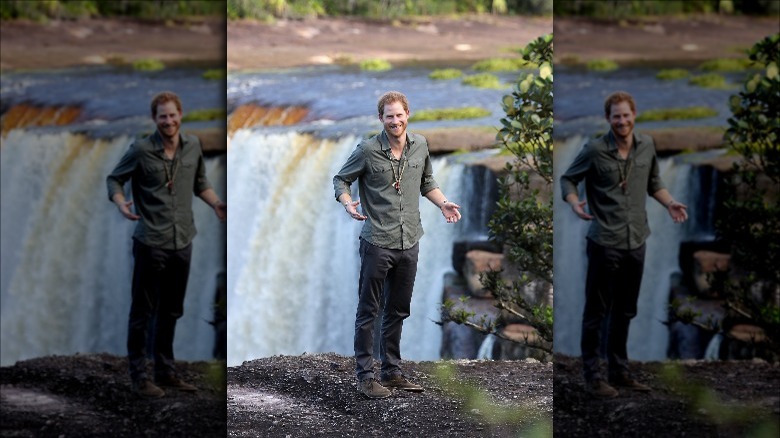 Chris Jackson/Getty Images
Any time we see Prince Harry out in nature, it's clear that he feels in his element in the outdoors. He looks beyond sexy just chilling in front of Kaieteur Falls in the Caribbean country of Guyana. The trip was part of Prince Harry's official Caribbean tour back in 2016, the same year he and Meghan Markle started dating. 
Sorry to state the obvious, but Harry really seems to be feeling his best when he's relaxed and comfortable with his surroundings, and sheesh, did he seem to be having a good time in front of that stunning waterfall. He really embraced the casual Caribbean vibe during his tour, and people were feeling the look for him. According to E! News, after Miss Antigua Leanda Ann Norville crossed paths with Harry at an event in Antigua, she told reporters, "He was a gentleman. Of course, I want to be his princess. Everyone at this party does." We hear you.
It's the eyes for us, Prince Harry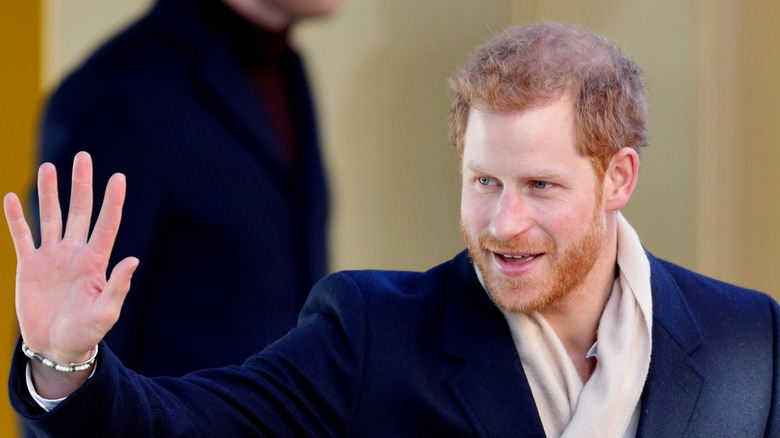 Max Mumby/indigo/Getty Images
Those baby blues are so dreamy. Prince Harry looked incredibly dapper and princely, but still kind of casual during this night out at the Nottingham Contemporary art gallery in December 2017 with his new fiancé Meghan Markle. Not only did this appearance take place shortly after the two announced they were affianced, but it was actually the famous pair's "first official engagement" as a couple, according to the Nottingham Post. Needless to say, there were lots of eyeballs on them at the time. 
Speaking of eyeballs, we completely understand why Meghan seems so smitten with her husband. Eyes are often one of the first things to attract someone, and Harry's are quite a window to his thoughtful and passionate soul. As PopSugar wrote, "the sexy prince's gorgeous blue-gray eyes deserve some recognition." We bet before Meghan, Harry won over plenty of ladies with those sultry peepers.
Meghan Markle and Prince Harry's dynamic only adds to his appeal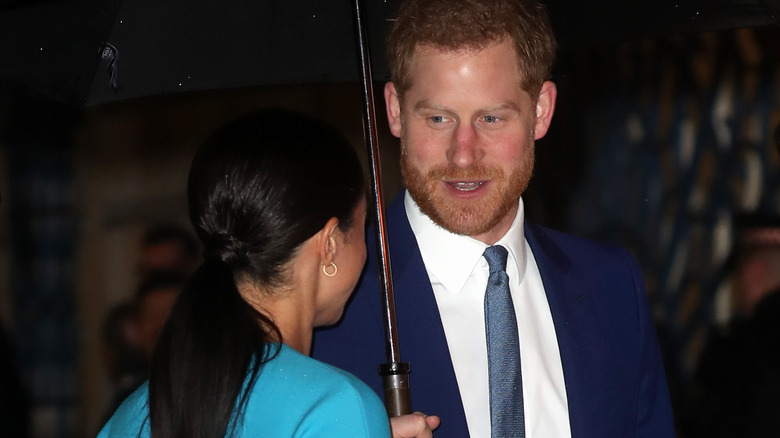 Chris Jackson/Getty Images
Ah, those pictures of Prince Harry holding an umbrella for his wife at the Endeavor Fund Awards in 2020. Those images, which became iconic the moment they hit the internet, could be some of our favorite of this particular royal couple ever. Harry always has an arm for Meghan to hold onto, and it's evident in so many photos of the two of them how attentive he is to her. 
Harry seems like a very protective and empathic partner who goes out of his way to make sure that his wife feels safe and comfortable no matter how much chaos is surrounding them. He is extremely attentive to her anytime they are seen out in public together. Now, that's steamy. Plus, he looks at her like he's still absolutely enamored by her, and from a woman's point of view, that's just incredibly sexy.
Prince Harry could rival any Hollywood heartthrob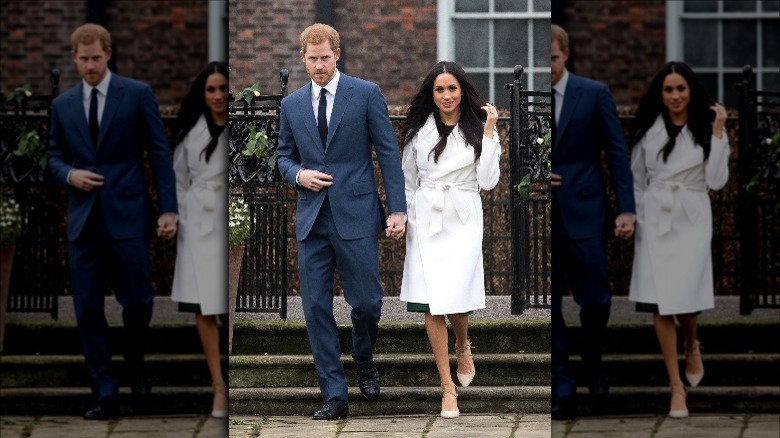 Anwar Hussein/Getty Images
007, who? When Prince Harry puts on a suit and sports that glorious ginger beard of his, he looks like he walked straight off of a Hollywood movie set. Or, you know... out of a palace in a fairy tale. Honestly, who wouldn't be smitten with him? He looks just like nearly every rendition of Prince Charming most of us have ever seen, especially with his gorgeous wife on his arm. This photo from the day Harry and Meghan formally announced their engagement in November 2017 gave us all a sneak peek at the sort of glam moments we could expect to see from the Hollywood-meets-Hyde-Park duo, and together they've lived up to our expectations again and again. 
"The 33-year-old prince looked impeccable, which is no surprise—when you've got a dad as swaggy as Charles and what we can only assume is a SWAT team of tailors at your beck and call, your suit always fits," reads a GQ article about Harry's debonaire appearance. We are even kind of obsessed with the fact that Harry chose to sport his scruff for this major occasion. He wears it so well.